River of Life project on schedule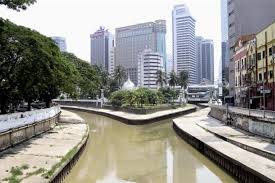 NST, May 23, 2014
About 30 per cent of work on the River of Life (RoL) project has been completed.
Federal Territories Ministry secretary-general Datuk Adnan Md Ikshan said that the project was progressing according to plan and the ministry has spent about RM610 million from the total budget of RM4 billion for the venture.
"We are, however, a little behind schedule of about 41 per cent on the river cleaning component.
"It is supposed to be 43 per cent complete by now. We don't foresee this setback to last for long," said Adnan.
The river cleaning, he said, is vital to ensure the stream alignment along the 110km of Klang Valley is safe for recreational use once the project is completed by 2020.
The ministry has started work on two regional sewage treatment plants in Sungai Jinjang, Kepong and Sungai Bunus for the purpose.
"Apart from that, we are also dealing with some 1,000 premises at Seputeh, Ampang Hilir and Titiwangsa that do not have a centralised drainage system.
"We are now in the process of having a public engagement with the residents so that we can expedite the project," he said.
He said the river beautification project involves a 10.7km corridor starting from Sentul to Brickfields.
"We target to increase the economic activity along the river and improve the livelihood of the people."
Adnan added under the land development component, the beautification works will help boost investment and real estate development prospects.
"In order to activate this development, potential government land will be leased out to competitive private developers through the tender system."
He said that the ministry and City Hall is also having programmes to raise public awareness to preserve and maintain the river's cleanliness.
"These public outreach programmes have been done at the Upper Sungai Klang and Sungai Bunus catchments.
"We want to increase the public's sense of belonging to ensure water quality is at a safe level for them to use for recreational activities."
He said that they will be updating the media every six months on the progress work.
Back