Economy, investments to dominate Najib-Abe talks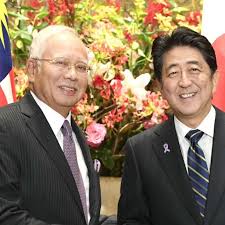 NST, May 21, 2014
By A. JALIL HAMID | jalil@nst.com.my
CLOSER TIES: PM to meet Japanese counterpart before addressing Nikkei conference
TOKYO: PRIME Minister Datuk Seri Najib Razak meets his Japanese counterpart Shinzo Abe here today for talks aimed at fostering a more comprehensive bilateral cooperation, especially on economy and investments.
The bilateral talks -- the third such talks between the two leaders in 10 months -- signify not only warmer bilateral ties, but also a stronger personal friendship between Najib and Abe, who took office in December 2012.
This point was also deliberated by the Malaysian ambassador to Japan, Datuk Shaharuddin Md Som, when he briefed reporters on Najib's two-day working visit. He said the two leaders clicked well. "They have a great chemistry," said Shaharuddin, who has been ambassador here for the last five years.
That friendship was further demonstrated when Abe, without much hesitation, phoned Najib and offered Malaysia help with the search for missing Malaysia Airlines flight MH370. "Abe basically said: Can we help you? From day one, they gave their assets until the search moved to the waters off Australia," the envoy said.
Reflecting on their close friendship, Abe and his wife will host a private dinner for Najib and his wife, Datin Seri Rosmah Mansor, at his official residence here tonight after their bilateral meeting and joint press conference. In his last visit to Tokyo in December last year, Najib even described Malaysia and Japan as "two old friends" whose friendship had deepened with time. He said it was a relationship founded on economic cooperation.
Today's meeting and dinner precede Najib's keynote address at the 20th edition of the International Conference on the Future of Asia at the Imperial Hotel here tomorrow. Organised by the Nikkei Inc and Japan Centre for Economic Research, the conference has been recognised as one of Asia's foremost international conferences. The last time Najib addressed the Nikkei conference was in 2011.
Shaharuddin said during today's talks, both leaders would discuss ways to move forward the initiatives under the second wave of the 31-year-old Look East Policy (LEP). Under the second wave, the focus will be on extending cooperation in economy and investments, not just education and training of skilled workforce.
These include shifting focus of Japanese investments to high-end technology that could boost Malaysia's transformation into a developed economy by 2020. Japan is already one of the biggest and very consistent investors in Malaysia. Japanese investors -- ranging from Panasonic to Sony and Toyota -- have helped create more than 300,000 jobs in Malaysia so far. Japan's investments in the manufacturing industry alone were US$22.7 billion (RM73 billion) last year. It currently has 1,400 companies operating in Malaysia.
Shaharuddin said Japanese companies were also looking to participate in future big-ticket infrastructure developments in Malaysia, such as the proposed high-speed rail network linking Kuala Lumpur to Singapore.
Back