Style of a champion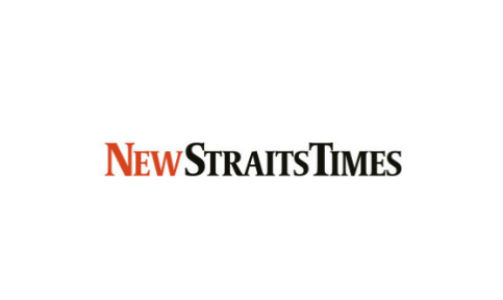 NST, January 29, 2014
By Nadia Badarudin | nadia_badarudin@nst.com.my
Datuk Nicol David speaks to Nadia Badarudin about high heels, food and why she doesn't do hair highlights anymore
I ARRIVE 20 minutes early at the National Squash Centre in Bukit Jalil where I am meeting world number one squash player Datuk Nicol Ann David. I wait at the lobby and at 1pm sharp, a young woman in squash attire approaches with a warm smile.
There she is, the country's squash darling who has stunned the world with her outstanding achievements since she was 15.
Nicknamed Duracell Bunny for her boundless energy and winning streak, Nicol is petite in person — she has the slimmest waist I have seen in a woman — but possesses a towering aura that makes me nervous.
So nervous was I that despite the questions I've prepared, I blurted out, of all things, her previous hairdo with blue highlights.
Turns out, this great sportswoman was once a rebellious teen, wanting to break free and try something brave — in her case, hair colour.
"I've also coloured my hair purple. It was just a phase in my life. It was like celebrating freedom when schooling was over," says Nicole. "I don't do that anymore, but I have a hairdresser in Amsterdam (where she has been living for the past decade) who styles my hair before every tournament.
"I just agree with whatever he recommends," she says. Nicol says she loves to dress up occasionally, but prefers comfort and simplicity. "I like a simple outfit with a slight twist such as a unique zipper. I do wear high heels, but I prefer not-so-high peep-toe heels. It's all about wearing something that makes me look good as well as feel confident and comfortable throughout the event," she says. She admits that she is into accessories. "I don't wear accessories, but I like to observe and learn what's 'in' and what people wear while I travel," she says.
I ask if she has a personal shopper due to her hectic schedule. "No, I love shopping. It's the second thing I love to do, after eating," she says.
A FOODIE
All the years of training has perhaps, revved up Nicol's metabolism that eating is her second favourite leisure activity. Penangites are known as an adventurous lot when it comes to food, and Nicol is no exception.
Apart from trying new cuisines while travelling, Nicol, however, still misses Penang's char kway teow when she is away.
"I find comfort in food. After winning a game or when I feel down after losing one, spending time with my family and friends over a scrumptious meal always works for me. "And being an athlete, it's also an excuse to indulge once in a while," she says with a sheepish grin.
LIFE IN AMSTERDAM
Nicol left Malaysia for Amsterdam at the tender age of 20 to be trained by her coach, Liv Irving, full-time. Her choice was wise. Under Irving's coaching, she has grown from strength to strength. Her daily routine starts at 10am and ends at 5pm. She trains twice daily, Mondays to Saturdays.
"My schedule is not that tight, especially during off-season. It's quite laid-back and I do have the freedom to explore new things or do things that I haven't done for quite some time, like going to gigs or concerts and drawing," says Nicol who loves doodling animals and nature in her free time.
The humble champion, is a fan of hip hop, R&B and house music. She has also taken up street dance classes to learn some hip hop moves. "It's a fun way to work out and it gives me the opportunity to make friends too," says Nicol who singles out TLC, Destiny's Child, Beyonce, Alicia Keys, Timbaland and Justin Timberlake as her favourites artistes.
GO-GETTER
Determination and wit are clearly reflected in Nicol's personality. When she speaks, you can tell that she is a no-nonsense go-getter with a clear vision of the future. Turning 31 this year, Nicol says she is in the middle of setting up a squash academy in two years' time.
"I plan to sustain my momentum for another five years. And while doing this, I'm setting up a squash academy which combines education and sports development in Penang. I'm making sure that everything is in place — the facilities, recruiting the right people and such — before I make the transition.
"However, my priority now is training and getting my body in shape, fit and ready for any challenge," she says.
KEEPS HER GOING
Nicol is the first squash player to have won the World Junior title twice and the World Open title seven times. At 25, she was the first recipient of the Order of Merit (Darjah Bakti) in conjunction with the birthday of Tuanku Mizan Zainal Abidin.
Fellow recipients include those who have made their mark nationally and internationally with significant contributions in art, science or humanity. With a string of impressive achievements and numerous titles, I wonder what keeps Nicol going?. "Passion and enthusiasm, and enjoying what I do. I always look forward to competing at my ultimate performance," she says.
"Putting all the effort and actually seeing the results give me so much satisfaction. The feeling is hard to describe or to explain to anyone. Perhaps it's an athlete's intuition. "And having coaches, family and friends who are always there with me through ups and downs has also encouraged me to keep on going and to never stop pursuing my dreams," she says.
Half an hour later, I leave and Nicole returns to her squash training. She may fly higher to pursue her dreams and ambitions, but the spirit that keeps her grounded to her family and country will never leave her.
EXTRAORDINARY WOMEN
PAYING homage to the exceptional qualities shown by prominent Malaysian women, French brand Louis Vuitton is staging its Malaysia's League of Extraordinary Women exhibition at Starhill Gallery until the end of next month.
It is the maison's way of honouring and acknowledging the "inspiring Malaysian women who are making a difference in our society". The icons exemplify women of strength and influence who have shifted boundaries and expectations in their respective fields.
They have, through their diverse talents and efforts, made their mark internationally. Aside from squash champion Datuk Nicol David, others featured are Tengku Puan Pahang Tunku Azizah Aminah Maimunah Iskandariah for her work to help underprivileged couples who are unable to conceive, social activist Datuk Paduka Marina Mahathir, Malaysian Medical Relief Society founder Tan Sri Dr Jemilah Mahmood, supermodel Ling Tan, singer Datuk Sheila Majid, actress Tan Sri Michelle Yeoh and fashion designer Datuk Tom Abang Saufi.
Shot by international photographer Wing Shya and immaculately styled by Sean K, the exhibition features stunning photographs of these local icons. Here, some of the women speak about their identities and what moves them.
TENGKU PUAN PAHANG TUNKU AZIZAH AMINAH MAIMUNAH ISKANDARIAH
"Whenever I do something, I like to do it perfectly... and I have all these people around me, who work together with me.
Most of all, I want to do something to show to my children that being born in their position means they have duties as well. And this was what my father taught me. You were not born just to wear the tiara, you have roles to perform."
DATUK PADUKA MARINA MAHATHIR
"Many say that I express what they think. I don't do that deliberately. It just happens to resonate. I guess I represent every Malaysian, the average Malaysian so to speak, so I get a lot of support for that.
One person who awed me was the late Nelson Mandela. I met him at a small dinner that my father organised. At the end of the dinner he came to me. At that time I was working on AIDS and he said, "You know, what you are doing is really important," And I was like, Nelson Mandela is talking to me about AIDS and he likes what I do!"
LING TAN
"I work with an amazing team at an agency in New York. I was very lucky to work with all the talented photographers and make-up artists, and day by day I make more friends. When I am free, I work out at the gym and I swim. I walk a lot. I take public transportation everywhere I go whether I'm in Paris, London or Milan. I like to explore new cities. I take a map and then walk by myself."
DATUK SHEILA MAJID
"My listeners come from all walks of life, all races. I think that's what music is supposed to be, universal. It's supposed to reach out and bring people together. I stay true to what I like because of passion. And I work on my strength. I try not to be someone else that I'm not.
Just because a certain music genre is in trend now, I don't have to join the bandwagon and try to get those elements into my music."
DATUK TOM ABANG SAUFI
"You cannot... forget your own tradition and the cultural influence you have always had. The scope of work is the same and you have got to have that spirit of wanting to do things well.
That is very important, now that I've come to this point in my life."
Back