Creator of a rainbow nation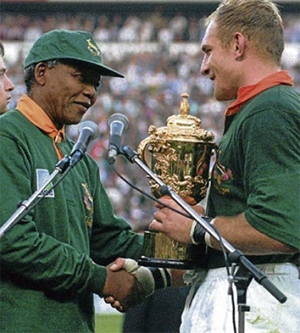 NST, December 14, 2013
By Johan Jaaffar
EVERY journalist has his or her own Nelson Mandela story. I have mine. I was fortunate to cover former prime minister Tun Dr Mahathir Mohamad's visits to South Africa in the 1990s.
Those were interesting years. Mandela had just been elected president of the country that incarcerated him for 27 years. He was the first black, democratically-elected president.
Mandela was every journalist's idea of a perfect subject. He was unassuming, down-to-earth, humble and helpful. He was always at ease among journalists and always had something for you to quote. And his sense of humour was contagious. At a state function, I introduced myself as a journalist from Malaysia. "Ah, I know the country, I have many friends there."
Of course he had many friends in Malaysia. Even during the early days of Malaya, we had been critical of the apartheid policy. We have been consistent ever since. When Mandela took over the reins from president F.W. de Klerk, one of the few nations that he looked up to was Malaysia. Dr Mahathir supported him in more ways than one. We were there when many nations of the world took a wait-and-see approach. Malaysians helped build homes, were involved in infrastructure projects, engaged in the banking sector and even re-branded his party, the African National Congress (ANC).
I had the opportunity to visit two of Cape Town's infamous shanty towns, one of which was Khayelitsha. The driver, an Afrikaner, was understandably nervous. He was 58, yet he had never been into a shanty town before. We later went to Gugulethu, another shanty town about 15km from Cape Town. A year later, I visited Soweto, a shanty town in Johannesburg, famous for its 1976 uprising. These were among the places in which black South Africans were allowed to live during the apartheid years. To call these places setinggan (squatter) settlements like ours is an understatement. It was a crowded neighbourhood where even basic amenities were lacking. The blacks lived in decrepit homes where the crime rate was high and AIDS was an additional scourge.
In the horizon, the Afrikaners and English lived in their gated communities, and never the twain shall meet.
Imagine the insurmountable task facing Mandela when he became president. Fledgling South Africa was doomed, said the naysayers. Blacks can't govern. Mandela spent half his age in prison; so, too, many of his friends -- Walter Sisulu, Ahmed Kathrada, Andrew Mlengani and Milton Mkwayi, to name a few. Now, wait a minute, Mandela had his plans.
The contrarian that he was, he changed the nation for the better. He created his dream nation -- a rainbow nation of different colours and creed. A nation where the many can be one.
There was idealism and, of course, reality checks. Mandela did not get what he wanted, not all, at least. But he set a path for the future. He was not a power seeker; he left after his first term. He had set the agenda for others to follow. He learned from his prison days about bitterness, about victimisation and inequality. He could have been a bitter man. He had every reason to be vindictive. He chose the path of forgiveness, reconciliation and moving forward. Just read his autobiography A Long Walk To Freedom to understand the man and his journey. You can't help but admire him.
Just like what was depicted in the movie Invictus, he used the image of a united nation supporting the national rugby team to heal his country. He understood the power of sports. Rugby was the symbol of Afrikaner supremacy, yet Mandela made it a sport for all. As he told sceptics among the crowd (in the movie), "there is no time to celebrate petty revenge". He meant it. The Springboks won the World Cup in 1995, beating New Zealand's All Blacks. The captain, Francois Pienaar, spoke on behalf of the nation when he thanked Mandela for the win. Reconciliation began in earnest after that.
It was with sadness that I woke up on the morning of the 5th to hear about his demise. He was my hero. I am never known as a poet, but my first encounter with him in 1994 inspired me to write a poem, "Surat Winnie Kepada Mandelanya" (Winnie's letter to her Mandela).
He was my uber-man, and truly a statesman and a gentleman.
Back