Tan Sri Francis Yeoh receives prestigious honour from Japan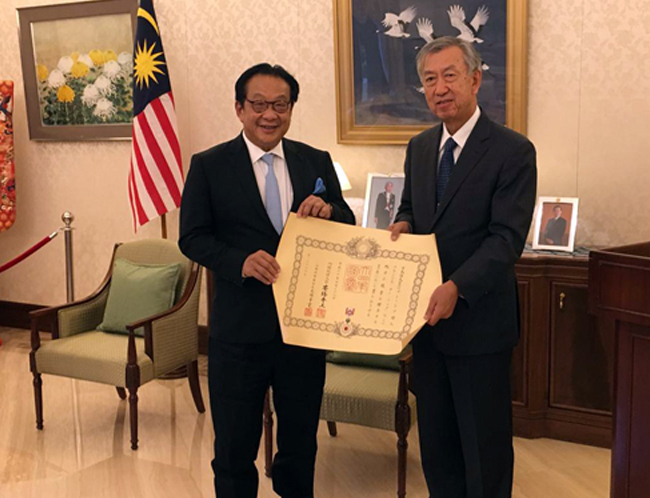 Kuala Lumpur, October 8, 2018
YTL Corporation's executive chairman Tan Sri Dato' (Dr) Francis Yeoh Sock Ping has been conferred the prestigious Order of the Rising Sun, Gold Rays with Rosette by the Emperor of Japan for his contribution in promoting tourism and strengthening economic relations between Japan and Malaysia.
Japanese Ambassador to Malaysia, His Excellency Ambassador Makio Miyagawa and his wife, Mrs Yuko Miyagawa hosted this auspicious event at their residence where he presented the 2018 Spring Imperial Decorations.
The award is in recognition of Tan Sri Francis Yeoh's outstanding contribution towards the economic cooperation and relations between Japan and Malaysia and increasing business opportunities between the countries.
Tan Sri Francis Yeoh and the YTL Group is actively invested in Japan's real estate business sectors, and has contributed to the increase of investments between Japan and Malaysia. YTL Corp has been listed on the Tokyo Stock Exchange since 1996, and is the first Asian non-Japanese company to be listed there.
In 2008, YTL's Starhill Global Real Estate Investment Trust acquired a number of properties located in the prime areas of Roppongi, Shibuya-ku, Minato-ku and Meguro-ku in Tokyo.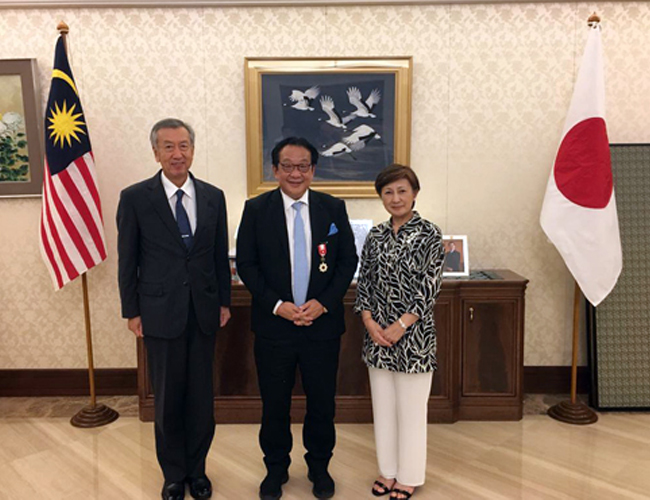 Tan Sri Francis has actively promoted tourism and business exchange in Japan through investments in the Tourism Industry. The Group's hotel division, YTL Hotels, owns a mountain ski resort, Niseko Village in Hokkaido, Japan. With scenic views of Mt. Yotei, a landmark dormant volcano located to the south-east of the resort, Niseko Village occupies a total land area of approximately 617 hectares, comprising the 506-room Hilton Niseko Village, 200-room Green Leaf Hotel and two 18-hole golf courses, one of which was designed by Arnold Palmer.
The village also comprises a 155-hectare tranche of land featuring seven ski lifts and 15 ski trails, a 23-court tennis complex, the Niseko Village Ski Resort and ski school, several onsen (Japanese hot springs) and an equestrian center. Set at the foot of Mt. Niseko An'nupuri, the resort is the perfect base for skiers and snowboarders to access the mountain's powdery slopes, regarded as some of the finest alpine terrain in the world.
YTL Hotels' portfolio includes its bespoke townhouses under the Kasara brand in Japan. Part of the Group's new and unique collection of luxury hotels and resorts, the Kasara Niseko Village Townhouse currently offers a number of beautifully-formed ski-in, ski-out townhouses. The brand promises an experience of luxury, authenticity and timelessness to today's discerning travellers.
Expanding their hospitality footprint in Asia through Marriott International, YTL Hotels signed Memorandums of Understanding with Marriott International for two hotels in Japan - an EDITION and a W Hotel in Niseko Village, Hokkaido.
The two hotels will further complement the luxury hotel experience in the fully integrated Niseko Village. YTL Hotels' prominent presence in the powder mecca of Japan – Niseko Village in Hokkaido – is growing with the upcoming development of a Ritz-Carlton Reserve.
The new Ritz-Carlton Reserve in Niseko Village which is scheduled for completion in 2020, will be the first Ritz-Carlton hotel in Hokkaido and the first Ritz-Carlton Reserve not only in Japan but across North Asia.
To meet growing demands by international home buyers looking to invest in resort residences, the group has started developing a maiden residential block of apartments in Hinode Hill which is scheduled for completion by end of 2019, in time for the white season.
Speaking about YTL's projects in Japan, Tan Sri Francis Yeoh said, "I must stress that YTL is not here to buy, polish or sell. We are in this for the long-term and we aim to do it well or not at all. Ultimately, why are we doing this? It's all about touching people's lives and giving them the very best experience."
Back