Gated & Guarded homes – trend or necessity?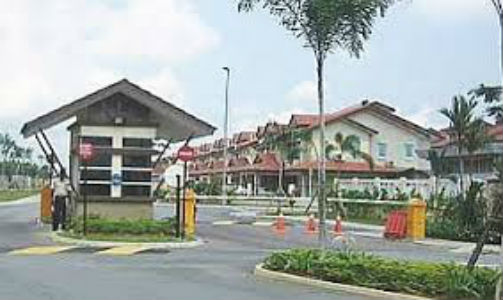 NST, June 14, 2013
By Khairul Khalid
GROWING DEMAND: More than a decade since it began, Gated & Guarded (G&G) type of properties are growing in demand due to improved security, lifestyle changes and attractive returns on investment
According to C H Williams Talhar & Wong (WTW) Property Market Report 2013, it has been more than 10 years since gated and guarded (G&G) residences were introduced into the Malaysian property market. A G&G residence is defined as a cluster of houses or buildings where entry is restricted by "gates" (e.g. boom gates, chains or locks) across the roadways, resulting in the creation of an enclave or secure private community. G&G can range from the most basic housing neighbourhood with some form of restricted entry to the most elaborate with shared recreational facilities such as swimming pool, club house and golf course.
The WTW report also mentions that in Southeast Asia and Malaysia, G&G was born based on two key factors - security and a symbol of wealth. As in many rapidly urbanising countries, G&G started off to cater to the foreigners or expatriate community before the concept was eventually embraced by the locals. In NST RED's previous cover story on expats' property market (7 June), we highlighted how the expat community prefers G&G residences primarily due to security reasons. Even if a home is strategically located or attractively designed, but is not in a G&G area, expats are not likely to buy or rent it.
Types of G&G
Datuk Ricque Liew Yin Chew, Managing Director of Paramount Property Development Sdn Bhd explains that the Town and Country Planning Department has listed four types of gated communities in Malaysia, which effectively sum up the profiles of G&G property buyers:
a. Elite community:
This is the upper-class/high-income/high profile community that focuses on exclusivity and status in which security is one of the major concerns.
b. Lifestyle community:
This consists of retirement communities, leisure communities and suburban 'new towns' that offer activities such as golfing, horseback riding and resident-oriented leisure activities.
c. Security zone community:
This is the most popular type of G&G community offering housing development that is surrounded by fences or gates with guard services. Singles, couples or families looking for peace of mind, but not at a premium cost, are most attracted to such neighbourhoods.
d. Security zone community and lifestyle:
This is usually found within a city centre, where both security aspects and lifestyle facilities are provided for its residents. Buyers of such G&G properties are the upper-middle to high-income group looking for added advantages such as a calm environment in addition to enhanced safety that is ideal for family types.
Changing dynamics
Property lawyer Khairul Anuar Shaharudin notes that on the positive side, growth of G&G properties has been mainly due to the rising demand from a more affluent and informed society. "These are property owners who want to have their peace of mind by adding additional security. Essentially, G&G is a "heightened" version of the 70s and 80s "Rukun Tetangga" or neighbourhood association. The difference is that now people can afford to hire others to guard their homes, instead of volunteering themselves," says Khairul. Khairul adds that with high demand for G&G developments corresponding with a perceived increase in crime rates, we need to determine whether this is due to deficiencies in police enforcement or pertains to some other social issues. Changes in the dynamics of society may also be a contributing factor.
"Authorities may want to initiate more activities to instill the spirit of neighbourliness rather than just looking at the physical aspects of G&G," suggests Khairul who cites G&G neighbourhoods in Western Australia such as Mandurah, near Perth as a good example of well-maintained and well-designed G&G developments.
Community strength
Datuk NK Tong, Group Managing Director of Bukit Kiara Properties Sdn Bhd agrees with Khairul and says that the inherent strength of the community is what will determine the value of any G&G property. "Like any other multi-dwelling community, the returns on the G&G property will be determined by how well the community takes care of the property. If everyone is committed to its continued success and contributes to improve the neighbourhood, then the returns will be better in the long run." "On the other hand, if residents in a community choose to think for themselves, and not want to pay service charges, or as a group, vote to minimise the level of service charges, then the level of service will decline. Without the commitment towards the shared success and upkeep of a G&G community, the neighbourhood will deteriorate, security will be compromised and amenities and facilities will fall into neglect," says Tong. Urban solutions
In all of the four types of G&Gs above, security remains a key element. Although the issue of public security is currently high on everyone's agenda, Wan Srihani Wan Mohamed, Lecturer/Architect at the Department of Architecture, UPM (Universiti Putra Malaysia) wonders if having gated communities is indeed the best solution to reduce urban crimes. "Privatisation of neighbourhood security and physical separation of neighbourhoods are becoming a trend in Malaysian housing estates. This is quite a stark contrast to the model of traditional neighbourhoods in cities or townships that would use their resources to improve city life for everyone. For example, when there was crime in an area, the neighbourhood as a group brought their concerns to the police department and local authorities, as well as through public forums. Remedial actions taken would benefit the whole community. With the advent of gated communities, problems that arise within specific neighbourhoods have became isolated and alienated from the rest."
Wan cites a research in 2007 that concluded that gated communities in England were not an effective response to issues such as crime and disorder but instead increases social divisiveness. Nevertheless, she feels that Malaysian homebuyers are willing to pay high prices for such schemes. "The perception and needs for a gated community is no longer just about exclusivity and privacy, instead it has become essential to buy a house which guarantees safety in the neighbourhood," Wan surmises. Upgraded lifestyle
Liew of Paramount Property confirms that there are also other factors besides security - protection of property value, flexible building standards, better quality "public services" such as garbage disposal and landscape management, and perhaps homogeneity of population within the neighbourhood. "G&G properties are also built in response to buyers' needs for better living standards, giving the middle- and upper-income group an upgraded lifestyle with the provision of recreational facilities, such as clubhouse, swimming pool, jogging path, golf course, etc., while the wealthy are accorded privileged facilities that allow them to maintain an affluent lifestyle. G&G developments also offer the opportunity for developers to create "themed" lifestyles that cater to the specific needs of different buyers, for example wellness and eco-themed concepts in Klang Valley in locations such as Cyberjaya, Petaling Jaya, Subang Jaya, Puchong, Cheras, and Kepong."
Liew points out that some of the earliest G&G developments were in Country Heights, Kajang; Tropicana, Petaling Jaya; Mines, Seri Kembangan; and Glenmarie Court, Shah Alam. "These were marketed as luxury homes with upmarket facilities and are targeted at the corporate and high net-worth market segment. However, G&G developments are no longer confined to prime locations as developers identify other areas that are well supported by infrastructure but are lacking in G&G developments – Selayang, Kajang, Shah Alam and Sungai Buloh," Liew observes while adding that some of the current hotspots for G&G property developments in Klang Valley includes places like Cyberjaya, Petaling Jaya, Subang Jaya, Puchong, Cheras, and Kepong.
G&G communities have spread well beyond Klang Valley and major urban centres. For example, Liew states that Paramount made its mark in Sungai Petani with the award-winning Bandar Laguna Merbok (completed in 1996), Kedah's first G&G development and the 520-acre G&G mixed development Bukit Banyan, Sungai Petani's first and only hilltop development.
Better returns
Datuk Jimmy Doh, Executive Director of Setia Awan Holdings Sdn Bhd agrees that G&G no longer appeals just to a niche market primarily in big city centres such as KL. "The concept initially took off in urban major cities including Penang, Ipoh, Klang Valley and Johor Bahru but G&G developments are now growing rapidly even in smaller towns & semi-urban areas such as Sitiawan. The type of buyers who are investing in G&G property are mainly professionals and white collar workers with a higher education. They usually have a higher expectation on the returns from their investment," says Doh.
The director adds that, in general, investors in G&G property gain better returns in the long run due to high demand and limited supply. "There is a limited supply simply because not all developers can rise to the challenges of building, selling and successfully managing the G&G property. We foresee a shift where most high-end properties will be based on the G&G concept," notes Doh. He gives the example of Setia Residence, the exclusive residential development by Setia Awan and the first gated and guarded residence being developed in Manjung, Perak.
Doh's bullishness on the future of G&G property developments is backed by the WTW Property Market Report 2013 which states that, in general, gated and guarded residences have appreciated in value at an average of 10 per cent p.a. (per annum) over the past seven and a half years (2005 – 2012). However, based on a selection of developments that have seen active transactions, the average annual appreciation has been significantly higher at 14.4 per cent.
The report also revealed that in terms of types of residence, detached houses have rewarded buyers with the highest returns at 27.2 per cent p.a., followed by semi-dees at 17.3 per cent. Terraced or townhouses have provided the lowest returns among gated residences at 10 per cent p.a.
Holding power
Nevertheless, even with the overall optimism on the potential of G&G property, there are those who preach caution. Ahyat Ishak, CEO and Founder of Ahyat Property advises that G&G properties are more suitable for the more experienced investors. "If not more experienced, then at least those with deeper pockets! They are usually higher priced, and with that come larger capital outlays, monthly loan commitments and maintenance fees proportionate to this lifestyle. I didn't even consider G&G when I was growing my investment portfolio in the beginning stages. As I grew my financial strength as an investor, even when I could afford to invest in G&G, I would invest in commercial units like shop lots instead, which I felt could fetch better rental yields and is less risky than G&G," reasons Ahyat. Ahyat gives the example of landed G&G units to illustrate this. "Because G&G units are usually more expensive than other property products, for landed units it would be difficult to get rental that can cover the loan commitment and monthly maintenance charges. People who invest in G&G should assess their holding power. For most novices and new investors, this category is not really advisable because it would usually need a large cash outlay to purchase and would take quite a large amount to maintain every month, should you not be able to get good rent or sell at a premium. Perhaps, G&G should be purchased for own use rather than investment if you don't know what you are getting yourself into," advises Ahyat.
Ahyat's assessment is backed by the WTW report which states that depending on the scope and quality of services and the number of owners/residents in the development, the monthly maintenance costs currently range from 15 sen – 50 sen per sq ft but could rise substantially in the future. Monthly maintenance and security fees could become an issue if costs rise too fast and more home owners become poor paymasters and even decide not to pay these fees altogether.
Sustainable demand
The WTW report says that in over the past five years, many gated and guarded residences have doubled in value but there are others that have performed poorly. It states that whether you are buying for own stay or investment, the basic principles still apply (location, design quality, reputable developer, approval by local authorities, etc).
The report concludes by saying that the demand for gated and guarded residences is sustainable as rising incomes place such developments within the range of a growing market segment. This is echoed by Tong, saying "G&G properties are here to stay as Malaysia evolves into a developed nation status. Discerning homeowners will want better and better from the communities that they live in. There are many models worldwide for us to emulate, but more importantly is how Malaysians evolve in their preferred lifestyles. Developers can help provide the amenities and facilities infrastructure for the community, but it is the residents that will ultimately determine how these are used to create a unique lifestyle in their G&G communities."
Back