SHOWBIZ: Memorable night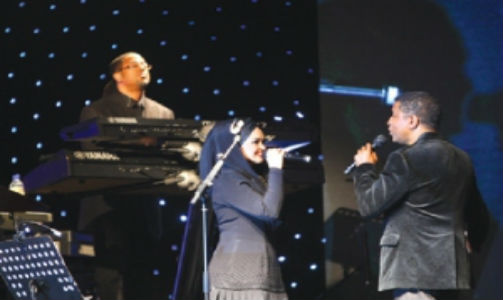 NST, March 31, 2013
By Hizreen Kamal
Babyface's recent performance here clearly proves that he still has the magic touch, writes Hizreen Kamal
WHEN you grew up listening to his songs, the icing on the cake is watching him in the flesh, rendering all his hits.
As Kenneth "Babyface" Edmonds got on stage at the SapuraKencana Petroleum Malaysia Grand Prix Charity Gala at the newly re-opened Majestic Hotel in Kuala Lumpur recently, the audience went into a frenzy.
The 10-time Grammy award winning R&B singer has churned out many popular tunes over the years, especially in the late 1980s to mid-1990s.
For the evening's performance, he was backed by his four-piece band. His opening number was For The Cool In You from his fourth album, released in 1993. Then he took on Everytime I Close My Eyes which made the women in the audience swoon.
The sexy tune of Whip Appeal came next. The third single from his second album, Tender Lover, released in 1990, Whip Appeal is one of his favourite songs and, it seemed, a favourite with the audience too.
In the presence of royal guests the Yang di-Pertuan Agong, Tuanku Abdul Halim Mu'adzam Shah and the Raja Permaisuri Agong, Tuanku Hajah Haminah, Babyface said: "This is my first time performing in front of royalty. Initially, I wasn't sure what to sing. I was thinking what could I do that would be special. So I went back in time and looked at the songs I grew up listening to."
He sure knew what the audience wanted when he included a medley of popular classics into his repertoire.
Admitting to be a huge fan of Eric Clapton, Babyface sang Clapton's 1977 hit Wonderful Tonight, followed by Henri Mancini's Moon River, which he dedicated to the royal couple and his late mother.
He also performed the popular standard Fly Me To The Moon.
Featuring fresh new arrangements, the classic still sounded beautiful even though he injected some R&B and soul into the delivery.
He then took on Nat King Cole's When I Fall In Love. Never mind that it has been covered by numerous artistes, but it sounded different from him. A bonus came in the form of our Datuk Siti Nurhaliza Tarudin who came on stage to sing the song with him.
With sweetness to her voice, her undisputed vocals almost eclipsed his. It was one of the more beautiful renditions I have ever heard. It surely warmed the hearts of the romantics in the ballroom.
Babyface was clearly in awe of Siti's vocals that he kept singing his praise of our No. 1 singer.
"What a beautiful, beautiful voice. You guys have got some talent here," he told the audience.
They kicked things off with a groovy remake of Bruce Springsteen's Fire (which Babyface did a cover version of with Des'ree for the soundtrack of the 1998 motion picture Hav Plenty).
While this marks Siti's second live performance with an international artiste, after Gareth Gates in 2004, for Babyface, it was his first live collaboration with an Asian artiste.
Their duet performance was flawless. Siti's vocals soared above the superb accompaniment from the band and created that sense of wide-eyed magical wonder.
Hitting all the high notes almost effortlessly, some in the audience gave her a standing ovation.
It was a breathtaking performance to say the least. And yes, it won't be harsh to say that Siti stole the limelight from Babyface, if just for a while.
Babyface, who has produced and written music for many artistes including Carole King, Patti LaBelle, Chaka Khan, Aretha Franklin, Madonna and Janet Jackson, presented a medley of some of his favourite ones.
Among them were Don't Be Cruel, Every Little Step and Rock With Ya (all sung by Bobby Brown), Baby I (Tenderoni), Can We Talk (Tevin Campbell), My My My (Johnny Gill), and, I'll Make Love To You and End Of The Road (both by Boyz II Men).
He was also a good sport when he went down and hugged some lucky audience members, and got them to sing along with him.
The evening ended on a high note when Babyface rendered (a shared billing with Clapton) the chart-topping Grammy winner Change The World, from the 1996 film Phenomenon soundtrack.
Babyface's vocals, one of the best voices in showbiz, are still powerful and smooth. He pulls you in with every note. Funny and engaging, he genuinely cares about making his fans happy.
His one-hour performance quickly came to an end and he left the audience wanting more.
The venue was perfect. The entrance to the ballroom was transformed into a life-sized facade of the Eastern & Oriental Express luxury train complete with a platform. It was a classic setting as if one was on board the E&O Express.
Kudos to the organisers for putting a lot of effort into making the evening a memorable one.
If Babyface makes it out this way again, I am reserving a seat. This time right in front of the stage.
Back