Celebrating Malaysia's multicultural heritage at Lottie's Cultural Splash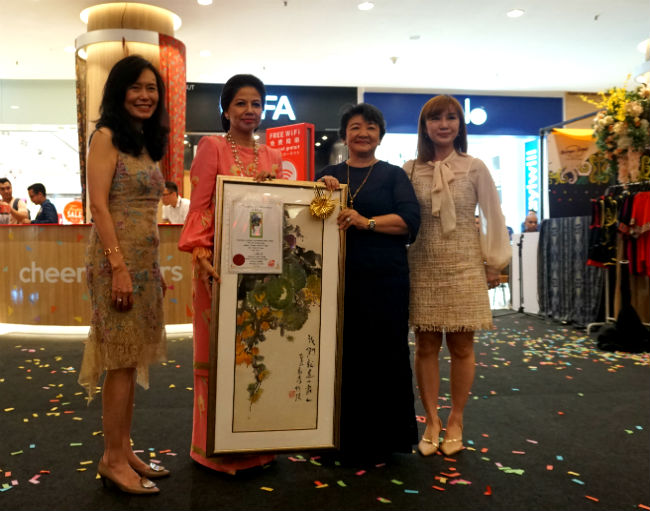 Kuala Lumpur, November 22, 2019
Lottie's Cultural Splash – a fun and exciting celebration and showcase of Malaysia's multicultural heritage is taking place at Lot 10 from 22 to 24 November 2019, organised by YTL Foundation in collaboration with Pusat Kreatif Kanak-Kanak Tuanku Bainun. The showcase – one of YTL Foundation's annual year-end events for the public, celebrates Malaysia's multicultural heritage this year, giving Malaysians and foreign visitors alike the opportunity to immerse themselves in a wide variety of elements from Malaysia's heritage through fun-filled activities held throughout the weekend.
Lottie's Cultural Splash was launched today by YTM Raja Dato' Seri Azureen binti Sultan Azlan Shah, the Chairperson of Pusat Kreatif Kanak-Kanak Tuanku Bainun, together with Datin Kathleen Chew, the Programme Director of YTL Foundation. The launch was also attended by students from SMK Ampang Pecah, SK Convent Sentul 1, SK Convent Sentul 2, SK Bandar Baru Sentul, SJK(T) Thamboosamy Pillai, SJK(T) St Joseph, SMK Assunta and SMK La Salle.
"This year's event is themed 'Cultural Splash' as we want to celebrate the different cultures of this country. Diversity should be embraced and not taken for granted. With this event, we are able to learn and experience the many different cultural representations that the country offers. More importantly, we want Malaysians to be proud of their heritage because cultural heritage provides a sense of belonging and unity. We see this event as a great opportunity for children and the general public to get acquainted with the many different aspects of our cultural heritage like traditional dances, musical performances, art and even games. We want to catalyse a revival of our beautiful Malaysian culture. For example, I remember my school having an angklung band, but today we can't easily buy an angklung anymore. At Lottie's Cultural Splash, we hope the younger generation can get to know and embrace cultural elements that have become distant with time," said Datin Kathleen Chew, Programme Director of YTL Foundation.
Commenting on the collaboration, Raja Dato' Seri Azureen binti Sultan Azlan Shah, Chairman of Pusat Kreatif Kanak-Kanak Tuanku Bainun said: "Pusat Kreatif Kanak-Kanak Tuanku Bainun is very excited to be a part of YTL Foundation's Lottie's Cutural Splash, as our objective is to instil the importance of basic human values, appreciation of our local arts, heritage and culture and a love for nature. It is important to provide exposure to children to ensure our local arts, heritage and culture is preserved and passed on to future generations. It is events like this that keep our culture alive."

Across the three days, the children of Pusat Kreatif Kanak-Kanak Tuanku Bainun will be participating in special performances and workshops, such as performances of gamelan and angklung, traditional Malay dances like zapin, inang and silat tari, the Chinese fan dance, running a traditional games station featuring games like congkak, batu seremban, flag erasers and coconut bowling, running crafts workshops such as making beads accessories, painting acrylic handkerchiefs and shirts, painting ceramic clay, paper art cutting, name sealing on circle cards, decorating gingerbread men, making sock donuts and Christmas fireplace socks, and even running a readers' theatre session.
Many other performances and activities are also being run by partner organisations, including Bharatanatyam and Bollywood dance performances and exhibition and sale of items by the Temple of Fine Arts; workshops on children's painting, drawing, painting and colouring, and soap making, as well as live painting demonstrations and a Chinese ink painting exhibition, all by the Malaysian Artist Society; a sago worm eating exhibition, blowpipe demonstration, and performance of traditional dances from Sabah and Sarawak by Borneo KL; gamelan workshops and exhibition by Gangsapura; and live calligraphy demonstrations and sale of items by the Calligraphy Association.
Visitors to Lottie's Cultural Splash can contribute by donating their pre-loved toys to Toy Libraries Malaysia, who will be present to collect donated toys for disadvantaged children in rural areas, or by purchasing flowers from the FLOW Flower Truck that will be selling recycled flowers, with all proceeds channelled to charity.
Lottie's Cultural Splash is ongoing from 22 to 24 November 2019 at the Concourse in Lot 10 from 10am to 10pm.
More information about the activities at Lottie's Cultural Splash is available on YTL Foundation's Facebook page at https://www.facebook.com/ytlfoundation
About YTL Foundation
YTL Foundation was founded in 1997 on the belief that education is the basis on which every society progresses. By developing and improving education in the communities in which it operates, YTL Foundation aims to empower individuals and communities to be catalysts of change to enrich and benefit society.

Over the years, YTL Foundation has provided aid to deserving individuals who would otherwise be denied opportunities to pursue higher education. More recently, YTL Foundation expanded its role; organising workshops, talks and conferences to enrich and inspire educators, students and parents, as well as programmes to bring 21st Century teaching and learning into schools. Through programmes, funding, thought leadership and by championing the use of technology, backed by the YTL Group's 60-year heritage of nation building, YTL Foundation hopes to build better societies, through better education.
About Pusat Kreatif Kanak-Kanak Tuanku Bainun
Pusat Kreatif Kanak-kanak Tuanku Bainun – under the patronage of Yang Maha Mulia Raja Permaisuri Tuanku Bainun, is a non-profit organisation with a mission to provide a safe haven for children and youths from age 7 to 17 years old to explore and develop an appreciation of the arts, heritage, culture and nature. We believe that creativity is an integral element to every child's learning and that all children and youth should have access to the arts. We do this through our Alam Kreatif Programme, developed to enhance children's cognitive skills as well as develop their potential and inherent talents. Our activities are also aimed at promoting creativity, confidence and empowerment in the hopes of enriching their lives and those around them.
In 2018, over 400 children came through Pusat Kreatif Kanak-kanak Tuanku Bainun under our Alam Kreatif programme for both paid and free programmes which includes children from shelter homes, orphanages, low income families (B40), Program Perumahan Rakyat, the orang asli community, juvenile delinquents as well as children with special needs. The centre aims to enable children and youth to have the opportunity to think, tinker, experiment, express and create in a safe and fun environment.
Back