Sabah govt to discuss Iman's death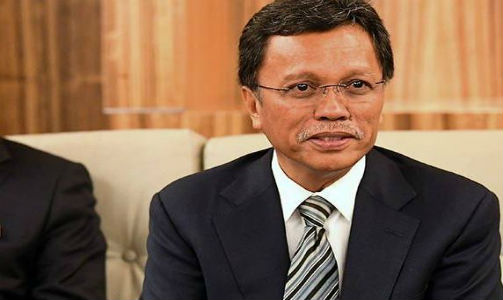 NST, November 25, 2019
KOTA KINABALU: The state government will table the issue of the death of Malaysia's last Sumatran rhinoceros, Iman, to the cabinet next week.
Chief Minister Datuk Seri Mohd Shafie Apdal said this was meant to discuss what the state government needed to do to ensure the continuity of other species facing the threat of extinction in the state.
"The state government has done its best to treat Iman, on top of obtaining her cell cultures.
"Unfortunately, Iman was in critical condition and could not be saved," Bernama quoted him as saying at Universiti Malaysia Sabah's 21st convocation here yesterday.
On a related matter, Shafie said the state had identified areas which would be gazetted as wildlife reserves next year.
This, he said, was part of efforts to safeguard species that were under threat, specially elephants which have become targets of poachers.
"This is the framework we are setting up to enable thousands of acres of land to become wildlife reserves, like what is done in Africa."
He said although elephants encroach on villages and oil palm estates, that could not be used as an excuse for the justification of their killings.
Former state tourism, culture and environment minister Datuk Seri Masidi Manjun said Malaysia was close to sealing a bilateral agreement with Indonesia on Sumatran rhinoceros conservation during a working visit to Jakarta by the then-prime minister Datuk Seri Najib Razak.
However, he said a memorandum of understanding (MoU) on the matter was taken out of the agenda at the very last minute.
"At the very last minute, the Indonesian officials said they were not ready to sign the MoU. Our officials were already in Jakarta (to sign it).
"It was supposed to be among the MoUs signed during the visit of the then prime minister with the president of Indonesia.
"However, that MoU was taken out at the 11th hour," Masidi said after launching the Jelajah Parti Pribumi Bersatu Malaysia Sabah programme here yesterday.
It is understood that the visit took place in 2013.
Masidi, however, declined to elaborate on why the signing was removed from the agenda.
Asked when Malaysia first initiated efforts to collaborate with Indonesia on the matter, he said it was when Tan Sri Musa Hitam was Yayasan Sime Darby council chairman.
"He was a good friend of Dr Emil Salim (then Indonesian environment minister).
"He managed to talk to him about signing the MoU.
"Efforts were made but unfortunately it did not materialise."
Back