ZALORA sees Greater KL as door to Asean's e-commerce boom
The Edge Malaysia, November 25, 2019
By all accounts, Southeast Asia is poised for an e-commerce boom in the coming years and Kuala Lumpur is the key to open the door to that growth, from e-retail giant ZALORA's perspective.
Zalora, a major regional e-commerce player owned by global e-commerce giant Global Fashion Group has set up a regional e-fulfilment hub-cum-headquarters in Kuala Lumpur in 2017. With support from InvestKL – a government agency under the Ministry of International Trade and Industry (MITI) – Zalora has grown the facilities into what is today its engine of growth in the region.
The hub not only houses 70% of the group's inventory but also its customer service, marketing, commercial purchasing, finance and human resources functions across all its eight markets in the region.
On top of that, the majority of its leadership team is also based in Kuala Lumpur. In fact, its parent company Global Fashion Group has also moved key positions to KL, which affirms the global strategy to position the Malaysian capital as the engine of entire organisation.
''We wanted out hub to be the main driver of ZALORA's regional operations, supporting all of its markets across Asia. Today, the KL hub serve as the heart of the organisation, fuelling our next stage of growth,'' says chief marketing officer Elias Pour.
But the journey from Kuala Lumpur has only just begun for ZALORA, despite already seeing an average annual growth rate of 25% year-on-year.
It has invested €5.5 million so far. ''Given its importance to the company, we are committed to continue investing in both our KL HQ and regional e-fulfilment hub in the next five years,'' says Pour.
Plans in the pipeline include expanding its warehousing space next year. Its current warehousing facilities span 470,000 sq ft across five levels – the equivalent of nine football playing fields.
Its workforce is also set to grow in tandem with its expansion. At present, ZALORA employs 600 employees in its Kuala Lumpur operations, of which 90% are Malaysians. The figure is expected to hit 1,000 in the next five years.
''Kuala Lumpur is important''
The capital city is a crucial cog in ZALORA's e-commerce machine. And one key advantage is simply the geography. ''Kuala Lumpur's geographical location is ideal for the movement of goods with its extensive sea and airfreight capacity. Our current regional e-fulfilment centre is located within 60km of major dock facilities and two major airports, with easy access to highways,'' says Pour. ''This helps us in getting items in and out fast, enabling us to bring products from the runway to the customer faster than any regional fashion e-commerce player in Southeast Asia.''
The added speed is critical for ZALORA as the region represents a significant part of its future prospects. Southeast Asia is home to over 600 million people or nearly a tenth of the global population.
Given that it is mainly in emerging and developing economies, ZALORA projects that the fashion and lifestyle market will grow three times faster than those in developed markets such as the US and Europe.
''This will result in a larger share being spent on fashion and lifestyle products as a display of pride and prestige, as consumers now have more disposable income. The opportunities in Southeast Asia are endless, and there is no question about why we are focusing on the region,'' Pour adds.
And e-commerce is now the anchor of the internet economy in the region, overtaking online travel. In 2019, e-commerce accounted for US$38 billion – a sevenfold growth over four years (2015:US$5.5 billion).
That means e-commerce accounted for 38% of Southeast Asia's internet economy in 2019, which was valued at US$100 billion (39% higher than in 2018) by Google's e-Conomy Southeast Asia report.
And the growth is only just beginning, according to ZALORA. It expects e-commerce to surpass US$15 billion by 2025 on stronger-than-expected growth.
''ZALORA is gearing up for continued growth across its key markets, including Malaysia, over the next three years with expected annual growth rates of 30% to 50%. Our fulfilment centre in Malaysia plays a significant role in enabling and supporting such a rapid scale expansion,'' says Pour.
To tap that potential, e-commerce players are now in a race to build efficient supply and logistics capability to get quality products to customers as fast as possible. Hence, being in Kuala Lumpur confers ZALORA a strategic speed advantage.
''Building logistics networks with reliable nationwide and region-wide coverage has long been the main objective of the large scale e-commerce players and ZALORA's regional e-fulfilment hub in Malaysia is a concrete example of this move,'' says Pour.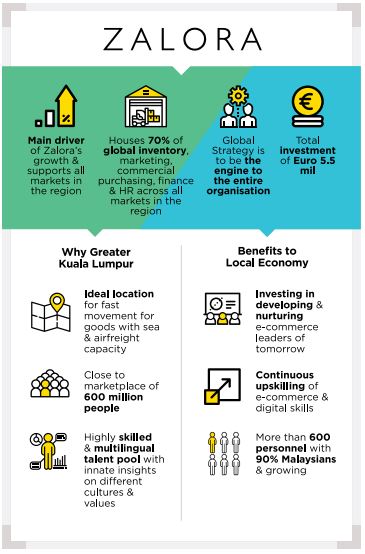 'Win-win for Malaysians'
For Malaysians, ZALORA's investment into Malaysia is a win-win proposition as it not only creates employment but also opens doors for professional upskilling in a fast-growing economic sector.
A unique capacity in the Kuala Lumpur talent pool is an innate insight into different cultures and values by virtue of having a diverse, harmonious society, says ZALORA.
''The population is also highly educated and urbanised, giving us an excellent talent pool that is brimming with digital natives and capable skilled workers able to operate across a multilingual environment,'' says Pour.
''People are the heart of our business, and the quality of our solutions and services are dependent on the people behind them. A diverse and educated talent pool provided us skills and cultural insights that helped us navigate the nuances in all our markets.''
What is on the table for Malaysian talent is opportunity. As e-commerce is a relatively new phenomenon, there is a lack of experience professionals and ZALORA is also investing significantly in developing e-commerce leaders of tomorrow.
''ZALORA is committed to nurturing this talent pool and providing them with best-in-class training, grooming the next generation of e-commerce leaders in the heart of Malaysia.''
''In addition to training and skill building, working for ZALORA represents the unique opportunity of working in the headquarters (not just the local execution offices) of an international e-commerce company, something that other e-commerce players, which mostly have local execution teams in KL, cannot offer,'' says Pour.
In fact, its current head of regional eProduction Ashley Wong and cluster head of human resources Ching Yee Jiun can attest to that focus on internal talent development, having risen through the ranks.
A number of former ZALORIANs in Malaysia have also gained sizeable knowledge and know-how and they have left to become e-commerce entrepreneurs themselves, the firm adds.
Back