Taking Malaysian Street Food Global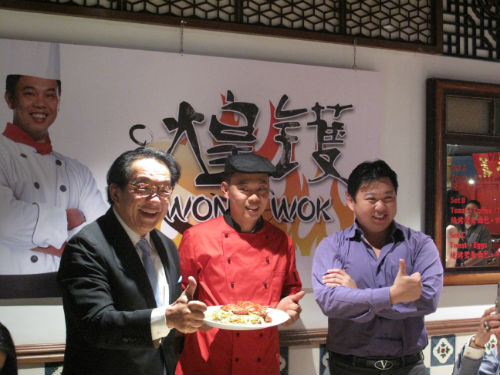 Kuala Lumpur, Jan 6, 2017
Street food may be humble fare, but Malaysian tycoon Tan Sri (Dr) Francis Yeoh, Managing Director of YTL Corporation, has big plans for it. By taking Malaysian hawker cuisine global with Lot 10 Hutong, his vision is of a one-stop gourmet heritage village that offers only the best in Asian street food.
"Good comfort food is a catharsis," says Tan Sri Francis Yeoh. "Although many of these dishes were created and refined by immigrants from China to Nanyang (a Chinese term referring to the South-East Asian region which surrounds the South China Sea), it is time to bring back this unique cuisine to share with not only the rest of China, but the world. These dishes should all be classified as national treasures – albeit edible ones!"
Immigrant Chinese and their descendants who had toiled and endured hardship to build a life here in Malaysia, grew up eating all these food and street wok 'dai chao' food. These were good, nutritious food cooked by honest men who charged cheaply to provide sustenance and simple joy after a hard day's work. That is the reason why many of them still patronise establishments which continue to cook and serve such delicacies that bring back memories of their childhood, of their struggle to build a life and give betterment to their next generation.
It was the fear of these dishes dying out, as more and more of the younger generation didn't want to continue the trade, opting instead for more glamorous and lucrative jobs in offices, which spurred Tan Sri Francis Yeoh into action. "The thought that I might not be able to enjoy these authentic dishes anymore had me panicking."
Lot 10 Hutong's latest offering, Wong Wok, is the ultimate 'dai chao' offering in the heart of Bukit Bintang, serving up classic Chinese dishes cooked with passion and talent by Chef Wong. Having learnt his cooking skills at a young age from his mother, Chef Wong moved to Kuala Lumpur to further hone his talent at the hands of various master chefs. His skill brought him to the helm of YTL's Chinese Kitchen where his signature Dancing Prawn and Sang Har Sang Mee, was birthed. Chef Wong's talent and passion for cooking was instinctively recognised by Tan Sri Francis Yeoh who encouraged him to realise his dream of establishing Wong Wok.
With each hawker having been personally handpicked by Tan Sri Francis Yeoh himself, Lot 10 Hutong offers an incredibly vast and diverse taste of Asian street food, as well as culinary gems that have delighted the tastebuds of Malaysians for several generations now. Lot 10 Hutong gives patrons a taste of not just deliciousness, but also history, heritage, and tradition, with every mouthful.
With the Lot 10 Hutong brand now serving as an umbrella under which these hawkers may flourish, it looks set to introduce a whole new world of tastes and flavours globally while preserving the humble but tasty fare that has sustained generations of Nanyang people. Plans are currently underway to open Lot 10 Hutong in Chengdu and Beijing as well.
Back