Smart bins with Free WiFi to Compact Trash on Orchard Road from November 2016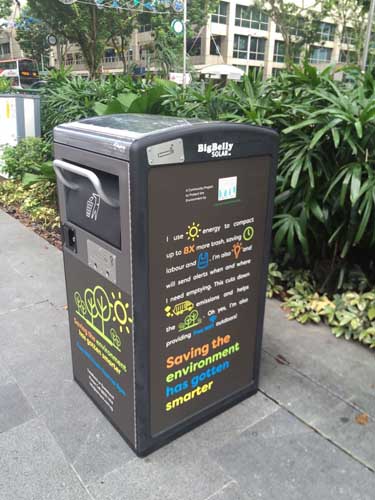 Singapore, October 15, 2016
Terra Sol Pte Ltd, the exclusive distributor of Bigbelly smart bins in SE Asia, is deploying 10 units of solar-powered and WiFi enabled compacting bins in a pilot along the Orchard Road pedestrian mall from Wisma Atria to Mandarin Gallery from November 2016 to January 2017. This project is a collaboration of Terra Sol with network infrastructure solutions provider RansNet Singapore Pte Ltd, WiFi network advertising provider AdZtream Pte Ltd and digital solutions company Digimatic Solutions Pte Ltd.
These smart compacting bins are capable of compacting waste and can hold up to 8 times more trash than normal street bins so fewer trips are needed to empty the same number of bins. The bins are also completely powered by solar energy, and come equipped with smart sensors that will monitor fullness and automatically alert cleaners when they need emptying. The sensor technology could thus help to further improve efficiency as the bins only need to be emptied when they are nearly full instead of at fixed times each day. With the added feature of free WiFi in the bin's vicinity, this could hopefully draw attention to the bins' locations and thus encourage the public and visitors to bin their trash.
Across more than 100 cities globally including New York, London and Berlin, the implementation of more than 40,000 Bigbelly mart bins have proven to enhance productivity, cut operational costs by 80% and even reduce carbon emissions of waste collection vehicles.
Each bin is equipped with a wireless device supported by RansNet Singapore, and is capable of providing free WiFi to pedestrians within a 30 metre radius. In order to ensure that this initiative is self-sustaining, Terra Sol is partnering with AdZtream and Digimatic Solutions to work with Orchard Road retailers to push out special offers and promotions to users who log on to use the WiFi emitted by the bins.
An Environment-Friendly Initiative Supported by YTL Singapore, StarHub Ltd, ORBA, STB and NEA
The Orchard Road Business Association (ORBA) is supporting this initiative as the bins provide free public WiFi and help to create a more pleasant environment, thus enhancing the visitor experience in the precinct.
ORBA's Executive Director, Mr. Steven Goh said, "For ORBA, we are constantly looking for exciting new technologies that not only enhance the aesthetics of Orchard Road
2 but more importantly, add value to our stakeholders and improve visitors' experiences. We hope that this initiative will bring about positive impact to the visitors on Orchard Road".
Sponsoring the pilot project is YTL Singapore Pte Ltd, the Singapore office of Malaysia-based multi-disciplinary conglomerate YTL Corporation; YTL Starhill Global REIT is also one of their Singapore subsidiaries which also owns Wisma Atria along Orchard Road.
Ms. Ruth Yeoh, Executive Director YTL Singapore Pte Ltd, said, "We are pleased to support the launch of these environment-friendly bins in Singapore's most popular shopping street Orchard Road to promote environmentally-conscious behaviour and encourage usage amongst the public to better protect the earth we have inherited."
"This initiative is aligned with YTL's focus on the four pillars of the Group's sustainability strategy, namely its People, the Environment, Marketplace and Society. It also sits well with YTL's role as an official delivery partner in Malaysia of the United Nations' Sustainable Development Goals alongside global firms, such as Google, Sales Force and The Huffington Post, to achieve social progress and sustainable developments. More specifically, YTL has invested heavily in waste management, waste recycling and the reduction of waste to landfills in Wessex Water and GENeco in the UK, YTL Cement in Asia and YTL Power International in Indonesia, Malaysia and Singapore to name a few, added Ruth.
"StarHub is proud to power this pilot using our 4G mobile network to provide wireless connectivity for the smart bins. This is an excellent showcase of how mobile technology can be applied in Internet of Things. Firstly, our 4G infrastructure enables the transmission of real-time information from the smart bins to Terra Sol's waste management system which helps to optimise operation efficiency. Secondly, it powers the WiFi hotspots between the smart bins, allowing visitors to surf the internet for free!" said Mr The Chong Mien, Vice President of Enterprise Business Sales, StarHub. "We are excited to play an integral part in this project, and we will continue to support other initiatives that are strongly aligned to Singapore's Smart Nation Vision."
This initiative is also supported by the Singapore Tourism Board (STB) and National Environment Agency (NEA).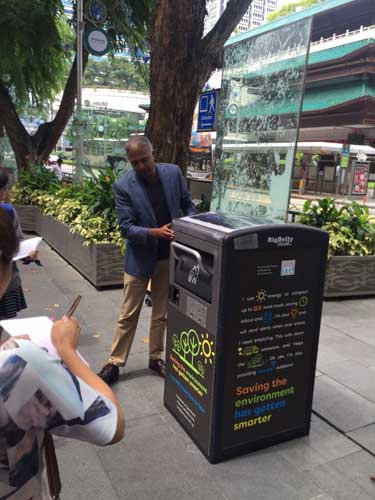 First Major Asian Shopping Belt to Pilot Using of Smart Bins to Provide WiFi
This new initiative is also expected to provide retailers with another channel to better target their location-based advertising efforts going forward to achieve maximum impact.
Visitors who log on through these smart bins not only get to enjoy free WiFi but also receive up to date information on promotions that are available nearby. AdZtream's campaign management software and its cloud-based ad server will be deployed in this initiative to publish advertisements and community messages to mobile devices that are connected to these outdoors WiFi hotspots.
Mr. Jozua Lee, Managing Director of Digimatic Solutions Pte Ltd, who is promoting the advertising services offered by AdZtream Pte Ltd, said, "WiFi advertising in high human traffic areas can help bring relevant brands better marketing outreach compared to generic outdoor advertising. We see a lot of potential in how the brands that have a presence on Orchard Road can utilise this new initiative to improve their promotional outreach whether for
product launches, awareness drives or simply for increasing the likelihood of impulse buys."
For more information, visit http://www.bigbelly.com.sg
Back