Express Rail Link Receives International Recognition as Air Rail Link of the Year at the Global AirRail Awards 2016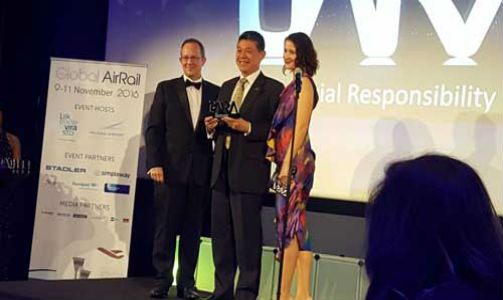 Kuala Lumpur, 15th November 2016
Express Rail Link Sdn. Bhd. (ERL) triumphs again at the annual Global AirRail Awards when KLIA Ekspres was named the North Star Air Rail Link of the Year for the third time in a row.
ERL first received this coveted award in 2012, and again in 2014 and 2015. At this year's ceremony, ERL also received the Social Responsibility award for its Frog Classroom Makeover programme. Receiving the awards in Helsinki, Finland on 10th November 2016 on behalf of ERL was Senior Vice President, Marketing & Sales Management, Yeow Wei-Wen.
Chief Executive Officer of ERL, Noormah Mohd Noor said: "We are honoured to be recognised by our global peers. These awards are a validation of the hard work and commitment of our staff in delivering a world-class customer experience. We also could not have made it without the unwavering support of our customers. ERL will continue to listen to them and innovate to improve our services. With the new trains going into operations next year, service reliability, passenger comfort and safety will remain our priority."
The Global AirRail Awards is organised by Global AirRail Alliance (GARA), a London-based industry organisation joining rail operators, airports, airlines and suppliers from around the world.
"Connecting a railway station with an airport, bringing airport amenities to the city rail terminal, providing joint passenger information or seamless airline/railway journey planning and booking – all this seamless air and rail integration requires close cooperation, transparent communication with stakeholders and an open mind for innovation. The goal of the Global AirRail Awards is to recognise the best in air-rail, and to build awareness of the many projects and partnerships that are being developed to create a truly seamless intermodal travel experience," Milda Manomaityte, Director of GARA said.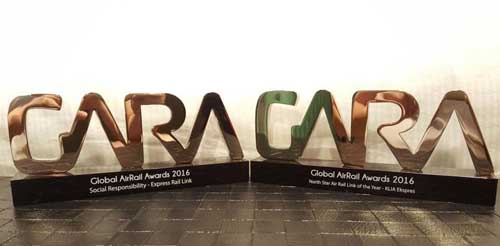 Judges for the awards are professionals in the air and rail industries. They evaluate entries in a number of categories and elect the winners with the highest scores in service to customers, business results, innovation, communication, cooperation and other selected criteria. This year winners were named in ten categories.
The North Star Air Rail Link of the Year award recognises the service with best performance results and highest overall impact to the air-rail market over the past year. Despite facing a number of humbling challenges, KLIA Ekspres managed to achieve a double-digit ridership growth in 2015, the highest in ERL's 13-year history.
For the Social Responsibility award, a new category introduced this year, ERL and its subsidiary ERL Maintenance Support Sdn Bhd were recognised for its inaugural collaboration with YTL Foundation to support the Ministry of Education Malaysia in transforming the education landscape through the Frog Classroom Makeover programme. The social responsibility effort, which also promotes volunteerism amongst the staff, has now become a yearly affair.
These two awards are fresh on the heels of the recognition that ERL received from Suruhanjaya Pengangkutan Awam Darat (SPAD) in October for Best Safety Practices and Best Customer Service in the rail category at the LPT Symposium & Industry Awards 2016.
Back