Championing Ecological Preservation With The Launch of Gaya Island Resort Wildlife Centre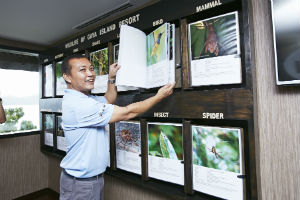 Borneo, Oct 28, 2016
Located in the biodiversity-rich region of Borneo and within the protected Tunku Abdul Rahman Marine Park, Gaya Island is home to some of the most fascinating and exotic species in the world, allowing its guests to embrace the wealth of flora and fauna it is part of. YTL's Gaya Island Resort marked another important milestone with the official launch of Gaya Island Resort Wildlife Centre on 26 October 2016. Led by Justin Juhun - Senior Resident Naturalist, the team is committed to long-term conservation, raising awareness for sustainable seafood choices, crafting experiences and educational programmes to protect and improve the natural environment for resort guests and future generations to come with the unwavering support of Sabah Parks and local governing bodies.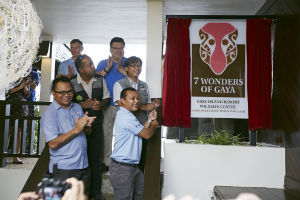 Officiating the launch of Gaya Island Resort Wildlife Centre was Dato' Mark Yeoh - Executive Director of YTL Hotels, the Guest of Honour Justinus Guntabid – Manager of Tunku Abdul Rahman Marine Park, Dr Sen Nathan - Assistant Director of Sabah Wildlife Department and Julinus Jeffrey Jimit – Senior Manager of Sabah Tourism Product Division.
Gaya Island Resort's General Manager, Dennis Gordienko, delivered a welcome note followed by speeches from Dato' Mark Yeoh, Justinus Guntabid and Justin Juhun. A short tour of the facility was conducted after the wildlife centre was declared opened where guests had the opportunity to meet a small collared scops owl nicknamed 'One Eye', that was rescued by a staff member in April 2016 and handed to the naturalists at Gaya Island Resort. The half-blinded owl is being rehabilitated and will be released back to the wild once recovered.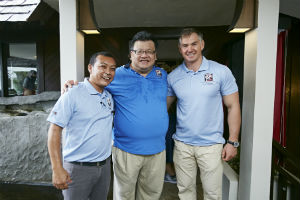 "YTL Hotels' partnership with Sabah Parks has been our happiest venture with mutual support and cooperation including an estimated RM2.5 million contribution to Sabah Parks for the on-going conservation efforts of Gaya Island. The diverse flora and fauna found on this island and in particular, the godsend discovery of proboscis monkey harems as our neighbours is very exciting for me as it makes our guest stays immensely special. 'Treasured places, Treasured moments' form our mantra at YTL Hotels that goes beyond a cliché hotel room. Here, we have a winning combination with the rich biodiversity coupled by the knowledge and passion of Justin Juhun and his team who has curated and brought to life unique activities such as our signature 7 Wonders of Gaya experience. I am very proud of the team's efforts and we will continue to support endeavours for responsible tourism to further enrich this resort for our guests," said Dato' Mark Yeoh.
Gaya Island Resort Wildlife Centre will showcase 7 Wonders of Gaya – a crafted experience that allow guests to experience a range of signature encounters featuring a focus on proboscis monkeys, wildlife sightings, a mangrove kayak tour, rare flora and fauna, and educational programmes led by our Resident Naturalist. But their core activities centres around nature and wildlife preservation, especially of the endangered proboscis monkeys who have made Gaya Island their home, and educational jungle trails. Furthermore, the team of naturalists will, in partnership with Sabah Parks and Sabah Wildlife Department, share environmental enrichment enrichment initiatives, the diverse wildlife species and habitat found on Gaya Island, and conservation activities within the resort. The protection of mangroves that surrounds Gaya Island is also a key focus that resulted in a mangrove reforestation project that was initiated by the naturalist team in September 2014 to further enrich the local habitat.
Gaya Island Resort won the 'Best in Protection of Natural Areas and Wildlife Conservation' category at Wild Asia Responsible Tourism Awards in 2015 for their exemplary efforts in responsible and sustainable tourism. The award recognises Gaya Island Resort's consideration of their local environment and biodiversity by actively supporting and protecting their natural assets.
Back