Water cuts in Klang Valley since December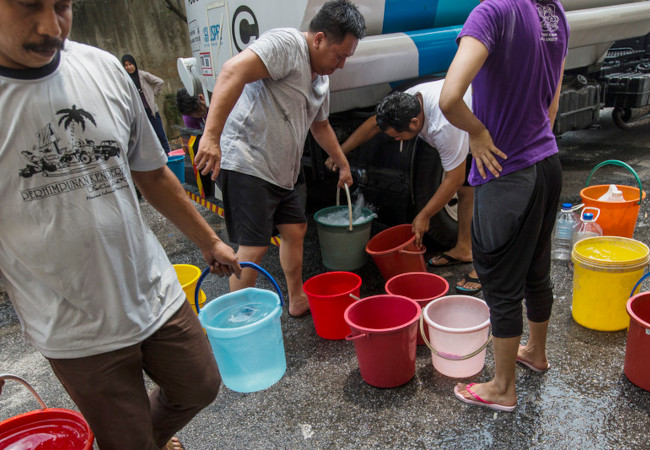 NST, September 4, 2020
1. Dec 21 to 25, 2019
The Sungai Semenyih Water Treatment Plant is shut down due to odour pollution.
The unscheduled water disruption hits 328,957 consumers in Petaling, Hulu Langat, Kuala Langat and Sepang.
A river monitoring team made up of personnel from Air Selangor and the Selangor Water Management Authority (Luas) is mobilised to identify the source of the odour contamination in the river as well as its tributaries.
Air Selangor activates the Emergency Action Plan to help customers.
Water supply is restored between Dec 23 and 25, with the recovery period varying from one area to another, depending on the location and altitude.
Water tankers are sent to affected areas.
2. March 17 and 18, 2020
Water supply is halted at phases 1,2 and 3 of the Sungai Selangor Water Treatment Plant and Rantau Panjang.
The districts affected are Kuala Lumpur, Petaling Jaya, Klang/Shah Alam, Kuala Selangor, Hulu Selangor, Gombak and Kuala Langat.
Water supply is restored in Kuala Selangor on March 18.
Operations are halted due to odour pollution in Sungai Selangor.
3. Scheduled water supply disruption (July 14 to 17)
The four-day Sungai Selangor Treatment Plant (LRA) Phase 3 (LRA SSP3) upgrading work from July 14 causes a water supply disruption, affecting 420,000 users in Petaling, Klang, Gombak, Kuala Langat and Kuala Lumpur districts.
The shutdown, which includes the replacement of pipelines, is to improve the system and plant operation's efficiency.
The timing of the distuption and recovery of water supply vary by districts, locations, and altitude of customers' premises.
Air Selangor mobilises 91 water tankers with priority given to critical premises, such as hospitals and dialysis centres.
Public water taps are provided by Air Selangor.
4. July 15, 2020
A scheduled water disruption affects 26 areas, or nine per cent of total areas, from July 14 to 17.
Water is fully restored at 4pm on July 15.
Air Selangor mobilises 93 water tanker trucks to critical premises, such as hospitals, dialysis centres and health clinics.
Static tanks are placed at dialysis centres, health clinics and schools.
Water tankers are sent to residential areas on July 16.
On July 15, Air Selangor reactivates the SSP3 LRA system after the upgrading works at the plant.
5. July 21, 2020
A water pipe bursts around 4pm in Jalan Johan Setia and Jalan Langat, Klang, on July 20.
This causes water disruptions in Klang (Bandar Bistari, Batu 5 and 6, Sijangkang and Jalan Johan Setia) and Kuala Langat (Sijangkang, Kampung Medan, Jalan Sijangkang Utama, Eco Sanctuary, Batu 9 Kebun Baru, Taman Perwira, Taman Seri Medan, Taman Sijangkang Jaya and Tropicana Aman).
The burst pipe is attributed to boring works for the construction of the Light Rail Transit 3 project.
Air Selangor water tankers are mobilised.
6. Sep 3, 2020
Syarikat Pengurusan Air Selangor (Air Selangor) stops operations at the Rantau Panjang Water Treatment Plant at 7.15am, causing water disruptions in Kuala Lumpur, Petaling, Klang/Shah Alam, Kuala Selangor, Gombak and Kuala Langat.
Back