The Gainsborough Bath Spa named in Travel + Leisure's ''It List'' 2016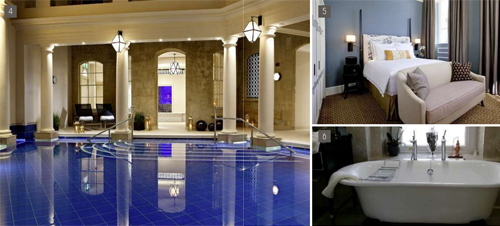 Kuala Lumpur, February 2016
YTL Hotels is proud to announce that The Gainsborough Bath Spa has been included in the Travel + Leisure's "It List" 2016: The Best New Hotels on the Planet.
Handpicked by the editorial team and contributing writers, Travel + Leisure acknowledges, rewards and celebrates hotels that encompass beautiful design and unique style in some of the best cities in the world. The Gainsborough Bath Spa is delighted to be a part of such an exclusive list.
The Gainsborough Bath Spa is the only hotel in the UK to offer its guests' exclusive access to Bath's famed natural thermal waters in its luxurious spa. An experience that takes guests on a ritualised and immersive self-guided tour in a modern day Roman Bath circuit. The "It List" congratulates the hotel's signature feature, as well as its design by award-winning New York-based Champalimaud Design, which pays homage to the building's fascinating history and Georgian characteristics. This accolade continues to position The Gainsborough Bath Spa as an exceptional luxury hotel globally, as well as locally, since its official opening in September 2015.
The hotel is the newest addition to the YTL Hotels portfolio of luxury properties. The 99-room hotel is ideally located along Beau Street, minutes away from the city's historical attractions, shopping and restaurant districts, and directly opposite the Thermae Bath Spa. This historic property is located just a five-minute walk from the Bath Spa train station, and a 90-minute train journey from London.
The only member of The Leading Hotels of the World in South West England, this holistic landmark is one of YTL Hotels' most significant openings to date, and is set to be a future iconic property in the UK and internationally. Today, The Gainsborough Bath Spa stands as YTL Hotels' first Classic Hotel in Europe, as well as the sole hotel in the UK to have exclusive access to Bath's natural thermal mineral waters.
Nightly rates at The Gainsborough Bath Spa start from £285 on a room-only basis.
Back