Leading the W@Y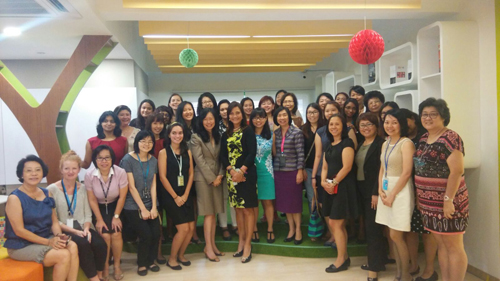 Kuala Lumpur, February 2, 2016
Last year, the YTL Group set out to tackle various issues highlighted in The Sustainable Development Goals, an initiative by the United Nations. The Goals for Sustainable Development or The Global Goals is a 17-point plan to end poverty, halt climate change and fight injustice and inequality. It is known as the biggest attempt in the history of the human race to make the world a better place.
In meeting the need for Gender Equality as outlined by The Global Goals, the W@Y initiative was borne, spearheaded by Jillian Quah, Corporate Finance Manager at YTL Corporation. In her current position at YTL, Jillian is involved in managing the GST implementation across the YTL Group. She acts as the GST subject matter expert and is involved in monitoring and coordinating the GST implementation process.
W@Y or "Women at YTL" was established at YTL's Leadership Conference 2015 by Jillian to achieve gender equality and empower all women and girls at YTL and beyond. Acting as YTL's very own women's network, the programme seeks to empower and support the women across the organisation, helping them grow and reach their full potential.
The launch of the first W@Y initiative was held on January 27th and was officiated by Datuk Yasmin Yusuff. One of Malaysia's multi-talented inspirational women, Yasmin has worn many hats from being an award winning radio DJ, a professional MC, actress, singer and voiceover. She is also a former Miss Malaysia, who won third place for the Best National Dress in the Miss Universe Pageant in 1978.
The event saw women from different companies across the YTL Group gather at 54C, The YTL Learning Centre for a luncheon followed by a Q&A session.
Datuk Yasmin shared about her life, the social causes she lends support to and her daily goal "to make people happy". Offering candid life experiences, Yasmin shared about juggling work, family/friends and prioritising her health to be able to go the extra mile in giving back to society.
The W@Y platform is open to all individuals regardless of gender, race and designation who are interested in supporting the women within the Group. This initiative aims to bolster confidence and raise competency in the workplace and offer support and a spirit of camaraderie among the female workforce.
W@Y aims to provide a variety of courses and material ranging from public speaking, family and financial planning to health awareness programmes, beauty and lifestyle related courses.
For more updates and upcoming events on W@Y, log on to YTL Connect or follow us on facebook.com/ytlcommunity
Back