eslite spectrum Kuala Lumpur opens its doors on 17th December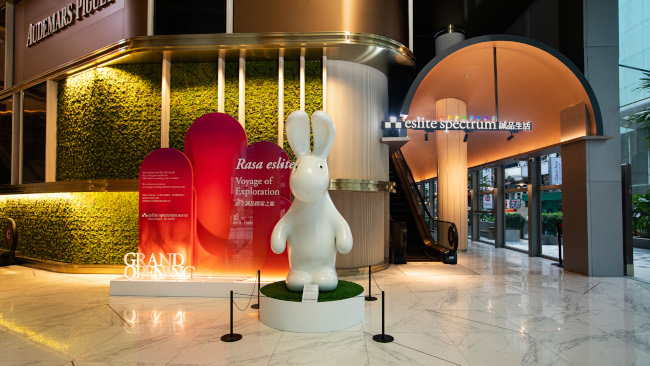 Kuala Lumpur, Dec 17, 2022
eslite spectrum Kuala Lumpur officially opened its doors at The Starhill on 17th December 2022 and stayed open until 1am in what it dubbed a "Sleepless Saturday" to offer book lovers an extended opportunity to experience the grand opening celebration.
In her welcome address, Chairperson of eslite Corporation, Ms. Mercy Wu noted that eslite spectrum Kuala Lumpur is their first flagship store in Southeast Asia.
"Our hearts are filled with joy and gratitude. We sincerely hope that eslite spectrum Kuala Lumpur will become a place of humanistic care and fun exploration. We aspire to be a cultural space generating warmth, celebrating stories, and embracing inclusion for everyone. I look forward to curating cross-cultural, -sector and -language experiences to realise arts and cultural exchanges in Kuala Lumpur with Malaysians," she said.
eslite now operates 48 stores in Taiwan, Hong Kong, Suzhou, Tokyo, and Kuala Lumpur. More than just a bookstore, eslite spectrum Kuala Lumpur is a cultural venue that offers a diverse, multilingual reading experiences, exclusive stationery from all over the world, unique products that are both cultural and creative, lifestyle trends, arts exhibitions, and performances, as well as world-class coffee, all under one roof.
"YTL extends our heartiest congratulations to eslite on this momentous occasion of unveiling eslite spectrum to Malaysia at The Starhill right in the heart of Bukit Bintang. We are privileged to be part of the two-year journey in setting up this creative arts and cultural destination. We truly treasure our partnership with eslite and our shared belief in doing business for community good by nurturing creativity and enriching lives with knowledge and wisdom. I am confident eslite spectrum will be the top destination of choice for locals and tourists alike in search of good books and everything creative. The Starhill warmly welcomes eslite spectrum as our anchor tenant to complete our vision as Home of the Tastemakers. May God bless this endeavor." said Tan Sri (Sir) Francis Yeoh, Executive Chairman of YTL Corporation.
Located on the first floor of The Starhill in Bukit Bintang, eslite spectrum Kuala Lumpur has turned to Italo Calvino's iconic novel, Invisible Cities, for design inspiration. The escalator rides up into a tunnel like entrance is a befitting prelude to the eslite adventure that awaits, beginning with artist Benrei Huang's rabbit sculpture Nini, who stands watch over the entrance to four themed spaces, namely the City of Arches, The Floating City, the City of Rippling Waves, and the City of Eternal Day.
One of the many outstanding features of eslite spectrum Kuala Lumpur is a unique urban literary trail that highlights 17 diverse authors from across the globe. Also spotlighted are the cities that the authors are associated with; Victor Hugo and Paris; Haruki Murakami and Tokyo; Eileen Chang and Shanghai; Pai Hsien-yung and Taipei and Kuala Lumpur's own A. Samad Said are just some of the authors featured. Also, on display is eslite spectrum Kuala Lumpur's first collection of eslite Recommends curated by dedicated staff members, comprising 100 Chinese and English classics from Taiwan, Hong Kong, and Suzhou, published between 2020 and 2022.
In conjunction with the grand opening, book fairs titled "Prologue: Read" and the "Five Senses of The Heart" have been announced; these follow the theme of RASA, which is the Bahasa Malaysia word for 'feeling'.
In addition to thousands of quality made-in-Taiwan products and world-class coffee brands, eslite spectrum Kuala Lumpur is inviting Malaysians to interact within the space itself. More than 30 art and cultural activities have been scheduled to celebrate eslite spectrum Kuala Lumpur's grand opening. First up are special talks and performances by publisher Hung-Tze, Jan, writers Betty Wu and Wei Ye, as well as singer Victor Wong during the weekend of 17th and 18th December. Special sharing sessions over the Christmas and New Year holidays will feature critically acclaimed Malaysian Chinese writer King Ban Hui; best-selling author Peter Su; Malaysian lawyer and writer Toh Harnniann, Malaysian miniature artist Lim Pui Wan, who once appeared on a show alongside "Deadpool" actor Ryan Reynolds; as well as Golden Horse Award Best Original Film Song Winner, Zee Avi. These luminaries of their respective fields will share their healing, growth, and adventures gained from their individual creative journeys.
Meanwhile, making a special appearance at the New Year's Eve "Sleepless Saturday" event will be popular writer Huang Shan Liao, who won eslite bookstore's best-selling title of the year with his first teen romance novel "If You Never Say Goodbye", as well as Malaysian singer Zee Avi. They will be joined by Malaysian musician Keon Chia; world-renowned picture book illustrator and writer Jimmy Liao's art exhibition; Christmas carols, children's storytelling sessions, string quartets, jazz performances, handicraft workshops and many other exciting activities.
eslite spectrum Kuala Lumpur is delighted to invite one and all to celebrate the festive season with books, and everything in between. Sign up as an eslite member and spend a minimum of RM100.00 in a single transaction from today until 29th January 2023 for a chance to win a pair of Kuala Lumpur-Taipei round-trip tickets with STARLUX Airlines; one-night stay in The Ritz-Carlton Suite and Club Executive Deluxe room of The Ritz-Carlton, Kuala Lumpur; one-night stay in the Junior Suite and Club Executive room of the JW Marriott Hotel Kuala Lumpur; and RM1,000.00 worth of book vouchers, etc.
Back