Discover Niseko Village's Best-Kept Summer Secrets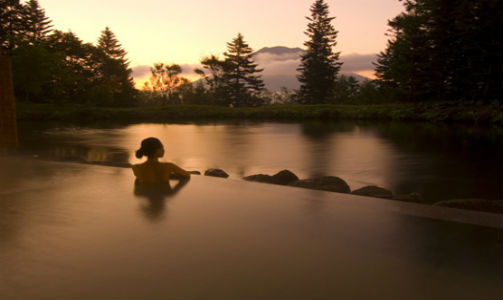 Kuala Lumpur, 3 July 2015
Niseko Village, the internationally acclaimed powder mecca of Japan, has thawed into a stunning countryside and in full summer mode for outdoor enthusiasts and gourmet travellers alike. Located in Hokkaido, Niseko is one of Japan's best-kept secrets as a green season destination where snowboards and skis are traded for summer gear that includes bicycles, hiking shoes and golf clubs, and where fields and local farmers' markets explode in riotous colour from now until November.
Niseko is fast gaining recognition as an endurance sports paradise offering endless alpine scenery, pristine caldera lakes, lush forests and quiet roads for major marathons and cycling events, including the Ironman Japan Triathlon that draws athletes from around the world annually. Miles of footpaths and trekking mountain trails around Niseko offer countless vantage points to admire the magnificent scenery while the Shiribetsu River allows for some of the best whitewater rafting and fly fishing in Asia.
PURE at Niseko Village, a nature activity centre located at Hilton Niseko Village's doorstep, features Japan's longest zip line tour, tree trekking, mountain biking, horseback riding and hot air ballooning as some of the key attractions, including a number of activities to delight kids. Avid golfers would be pleased to know that Niseko Village boasts two world-class golf courses – awarded as Japan's Best Golf Course, Niseko Village Golf Course is an 18-hole, par 73 course, offering well-manicured greens and immaculate fairways bordered by a silver birch forest while 20 minutes away, the Arnold Palmer-designed Niseko Golf Course is one of Hokkaido's most challenging courses surrounded by unmistakable Niseko scenery.
Niseko Village is proud to be the venue co-host for Cow Parade Niseko 2015 Opening Party on 3 July 2015 at the heart of the village where paved intimate walkways are flanked by contemporary shopping and dining concepts inspired by traditional Japanese machiya architecture. Cow Parade is the largest public art event in the world and this year, Niseko will become the 81st host for a total of 47 life-size decorated model cows that will be displayed around Niseko from June to October 2015.
Flanked by the chilly Seas of Japan and Okhotsk, it comes as no surprise that seafood, particularly crab, features strongly in Hokkaido cuisine and is celebrated at all dining outlets within Niseko Village alongside with a plethora of local produce proudly cultivated by nearly 5,000 farmers and fruit growers. For those seeking fresh produce, Michi-no-eki or the Niseko View Plaza farmers' market displays a selection of vegetables and seasonal specialities such as Hokkaido pearl corn, prized melons raised by hand or local Danshaku and Kita Akari potatoes.
Niseko Village is a convenient accommodation base from which to explore the diverse outdoor activities and culinary offerings with incredible Mount Yotei views. The recently launched Kasara Niseko Village Townhouse comprises of eight luxurious three-bedroom townhouses that embodies traditional Japanese architectural charm with bespoke interiors, personalised services and priority privileges while Hilton Niseko Village offers facilities such as onsen, Wakka Spa, Kids Room, Hilton Fitness, restaurants and bars, as well as meeting and function spaces. Contemporary shopping and dining concepts within the village complements and allows for a seamless access between mountain adventures and indoor diversions, day and night.
Niseko Village is well served by the New Chitose Airport, the largest commercial airport in Hokkaido, operating a large number of both domestic and international flights on a daily basis. With the new route expansion news to Chitose from AirAsia X, travellers from Kuala Lumpur will enjoy a direct connection four times weekly from 1 October 2015 – perfect timing for the annual Niseko Halloween Party, the Mikaku Fiesta in Hilton Niseko Village or to book your white season adventure from 1 December 2015.
Back