A taste of the University of Oxford at the Leaps Of Knowledge Conference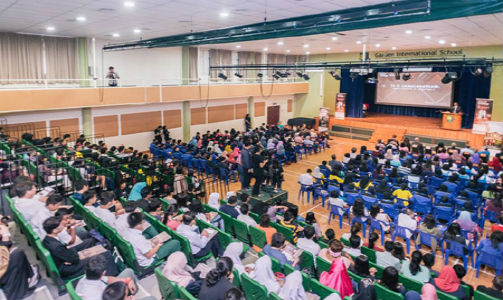 25th July 2015, Kuala Lumpur
St Anne's College, University of Oxford partners with FrogAsia Sdn Bhd to empower Malaysian students, teachers and parents at the Leaps of Knowledge Conference.
The main hall of Garden International School was packed with over 500 participants comprising of parents, teachers and students from all over Malaysia for The Leaps of Knowledge Conference 2015. The conference, which was officiated by the Deputy Minister of Education II, Y.B. Tuan P. Kalamanathan, provided valuable insights and information about higher education in the United Kingdom and in particular the University of Oxford, one of the world's oldest and most prestigious universities.
Presented by FrogAsia Sdn Bhd ("FrogAsia") and sponsored by YTL Foundation, the conference brought together professors from the University of Oxford to encourage Malaysian students to aspire to further their studies at the University of Oxford and other top British universities.
"We want Malaysian students to understand that the University of Oxford is a viable option available for everyone, so as long as you have the ability and drive to succeed. Through the conference and the Summer School, we want to provide an avenue of guidance and support to Malaysian students, especially when they are asking themselves the next big question after school – What do I do next?" says Lou Yeoh, Executive Director of FrogAsia Sdn Bhd.
A Summer School for Malaysian Students
The Leaps of Knowledge Conference is the culmination of a 4 day summer school programme conducted by St. Anne's College at the Garden International School. The St. Anne's College, University of Oxford Summer School KL ("Summer School") saw 175 Malaysian students undergo an intensive programme during which each student had the opportunity to be taught 4 subjects of their choice offered at Oxford University, thereby giving them an understanding of the course content and helping them make that important decision of which course to apply for at university.
The professors taught the students how to extract DNA from kiwi fruit in the biochemistry class, aspiring engineers had the chance to find out a jet engine turbine works and a tank full of live marine animals set the discussion in the biology class. Other subjects taught were Law, Geography, Physics, Mathematics, Material Science, International Relations and Politics.
Students came from both state as well as private schools. The majority were from state schools and were selected by the Ministry of Education and FrogAsia based on academic results, co-curricular activities and a letter of recommendation from a teacher. Student numbers were kept small to ensure maximum interaction in class.
"I believe that the University of Oxford is not an impossible university for Malaysian students to get in to. Everyone should try their best to realise their full potential," said Y.B. Tuan P. Kalamanathan
Guidance and Inspiration for University Applicants
As places for the Summer School were limited, the one day Leaps of Knowledge Conference provided many more students as well as teachers and parents the chance to hear the same professors speak on their academic subjects and understand the application processes to British universities.
The conference also featured a student panel, comprising undergraduates currently studying at the University of Oxford. The undergraduates discussed life at Oxford and the challenges they faced when they first arrived at the University and how they coped as well as the extra-curricular activities available. Abhishek Kamat, the current President of the Junior Common Room at St Anne's, drew huge applause when he said, "If you want to make friends quickly, all you have to do is cook a Malaysian meal and invite your college mates!".
An interesting feature of the conference were the two mock Oxford admissions interviews held on stage. Known for questions that encourage critical thinking and in-depth knowledge of a subject, the interviews are probably the most challenging part of the application process.
The conference closed with an address by YAM Tunku Ali Redhauddin Ibni Tuanku Mukriz, Tunku Besar Seri Menanti of Negeri Sembilan and Chairman of Teach for Malaysia, who spoke about his time as an undergraduate at Cambridge and why he is passionate about education.
Through the collaboration with FrogAsia, all content from the Summer School and the conference to be available on the Frog Virtual Learning Environment ("Frog VLE"). This means that the programme can benefit a much wider spectrum of talented students across Malaysia as all students, teachers and parents in state schools in the country can easily access the content on the Frog VLE.
As Tim Gardam, principal of St Anne's explained, "We know that across Malaysia there are very bright students that are studying hard and are beginning to think about what sort of subjects they want to study at university. Through these two events, the Summer School KL programme and the Leaps of Knowledge Conference, we want to make sure our academics can speak to Malaysian students and give them a sense on what they can aspire to do and that they can come to the University of Oxford, have a fulfilling and enriching time here and leave to do great things for Malaysia and the world".
Back