Style blooms this spring at YTL's Starhill Gallery Fashion Week Spring/Summer 2015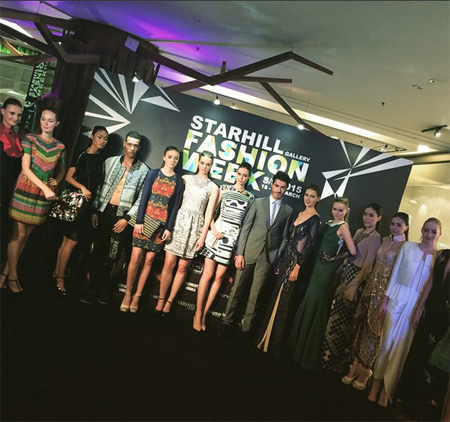 Kuala Lumpur, 18th March 2015
Starhill Gallery Fashion Week SS 2015 was spectacularly launched in the very heart of Bukit Bintang. Starhill Gallery's exclusive guests sipped on G.H Mumm Champagne and Absolut Vodka cocktails amidst an abundance of glitz and glamour at the opening party of the four-day fashion parade which took place on Wednesday, 18th March and concluded on Saturday, 21st March.
The latest trends of 2015's Spring/Summer collections were unveiled during a magnificent showcase of Starhill Gallery's exclusive designer labels; iKarrtini, Kenzo, Khoon Hooi, McQ Alexander McQueen, M Missoni, Mita Tam Style Studio, Sergio Rossi and Valentino. The biggest brand names in the fashion industry took to the catwalk and captivated the invited guests at the opening party's fashion show with a variety of choice and stylishly breathtaking garments, contemporary trends and the most up-to-date accessories. From red carpet dresses and runway outfits to this season's monochromatic, geometric patterns and neon colours, Starhill Gallery Fashion Week's catwalk displayed the very best in style from the new season. This season's catwalk hair was provided by Number 76 Hair Salon, a recent addition to the exclusive tenants housed at Starhill Gallery.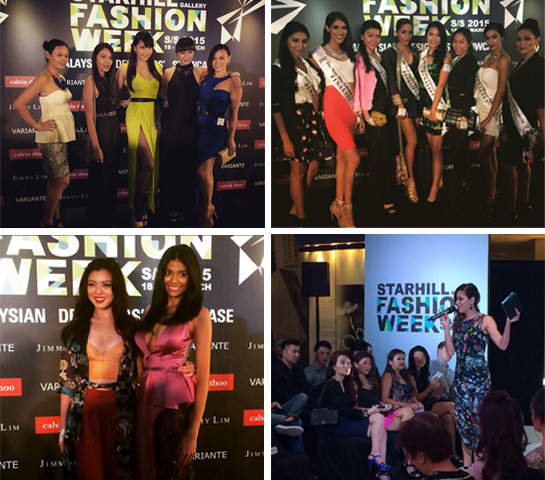 Vice President of YTL Land & Development Bhd, YTL Hotels and Properties, Joseph Yeoh, said "Starhill Gallery's portfolio of the best fashion brands is constantly growing and we are proud to be able to offer such a variety of choice and deliver exclusive experiences like Starhill Gallery Fashion Week."
Haute couture is powered by one, all-encompassing emotion – love, and this was certainly predominant in Valentino's latest collection, which created one-of-a-kind garments that danced between the modern - with poems appliquéd onto dresses in ''pure elemental colours'' - and the historical. Kenzo's Spring/Summer collection reinterpreted the extremely creative era to celebrate the independent woman born in the sixties. McQ by Alexander McQueen did not disappoint with its combination of British street culture with the spare elegance of the aesthete creating a collection that fused youthful playfulness with technological rigour and precision. Fresh and colourful, cool and chic M Missoni is synonymous with distinction and unique in style and this season introduced a lively and colourful mood inspired by the "Jamaican Way of Living". The Spring/Summer 2015 collection by Sergio Rossi is an aesthetic reflection on beauty, understood as a set of simple and immediate expressions which revealed, on closer vision, infinite details. This season, Khoon Hooi has incorporated spring elements such as the hummingbird, flowers and the pastel colours of the sky into the collection. Bright and cheerful, the collection emotes certain darkness that evokes a sense of sophistication. The Spring/Summer 2015 collection by iKarrtini encapsulated what truly is Malaysia by marrying the traditional with the contemporary. Light patterns as well as colourful floral dresses for both casual and formal occasions were the highlights of the Spring/Summer collection by Mita Tam Style Studio.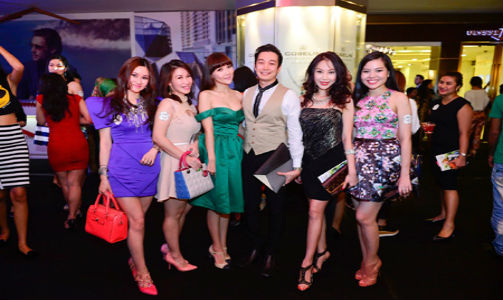 Following on from the spectacular fashion show, the lively atmosphere of the opening night was kept alive by vigorous DJ beats and an array of handcrafted canapés, sushi and a carvery prepared exclusively for the event by Shook! restaurant's Executive Chef Matthew Ona, leaving all the fashionistas in attendance, including the likes of stylish fashion designers Jimmy Lim, Khoon Hooi and Leslie Variyan and celebrities Linora Low, Carey Ng and Sarah Lian thoroughly entertained. Also in attendance were Miss Universe Malaysia 2015 finalists Kohinoor Kaur, Shaelina Martin, Manisha Kumar, Sugeeta Chandran and Pauline Thong.
Additional highlights of the event were the luxurious pop-up carts; exquisite chocolate sampling by Armani Dolci whilst Fragrance du Bois' interactive display of the world's rarest elixirs proved extremely popular and BMIC Nail Spa Salon provided a complimentary nail service which included a hand massage, manicure and nail art design before delighted guests were encouraged to take away a memorable souvenir photo from the VIP photo booths located on Starhill Gallery's Adorn Floor. Guests received a shopping guide upon entry outlining exclusive in-store offers until 10pm allowing them to peruse the new season's collections whilst enjoying unlimited complimentary candy floss and popcorn en route.
The four-day event featured special in-store deals, exclusive complimentary gifts, services and parties that combined to create an unforgettable experience. With an additional focus on lifestyle this year, guests could sign up for attractive daytime Pampering & Lifestyle Packages available exclusively at BMIC Nail Spa Salon, Donna Spa and IPL Skin Care Clinique.
This glamorous fashion event was in partnership with Citibank, DR Events & Consultancy, Malaysia Airlines, Pernod Ricard Malaysia, Shook! Restaurant, The Ritz-Carlton, Kuala Lumpur and YTL Info Screen. The event upheld Starhill Gallery's status as Malaysia's luxury shopping destination with its exclusive boutiques, international designer collections and fashionable society events. The four-day glitzy fashion event provided invited guests with the exclusive opportunity to view the latest collections from both international and local designer labels for the first time here in Kuala Lumpur.
Back