Make No Mistake, You're In Japan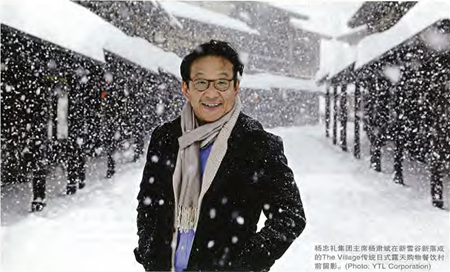 ZbBz, March 2015
Developments such as machiya-style residences are adding authentic Japanese touches into the largely Westernised ski resorts of Niseko.
When few outside of Japan had heard of Hokkaido's wintry pleasures, Tan Sri Francis Yeoh had been there to ski. That was 20 years ago, when the Malaysian business tycoon would hire a helicopter and guide to take his family and friends around, from the towns of Furano to Niseko.
Yeoh, now 59, recalls venturing to areas far away from the pistes too, where the snow was knee-deep.
"Niseko is blessed with fine, powdery white snow, which makes close to no sound when you ski," says Yeoh. "I couldn't bear to share this secret with others. It was like our own little piece of skiing heaven, that is, until my brother announced he had bought some land in Niseko Village."
Niseko consists of four ski resort areas: Annupuri, Hanazono, Hirafu and Niseko Village. While there has been talk about Singapore billionaire Christina Ong buying land at Hirafu and Richard Li, the son of Hong Kong tycoon Li Ka-shing, buying a US$1.2 billion (S$1.6 billion) plot of land at Hanazono in 2011, their grand scheme for Niseko remains to be seen.
Yeoh's YTL Corporation is the only developer that appears to have made any real moves into Niseko. The group paid Citigroup US$60 million for a parcel of land during the financial crisis of 2010. The 1,000-acre lot in Niseko Village was already home to two luxury hotels – the elegant Green Leaf Boutique Hotel and the 499-room Hilton Niseko Village – which were well-situated at the foot of Mount Annupuri. During the peak season from December to March, the hotels are always full.
Yeoh predicts that Asia is about to experience a huge ski boom. Traditionally, skiing has been a popular sport for Westerners, but a small number of wealthy Asians have been buying vacation houses in Aspen and Whistler to complement their skiing hobby, he says. "As the Asian economy continues to boom, a growing number is set to hop on the skiing bandwagon."
Asians will soon realise that they do not need to travel all the way to Europe for the best ski slopes – the amount of snowfall at Niseko is world No. 2 and its snow is the softest and finest in Japan, says Yeoh. "Niseko has a great future. It's God's blessing that we can be the first to set foot here. A storm is brewing as the Chinese begin to ski."
He adds: "I've been to all the best ski resorts in the world and that's how I can be certain that Niseko has the potential to be among the very best."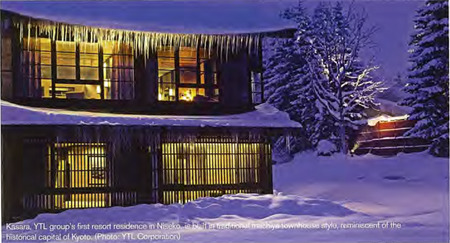 Fresh Fall Of Snow
As the population of the Lion City edges towards six million, Singaporeans are pushing further and upwards for their vacations to really get away. Many of the well-heeled are heading to the Hokkaido town of Niseko, drawn by its fine snow, world-class cuisine and pristine landscape. Singaporeans now make up the third-largest group of visitors to Niseko.
Between November 2013 and April 2014, 22,576 Singaporean visited Niseko. This is a 206 per cent jump from the previous year. During the same period, a total of 199,300 foreigners visited the town, of which 29,196 were Hong Kongers and 102,324 Australians. More businesses are also being drawn to this snowy village by the buzz of development. Singapore billionaire Ong Beng Seng and wife Christina Ong were rumoured to have acquired land there to develop hospitality and real estate projects, while others flock there to build their dream homes, attracted by the relatively low cost and stunning scenery. Malaysian conglomerate YTL Corporation recently launched the Kasara townhouse project and The Village mall, which use an ancient Japanese style of architecture. The beauty of the YTL properties demonstrates how traditional Japanese culture sits perfect with a modern crowd and Niseko's rising stature as one of the best ski resorts in the world.
Back