Here's the Village, people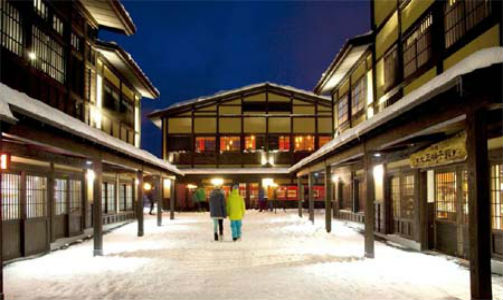 The Star, January 11, 2014
By June H.L Wong
Niseko Village, the Malaysian-owned, award-winning ski resort, unveils its latest developments that will make it even more fun and luxurious.
IT felt like I had come home. The familiarity of the place and faces warmed me in the winter cold of Hokkaido, Japan.
This was Niseko Village, the YTL-owned award-winning ski resort located at the foot of Mount Annupuri, which I first visited almost two years ago. That gave me one of my happiest, most exhilarating holiday experiences. I discovered the beauty and splendour of snow of the finest quality and I learned how to ski.
So when the invitation came from YTL Hotels to revisit, I jumped at the chance. While I was keen to take to the ski slopes again, it was also an opportunity to see the new developments added to this sprawling 615ha resort.
These are the Kasara townhouses and the shopping and food and beverage cluster built in Niseko Village to cater to the needs of a growing clientele. I had noted that the one thing that was missing in Niseko Village was a place to shop, something the YTL people were fully aware of. They promised a new shopping core would be ready by December 2014 and so it was and I was invited to witness its official opening by YTL Corporation Bhd group managing director, Tan Sri Francis Yeoh.
Niseko Village was originally created for the domestic ski enthusiast market and the Japanese continue to make up the biggest number of visitors. But since YTL's purchase in 2010, its clientele has grown to include more Asians, mostly from China and Hong Kong and increasingly from South-East Asia like Singapore and Thailand.
And as Yeoh explains, while Niseko is brilliant as a full service "ski in, ski out" resort, it was not suited for well-heeled South-East Asian tourists who love to do a little shopping too.
The shopping village (it's just called that: The Village) is therefore a very important piece of the puzzle to complete the Niseko picture.
On that first visit, I had asked where the shops would be located and my hosts had vaguely waved in the direction near the area where beginners were taught their ski basics. I had imagined a sleek, modern mall, much like the futuristic spaceship-like design of the Hilton. Instead, the buildings standing on the ridge above the Hilton, accessible by a flight of wooden steps and a bridge over a stream, were a lovely throwback to a traditional Japanese architectural style called Machiya, marked by sliding screens, wooden lattice facades and lantern-lit walkways, dating back to the Edo Period (1603-1867).
Within the quietly elegant low, black structures which blended beautifully into the white winter landscape, are shops and restaurants. For now, there are three retail outlets: i Gate Ikeuchi which sells apparel, footwear and accessories for
winter outdoor activities; i Zone Ikeuchi which stocks Japan-made leather brands and fashion labels, and a branch of the famous Otaru Taisho Glass Palace with exquisite glassware creations.
Supplementing the excellent F&B outlets in Hilton are four restaurants in the village. Crab Shack, which used to be housed in a standalone building, has moved to The Village, making it more accessible. Here, one can savour Hokkaido's legendary seafood in a variety of styles, from hot pot, to steaming, to barbeque and baking. Snow crab, mussels and scallops never tasted so fresh.
There is also the misnamed but must-try Niseko Pizza. It's misnamed because it's seafood on mashed potato without any breadcrust base and absolutely delicious. Even when we were stuffed, we couldn't stop eating it.
Next is Yang Shu Ten, serving Japanese classics with excellent set menus for lunch and dinner. A nice addition for South-East Asians is Two Sticks (referring to chopsticks), a tapas bar serving chicken rice, curry laksa, satay, fried wonton and spring rolls, Thai style fried noodles – you get the picture.
Rounding it off is the Village Patisserie where you can have hot chocolate, cakes and pastries and an excellent view of the resort's golf course.
YTL's decision to design the shopping core Machiya-style took many, including the Japanese, by surprise.
"The Japanese were very excited about it as they don't see a lot of this kind of architecture, especially in Hokkaido which historically was an outpost with simple architecture," says Datuk Mark Yeoh, YTL Corp's executive director.
Both Yeoh brothers are of the same mind when it comes to designing their properties – and that is, visitors to Niseko Village must immediately know and feel they are in Japan because of what they see around them.
While I have no complaints over the restaurants in The Village, I was expecting more variety on the retail side. But business has been brisk and there are plans for expansion to include more outlets.
On my next visit (of course I'm going back!), I look forward to a store that will sell more food products. The convenience store at Hilton has a decent selection including the best-selling Jaga Pokkuru, which is French fries from Hokkaido potatoes. But there are plenty more snacks which are uniquely Japanese and oishii to munch while in Niseko and to bring home as gifts.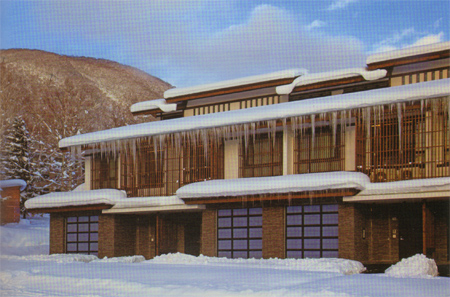 Much ado about Machiya
I WISHED I had US$2.5mil(RM8.94mil) to spare. Then I would buy a Kasara Niseko Village Townhouse. Then I would own a slice of heaven on Earth.
Because then I would be able to wake up every morning to a scene that makes me glad to be alive. Ever since my first visit to this southwestern corner of Hokkaido, I have thought of this place as the perfect winter wonderland with its awesome view of a mountain that embodies Japan – Mount Yotei, a near perfect cone of a volcano that resembles that other symbol of Japan, Mount Fuji.
Leveraging on that natural beauty are the Kasara townhouses, YTL Hotels' latest development to expand its stable of accommodation in Niseko Village, a 615ha integrated resort nestled at the base of Mount Annupuri which YTL owns and manages.
Niseko Village, which was bestowed the Best Ski Resort in Japan title by the World Ski Awards for 2013 and 2014, already comprises two hotels, the Hilton and Green Leaf. Despite that, there was a demand for more accommodation catering to the needs of well-heeled South East Asian and Asian visitors, something the YTL bosses were aware of the moment they bought Niseko in 2010.
"We have the Kasara because people want more than the suites, some because they come with big families. We know that and South-East Asian and Asian tourists are a bit more spoilt, and much more demanding. They want variety.
"What we did was to create something unique that matches Mount Yotei in its elegance and majesty. When you see Mount Yotei from your hotel room or apartment, you know you are in Japan because it is so uniquely Japanese," says YTL Corporation Bhd group managing director, Tan Sri Francis Yeoh, a day after he officially launched the townhouses and Niseko Shopping Village on Dec 5.
And that is what the Kasara brand is about: unique and luxurious properties that will resonate with the locations they are in and pay homage to the local culture and architectural style.
The eight Kasara Niseko townhouses are the first of a total of 46 units planned.
The exterior of the 240sq m double-storey units is designed in the classical Machiya architectural style that dates back to the late Edo period. Inside, it is thoroughly modern and contemporary in function, yet maintaining the quiet elegance of traditional Japanese design.
Each townhouse has three spacious bedrooms with en-suite bathrooms, a fully equipped kitchen and a tatami-floored dining room that can be converted into another sleeping area for a couple of futons. It also comes with a washing machine and tumble dryer and a single vehicle covered garage.
Owners of the townhouses can have the option of leasing their properties which will be managed by YTL and the projection is that they will be in high demand during the peak tourism seasons in summer and winter.
Already, response has been encouraging with 70% occupancy rate for the townhouses at US$1,400 (RM4,980) per night this winter season. According to Datuk Mark Yeoh, YTL's executive director, the bookings were from their internal data base of repeat customers, before any marketing was done.
There are plenty of facilities and amenities like flat-screen TV and free WiFi, as well as priority privileges for owners and paying guests, from complimentary use of the two hotel's excellent onsen (hot spring pool and bathing facility) to a driver-on-call service.
YTL is targeting to sell the townhouses to high net worth individuals from outside Japan who like to own properties either as resort homes or for investment as there is no restriction on foreign home ownership in Japan.
Much as he is confident of a good take-up, Mark says they are not in a hurry to sell. "We didn't pre-sell the eight as we wanted to experiment first. But if we can pre-sell the next 38 units, we will build them faster. If not, we can do it slowly as we build them in blocks of four," he says.
Indeed, if you own a slice of heaven, it's almost sinful to be in a rush, isn't it? For more information, email enquiries@ytl.com.sg or call +65 6578 9020.
Back