Laura Wright mesmerizes guests at A Journey Through Time VIII opening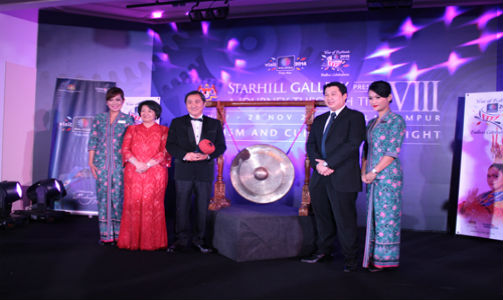 KUALA LUMPUR, 21 NOVEMBER 2014
A dazzling and soulful performance by Laura Wright, one of the biggest selling classical artists this decade with over a million cumulative album sales, marked the official opening of A Journey Through Time VIII, Asia's premier watch and jewellery showcase that is presented by Starhill Gallery and endorsed by the Ministry of Tourism and Culture, Malaysia.
Laura Wright captivated the distinguished guests at the Tourism & Culture Gala Night with her trademark rendition of classical and operatic music, popular songs and musical theatre. Her song list for the night included Beethoven's Moonlight Sonata, Pavarotti's Nessum Dorma and Andrea Bocelli's Time to Say Goodbye.
The Tourism & Culture Gala Night also featured an exquisite watch and jewellery showcase that presented a total of 17 luxury watch and jewellery pieces that will be displayed to the public for the very first time during the eight-day showcase, further solidifying A Journey Through Time's reputation as a powerful prelude to Baselworld.
YBhg. Datuk Dr. Ong Hong Peng, Secretary General, Ministry of Tourism and Culture, Malaysia, was the Guest of Honour at the event. Accompanying the Secretary General were YBhg. Dato' Mirza Mohammad Taiyab, Deputy Chairman of Tourism Malaysia, YBhg. Dato' Yeoh Soo Min, Executive Director of YTL Corporation Berhad, and Mr. Joseph Yeoh, Vice President, YTL Land & Development Berhad, YTL Hotel and Properties.
Also gracing the event as distinguished guests were fashion icons YBhg. Prof. Datuk Jimmy Choo and British fashion designer Zandra Rhodes, one of the new wave of British designers who put London at the forefront of the international fashion scene in the 1970s. All in all, more than 200 guests including global watch and jewellery principals, renowned Malaysian celebrities and personalities and leading retailers were present at the evening affair.
Speaking at the event, Joseph Yeoh, Vice President, YTL Land & Development Bhd, YTL Hotels and Properties said, "We are proud to once again host A Journey Through Time. This spectacular event has grown from strength to strength over the years and today, it is well regarded as Asia's most highly anticipated watch and jewellery showcase."
"In celebration of Visit Malaysia Year 2014, the showcase this year will be our most eclectic. Ultimately, our objective is to solidify this showcase as a key event in the Malaysian calendar, to not only drive tourist arrivals and increase tourism spending, but also enhance the position of Malaysia as a destination of choice for luxury shopping and dining experiences."
In addition to Laura Wright, renowned mezzo soprano Carly Paoli will also be performing at selected gala dinners held during the eight-day showcase. Also, as a reflection of its status as a premier event in Asia, A Journey Through Time VIII will for the first time welcome a host of Bollywood stars including Karishma Kapoor, Neha Dhupia and Shibani Kashyap. These stars will be performing and making an appearance at the Gala Dinner hosted by Ceres on 23 November 2014.
A Journey Through Time VIII will run until 28 November 2014, and will showcase rare private collections, first-in-market editions and exquisite pieces from over 125 luxury brands. Spanning across two floors and 30,000 sq.ft of exhibition space within Starhill Gallery, A Journey Through Time VIII invites visitors to view exclusive pieces by internationally renowned watch brands such as Bedat & Co, Cecil Purnell, Dior, Hermès, Omega, Hublot, Ulysse Nardin, Breguet, Maîtres du Temps and Khronos, a multi-brand boutique which is home to a selection of brands. Premier jewellery brands including Gübelin, Carrera y Carrera, Ceres, Garrard and Damiani will also be participating.
Special talks and symposiums will also be organised for visitors to gain a deeper knowledge of timepieces and precious stones, including talks by esteemed horologer Eric Ong, who founded Bonfield Fine Jewellers, on the appraisal and authentication of timepieces (22 November 2014 at 11.00am-12.00pm and 23 November at 2.00pm-3.00pm). There will also be talks on pearls by Edward Kong, a prominent South Sea pearl farmer based in Sabah, Malaysia (24 November 2014 at 11.00am-12.00pm and 25 November 2014 at 2.00pm-3.00pm) and Rio Yamase of Lilla Rio (22 November 2014 at 2.00pm-3.00pm). Additionally, Gübelin will be organising an intensive seminar on red gemstones, led by a qualified academician on 22 November 2014 from 4.00pm-5.00pm. These insightful talks and special presentations will be held at Adorn Atelier. Those who are interested in participating in the daytime talks can sign up at concierge@starhillgallery.com.
Visitors may also look forward to chic fashion parades, delectable cuisine prepared by Chef Matthew Ona, the Executive Chef at Shook!, Kuala Lumpur.
For further information on the event, kindly log on to www.ajourneythroughtime.com.my or www.starhillgallery.com
Back