Starhill Gallery sparkles with arrival of stunning Crystal Tigress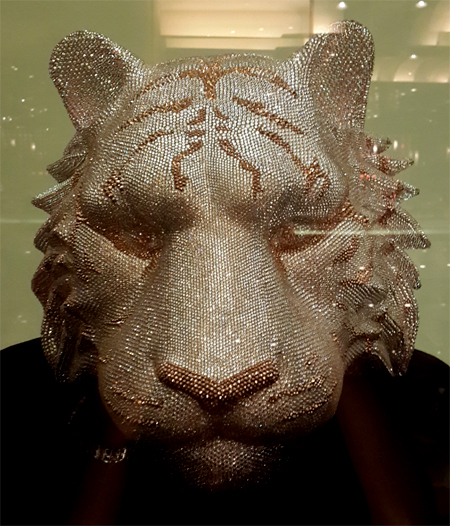 Kuala Lumpur, September 11, 2014
As part of "Inspire" – a series of iconic and inspirational events for charity initiative Save Wild Tigers – Starhill Gallery today welcomes the hugely anticipated Crystal Tigress, where she will now be exhibited for public viewing for two weeks until 2nd October.
The glistening display of the Crystal Tigress at Starhill Gallery is part of its Southeast Asian tour to help raise awareness of the worrying plight of the wild tigers – with just 3,000 left in the world, 300 of these are in Malaysia.
Since July, the Crystal Tigress has been displayed on Orient Express's iconic British Pullman, at Raffles Hotel, Singapore and will culminate its tour at the five-star Majestic Hotel, in Kuala Lumpur, at the beginning of October.
Using over 50,000 Swarovski crystals, the Crystal Tigress has been created by much celebrated British artist, Lauren Baker, and will be auctioned as part of 'Inspire' at The Majestic Tiger Ball on 3rd October in Kuala Lumpur – a celebrity-clad fund raising event, sponsored by YTL Hotels and to be attended by Malaysian Royalty. The Royal Patron for the evening is Her Royal Highness The Sultanah of Pahang Sultanah Kalsom whilst the fashion patron will be Prof Datuk (Dr) Jimmy Choo.
The evening is set to be a combination of glamour, sophistication and style, set in one of KL`s most iconic locations, The Majestic Hotel. Datuk Tom Abang Saufi will be leading an inspirational fashion element whilst global music sensation Leee John, of Imagination fame, will be wowing the guests will a selection of some of his greatest hits, including 'Just an Illusion' - the one thing Save Wild Tigers does not want wild Tigers to become! Finally, world renowned ballerina of the English Ballet company, Maria Sascha Khan, whose father and grandfather are Malaysian, will also be performing. Tickets are limited but for further details regarding The Majestic Tiger Ball, please visit www.savewildtigers.org.
A high profile auction is also expected to raise huge sums for the charity initiative. Guests will also include celebrities on board the very special Eastern & Oriental Tiger Express en route to Bangkok. This will include global media as well as famous TV fashion personality Gok Wan from the UK, actress Jamie Winstone along with Prof Datuk (Dr) Jimmy Choo. Profits from the events will go to targeted Tiger conservation programmes including the Wildlife Conservation Society of Malaysia (WCS) for their critical tiger conservation works in Johor and Pahang.
Save Wild Tigers Founder, Simon Clinton comments: "There has been huge interest in the Crystal Tigress already and we are hoping it will fetch a large sum for Save Wild Tigers, which will help our fund raising efforts enormously. We are thrilled that such a high profile destination in Kuala Lumpur will be exhibiting her and hope it will go some way to highlight the plight of the wild Tiger to the many Malaysian's who use the stunning mall.'
Paula Conway, Marketing and Sales Director for Starhill Gallery said today "Starhill Gallery is delighted to be supporting such a magnificent campaign and we are genuinely overwhelmed by the beauty of this stunning sculpture. As part of the wider support YTL has offered to Save Wild Tigers, we are very happy to display and support this fantastic piece of art and hope the charity initiative raises the funds needed through its' auction."
Back