Summertime brings exciting adventures at Niseko Village, Asia's premier mountain resort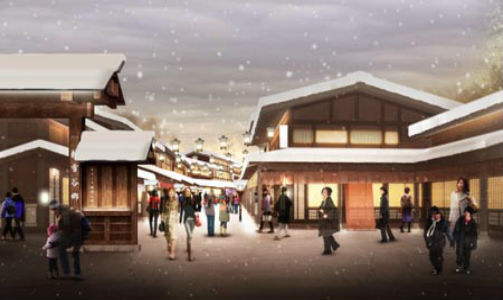 Kuala Lumpur, Malaysia – 6 August 2014
Summertime, and the living is made more sublime with the myriad of exciting adventures available at YTL Hotels' Niseko Village, the region's top ski resort.
An award-winning ski destination during winter, Niseko Village's famed powder snow melts in spring flooding the soil to give bloom to a lush landscape come summer. This abundant landscape, coupled with a cool climate, is conducive to adventure and nature activities ranging from golfing to white-water rafting, hiking, biking, horse-riding and zip-lining.
Guests of all ages staying at Hilton Niseko Village are primed to take advantage of Niseko Village's award-winning PURE outdoor activity centre where an appreciation for Mother Nature can be nurtured in fun with over 20 activities which include tree trekking, zip-lining, disc golfing, kite flying, horseback riding and even hot air ballooning, and this summer's new additions, the Fuwa Fuwa Slider and Fuwa Maze.
Two world-class golf courses are available; the first, at the Hilton's doorstep, the immaculately-maintained, 18-hole Niseko Village Golf Course which features a relatively flat layout accessible to most level of golfers, zebra cut fairways and an outstanding view of Mount Yotei and the surroundings, and 20 minutes away, the second, more challenging Arnold Palmer-designed, Niseko Golf Course – one of Hokkaido's most difficult and strategic courses.
Guests can also explore the Quasi-National Park and the Yotei National Park, be it through hiking and trekking through the forest, or choose to take a gondola up Mount Annupuri, from where the summit is easily reachable on foot and one can admire the breathtaking scenery from a distance. The region's rivers can also be traversed by raft, and guests can dabble in a spot of trout, salmon and char fishing.
Those who travel for food are spoilt for choice as Hokkaido's famous produce is at its peak. A fiveminute stroll away from the hotel, the Niseko Milk Kobo sits alongside a green meadow and serves delicious, fluffy choux puffs filled with fresh custard cream, alongside a mouthwatering display of other dairy offerings. Owned and operated by a farm that supplies its own organic milk supply, this quaint bakery guarantees the freshest, most mouthwatering array of goods.
Connoisseurs will be tempted to try Rakuichi, an exclusive sobaten, tucked discreetly beyond a quaint wooden bridge 10-minutes away from the Hilton Niseko Village. Made famous by celebrity chef Anthony Bourdain, the restaurant caters to only a dozen diners at a time and offers delightful Japanese noodles made on demand. For those seeking fresh produce, Niseko View Plaza farmer market displays a gorgeous selection of vegetables and seasonal specialties such as Hokkaido corn, potatoes and seafood.
Northeast of Niseko Village, orchards in Yoichi allow guests to pick their own fruits such as apples, strawberries and cherries. Together with the award-winning Nikka Whisky Distillery, which dates back to the early 1900s, this town makes an ideal stop on a daytrip to the quaint seaside town of Otaru, where fresh seafood, such as the uni – or sea urchin – a famous delicacy, will thrill the taste buds, and is best enjoyed alongside sumptuous sashimi. After a hearty meal, guests can enjoy a stroll along the endearing Otaru Sakai Machi Street, while shopping for souvenirs, glasswork, charming
musical boxes and delectable Japanese confectionaries. To end the day trip, enjoy the picturesque view along the Otaru canal during sunset.
Be it for an active holiday with friends and family, a gastronomic tour of Japan's northernmost island, or a contemplative retreat to observe nature's abundance, the Hilton Niseko Village is an ideal base to explore the wonders of Niseko Village and beyond. The 500-room hotel offers incredible views of Mount Yotei and facilities such as indoor and outdoor onsen, Wakka Spa, Kids Room, Hilton Fitness, five restaurants and bars featuring local delicacies from Hokkaido to Western cuisine, as well as meeting and function spaces.
For more information, visit www.niseko-village.com.
Back