YTL Hotels' Niseko Village launches Kasara Niseko Village Townhouse & The Village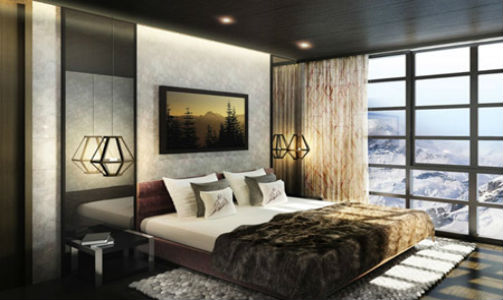 Kuala Lumpur, Malaysia – 6 August 2014
YTL Hotels has launched Kasara Niseko Village Townhouse – a collection of townhouses that embody authentic Japanese charm with contemporary elegance in the heart of the award-winning Niseko Village. Alongside this, Niseko Village is delivering on the first steps of its masterplan with the creation of a premium alpine shopping, dining and entertainment village nestled a stone's throw away from the resort's luxurious hotels and residences. The development will offer seamless ski-in ski-out integration and ultimate convenience and luxury with the existing hotels, resort services, onsen and spa.
Luke Hurford, YTL Hotels' Vice President of Sales & Marketing, said, "The Kasara Niseko Village Townhouse and new retail and dining experiences are the realisation of the first stage of the unique and exclusive developments under YTL Hotels' Niseko Village masterplan. All these elements will continue to create a world-class alpine destination with the unique touches of Japan and Hokkaido subtly interwoven with contemporary Western comforts and sophisticated dining and entertainment."
Kasara Niseko Village Townhouse
This announcement comes close on the heels of the company's unveiling of its new Kasara brand in July – promising authentic and unforgettable experiences in exotic locations across the globe. Staying true to the Kasara brand essence, the award-winning Design Intervention, has created a bespoke interior that captures key Japanese design principles. Each townhouse embraces shibumi and its principles, crafted with a sense of calm and a touch of richness, through contemporary furnishings that bring an undercurrent of glamour and warmth.
A traditional tatami room, shoji screens, lush fur throws and natural materials in gentle hues of greys, taupes and browns bring these to life.
Guests at Kasara Niseko Village Townhouse will be entitled to priority privileges such as making fresh tracks on a guided Niseko Village mountain orientation with a local expert, access to both onsen and gym at the Hilton Niseko Village and The Green Leaf Niseko Village, and in-residence ski or snowboard boot fitting; a host of personalised services including a residence concierge and complimentary driver-on-call.
The first phase of Kasara Niseko Village Townhouse will comprise of two blocks housing four townhouses each, all of which will have a view of the majestic Mount Yotei. Each ski-in skiout townhouse will encompass a minimum floor space of 240 square metres and accommodate up to six persons. Three bedrooms, a flexible tatami-style dining room, a fully equipped kitchen and laundry room will set the foundation for a fabulous alpine getaway be it with family or friends.
The Village Developments
Adding vibrance and energy to the destination, the new retail, food and beverage developments within Niseko Village are just moments away from its award-winning hotels, residences and lifts; its slopeside location allowing for seamless ski-in ski-out access between mountain adventures and indoor diversions, day and night.
Inspired by traditional Japanese machiya architecture with its unmistakable sliding screens, wooden lattice façades and walkways lit by lanterns, the development will encourage guests to take leisurely strolls or click off their skis to enjoy a host of carefully curated entertainment, retail, dining, and après ski experiences, adding a sophisticated pulse to the village community and giving visitors the opportunity to also indulge in luxury designer shopping, outdoor adventure apparel, local art works and souvenirs.
Setting the benchmark for other Japanese ski resorts, an Asiatic tapas pub inspired by cutting edge bars in London or New York City and given a rustic Hokkaido twist will provide a dynamic place to socialise, eat, drink and party the night away. This will become the place to be at any time of the day in Niseko, where guests can ski right in and have a great time.
In a coup for the entire region, the celebrated Michelin-starred Austrian-German chef Johann Lafer will be opening a brasserie to operate year round serving contemporary twists on European classics such as Wiener Schnitzel and pork knuckle. As Germany's foremost TV celebrity chef, Johann Lafer's trademark flair and personality will serve to enhance Niseko Village's reputation as a culinary getaway, with the combination of Hokkaido's worldrenowned produce and his meticulous skills bringing foodies from around Asia to Niseko this winter.
"Niseko has evolved into Asia's hottest ski destination over the past ten years and it excites us to push it to even greater heights with Kasara Niseko Village and Asia's best après ski experiences – our powder snow, unparalleled skiing conditions and award-winning hotels has had us regularly rated as one of the top ski destinations in the world, and now, with new local and Michelin-starred food and beverage options plus tasteful luxury retail and residential additions, we are bound to deliver an experience that is on par with the best resorts in Europe and North America. Coupled with the exotic appeal of the Japanese culture and traditions, we are certain that Niseko Village will draw new audiences from farther afield while exciting and retaining our loyal visitors," continued Mr. Hurford.
The first phase of Kasara Niseko Village Townhouse and the new retail, food and beverage developments will open on 1 December 2014. Kasara Niseko Village Townhouse is already taking short and long-term bookings for the 2014/15 winter season, beginning at USD2,000 per night for a three-bedroom townhouse. These residences will also be available for
exclusive preview and immediate ownership. For further information, please visit http://www.kasara.com/nisekovillage/index.html .
Back