Crossing an ocean in search of hope for 27 million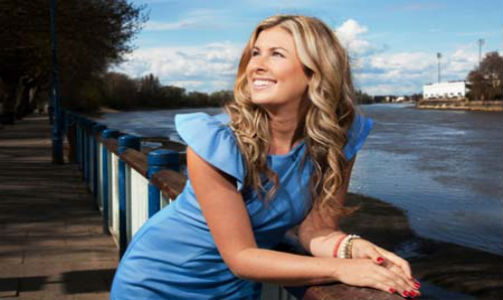 FrogAsia presents Leaps of Knowledge with Julia Immonen

Kuala Lumpur, 28 June 2014
At today's fourth Leaps of Knowledge event held in the JW Marriott Hotel, Kuala Lumpur and presented by FrogAsia, Yes and the YTL Foundation, Julia Immonen, a Sky Sports News newscaster and founder of Sport for Freedom, shared her personal journey of stepping out of her comfort zone to make a difference for modern-day slavery.
Immonen was first exposed to the issue of human trafficking in 2008 after watching a movie with a friend. She was horrified to discover that there are more slaves today than any other point in human history. An estimated 27 million men, women and children are being exploited against their will for manual and sexual labour every day.

This injustice awoken a desire within Immonen to become an agent of change. An avid sportswoman, Immonen wanted to use her passion for sports to create awareness for the issue of human trafficking, and decided that the best way to draw the world's attention to this issue was to embark on a record-breaking row across the Atlantic Ocean.

Prior to her decision, Immonen had zero experience in ocean rowing, but that did not discourage her. In 2011, Immonen created a team with four other determined individuals, signed up sponsors and set out with her crew from La Gomera, Spain in their 26-feet long boat The Guardian. They rowed 3,000 miles across the Atlantic Ocean toward Barbados, Cuba. The attempt took 45 days to accomplish, broke two world records and propelled the issue of human trafficking into the media limelight.
On how she found the strength to face stormy seas and 50-feet waves, Immonen explained: "When it got really hard I would take 27 more strokes, for the estimated 27 million trapped in modern day slavery. It made my pain pale into insignificance when I remembered the stories of the girls I had met. One of the girls had eyes that were soulless, without hope. I had to keep going for her."

When it comes to social issues, many feel overwhelmed by the scale of things and feel they can't contribute in any meaningful capacity. Immonen understands that frustration well, but as an ordinary person who achieved a record-breaking feat, she believes that everyone has much to offer.
"All of us can't row an ocean, but all of us can do something. And doing something starts by opening our eyes to the world around us and looking out for something that needs to change," says Immonen.

Lou Yeoh, Executive Director of FrogAsia, agrees: "Julia's message of using what is in your hands is a message of great hope which reminds us that in our individual ways, big or small, we can be the change we want to see in the world," said Yeoh.

Datin Kathleen Chew, YTL Foundation's Director of Projects elaborates further: "By bringing world-class speakers such as Julia Immonen to our local stage, we hope to expand the worldview of our students and open their eyes to some of the social issues faced today. I hope that they will be inspired to be a force for good in their own unique ways."
Muhamad Afiq Rosfa, a student from SMK Taman Maluri said the event did not only expose her to the issue of human trafficking, it also encouraged her to contribute her energy to do something that would benefit her community.
Normie Azura Abdul Jamil, a teacher from SMK Raja Abdullah said that the event has opened her students' eyes and encouraged them to be more involved in social issues.
"This is my third Leaps of Knowledge event and I'd like to thank FrogAsia, Yes and YTL Foundation for organising events like these. It's a great way for my students to gain knowledge beyond just the four walls of a classroom. I've even brought my child along today to hear Julia Immonen speak and what she said has been really inspiring," she said.
The event was attended by over 1,300 students, teachers and members of the public. On 30 June 2014, Julia Immonen will also be speaking at Wawasan Open University, Penang to a hall of 400 students including 60 visually-impaired children from St. Nicholas' Home.
Back