Riches to Rags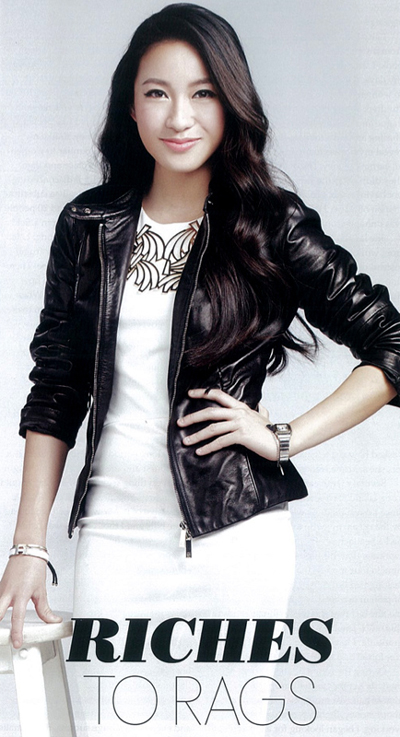 Elle Magazine, June 2014
Rebekah Yeoh grew up surrounded by the riches of the YTL empire. In her own words, she tells how incredible wealth made her work to alleviate poverty and empower others.
I never enjoyed travelling to impoverished places. In fact, I dreaded it; I was never comfortable in this sort of environment, having been waited on hand and foot all my life.
My parents paid for my education and travels, and they allowed me to live very comfortably as they surrounded me with love and security. Although my life was extremely blessed, I started to feel that I had a responsibility to give back to society. It was a gut feeling.
I learnt very early on in life that what you do with time and money is a choice - unfortunately, the decision gets much harder when you have more of both.
My father always made it a point to expose my siblings and I to poverty from a young age. By bringing us back to his hometown in Kuala Selangor, he made us aware of subsistence living and the reality of both market and government failures. At the age of eight, I was taught to understand that if poverty is so pronounced in a rich city where voices are loud, then it must be even worse in isolated areas where voices are muted.
Even today, if I'm having problems evaluating myself, I remember where my roots are, how much my parents struggled to make a living and, in turn, what legacy I'll be leaving my children later.
To this day, my father often travels to isolated fishing villages in Pangkor, Perak to share the word of God by placing hope in neglected and unmotivated fishermen. He has a soft spot for these men because he and his six siblings shared a cramped room in a similar fishing village when they were kids. I never let myself forget how much of a climb it was for them to grow the business into what it is today.
It was youthful curiosity that impelled me to travel to impoverished areas as a student. When I was 16, I visited a childcare centre in Mahabalipuram, India. I was overwhelmed by how organised it was and how much the entire community admired their "local pastor". I later learnt that this "pastor" was hoarding foreign donations and channelling them into suspect causes. The children were effectively subdued and paralysed by lack of choice because they were better off at the centre than on the streets.
At 18, I visited a women's prison in Uganda and met at least 100 inmates aged between 13 and 50 who were on death row - most of them for reasons to do with men and at least 50 per cent of them convicted for undergoing forced abortions (as a result of statutory rape). As I explored afflictions in different countries, I noticed that poverty and voice paralysis take their own shape and form in each country.
I gained my first proper insight into social awareness when I was 15, after visiting a childcare centre housing 97 children in Phnom Penh, Cambodia. My cousins and I conducted bible lessons to inspire good in them, and I noticed a completely different dynamic - the children were full of joy; even though they had nothing, and they supported each other. They were taught that material desires are of little value and that happiness doesn't come from material riches; it comes from having the right values, beliefs and achievements.
I then notices the potential of microfinance, which serves as a gateway for low-income earners to gain access to funds. By using this small pot of money to grow local businesses, they're taught to be self-sufficient while being closely guided throughout the process. It's a way to break free of the poverty trap via savings, It gives these kids an opportunity to chase their goals, while having access to finance, education and peer-group support.
I'm now coming up with a plan to implement micro-finance in the Cambodian childcare centre, not because I think it will solve their monetary problems indefinitely, but because I'd like to teach the children about sustainability and entrepreneurship. I strongly believe in the saying, "Give a man a fish and he will eat for a day; teach a man to fish and he will eat forever."
People often ask me about the organisations I work with. Actually, I don't work with many at all. Instead of placing a wad of money with an NGO, I prefer to look for tiny orphanages secluded communities and neglected refugee centres, so that I can talk to them on a personal level. There are plenty of people donating to multiple causes, but it's a whole other thing to see charity in action. It could mean sleeping in hammocks in hot, airless rooms, while being eaten alive by mosquitoes; it could mean a lot of discomfort. But I want to get my hands dirty, get on the ground, maintain a personal touch and solve problems from the bottom up.
I grew up in a privileged way and, for a long time, preferred not to make it my responsibility to provide for someone or something unknown to me. I found it easier to make known to myself the beautiful parts of the world and turn a blind eye to the ugly. I took the stance that something can't become your responsibility if you're not aware of it.
I soon realised that, given today's booming social media, this statement is no longer valid. We are all completely aware of the poverty that exists around us and we all have a duty to mitigate it.
At the naïve age of 16, I wrote a cheque for £300 (about RM1,500) to that dishonest childcare centre in India mentioned earlier. Within two days, the cheque bounced due to an administrative problem, so instead I used that money to support a man at the centre who was brave enough to stand up and leave to set up youth churches around the state of Tamil Nadu.
Today, he is a graduate of India's School of Missiology. He's established several churches in Delhi and paid off all his debts. It hit me - if I'd bought myself a handbag that day, instead of sending him the money, would his life have taken a different course?
Growing up as a privileged Gen Y child had its pros and cons - I was exposed to a world where money was exploited and spent excessively but, on the other hand, I met incredibly driven entrepreneurs who channelled funds into pioneering charity foundations. I sought to fight against my Gen Y urge and chose to be inspired by the latter, and I am proud to say that I'm all the richer for it.
Back