YTL Hotels does Malaysia proud by winning three awards at the prestigious Gourmand World Cookbook Awards in Beijing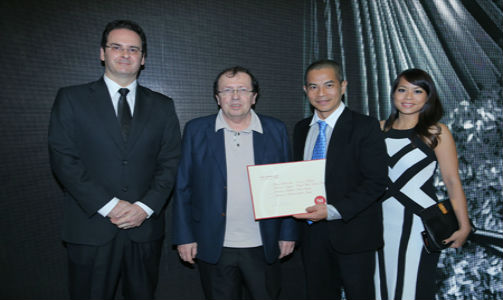 Singapore, May 23, 2014
There was much excitement in the air at the Beijing Daxing Theatre on May 21, 2014, where the annual Gourmand World Cookbook Awards was held. Authors, publishers, culinary television personalities and food and beverage industry professionals from all over the world graced this special event to vie for top placing in various award categories from best wine and cookbooks to the best television personality for year 2013. The Awards is an equivalent to the Oscars in the world of cookbooks.
Zwei Freunde – Eine Küche (Two Friends – One Cuisine) was awarded the Special Award of the Jury (Germany and Malaysia) and Best Cookbook of the Year (Germany). Published in Germany by Johann Lafer's Stromburg and photographed by Michael Wissing, the stunning bilingual (German and English) coffee table book showcases the passion for food and life of two celebrated chefs in Malaysia and Germany. The book is a result of a great culinary and personal friendship between Johann Lafer, Austrian Michelin-starred chef and television personality in Germany and Wai Look Chow, award-winning Corporate Executive Chef at YTL Hotels in Malaysia. The book features Asian specialities infused with Austrian-German influences conjured by Chef Wai and distinct Asian touches in Chef Lafer's creations, discovered whilst on their culinary adventures to Germany and Malaysia. It also includes personal recipes by both chefs and a short film.
"What an honour to have been bestowed the Special Award of the Jury. Having come from a small Styrian village, this is a dream come true and proved that I have done something right in life. My close friendship with Chef Wai and YTL Hotels developed over the years and the friendship is evident as you turn the pages of the book. This special award also shows that different cultures and cuisines can be shared and cooked in total harmony and I am deeply grateful that Zwei Freunde – Eine Küche (Two Friends – One Cuisine) has been recognised at the esteemed Gourmand World Cookbook Awards.", Chef Lafer said. For more information on Chef Johann Lafer, please visit www.johannlafer.de/johann-lafer.
Chef Wai added, "Chef Lafer and I have a unique bond which spans almost a decade. We inspire each other and have many fascinating memories which saw us exchanging ideas, creating new dishes with local ingredients, wandering through colourful vibrant markets, vineyards, tea plantations and much more. Each time we meet, we embark on a new culinary voyage. These accolades are great achievements for us and I am very happy and privileged to have received the awards in Beijing for Chef Lafer and myself." For more information on YTL Hotels, please visit www.ytlhotels.com.
The third accolade YTL Hotels garnered that evening was for A Perennial Feast. The eclectic culinary coffee table book was awarded second place in the Corporate Cookbook category.
Published by Talisman Publishing, and authored by Ms Kim Inglis, A Perennial Feast takes the reader on a gastronomic journey from Malaysia to Japan and China, and all the way to Europe. Beginning in Malaysia, the heart and home of the YTL Group, it showcases island resorts, city heritage hotels and restaurants, all the while providing an overview of Malay cuisine. Recipes for traditional Malay fare are combined with some East meets West fusion food and innovative seafood dishes. The book then branches further afield into the snowy landscape of Hokkaido and the cityscape of modern Shanghai, whilst exploring both recipes and cuisines from Japan and China. Sections on Indonesia, Thailand, England and France follow – showcasing not just the cuisine but also the iconic properties in full colour photography by Danish photographer, Jacob Termansen, which further enhances the reading experience. The book is simply much more than a restaurant review or a recipe collection. A Perennial Feast is available at the following bookstores in Singapore and Malaysia - Kinokuniya, MPH Bookstores, Times the Bookshop and major bookstores in Southeast Asia and the United Kingdom. The book is priced at SGD49.95/ MYR125/ GBP25 per copy.
"On behalf of Talisman Publishing, myself as author and Jacob Termansen as photographer, I would like to say how delighted we are to learn of our first runner-up placing in the Corporate Cookbook category at the recent Gourmand World Cookbook Awards. From the outset our intention was to showcase YTL's considerable culinary talents in all their glory — both visually and in text. To keep the subject matter lively, it was decided that both anecdotes and food history be added, as well as recipes and restaurant reviews. The end result is a book that has multiple attractions: there are plenty of recipes, lots of information and a complete roundup of all the YTL restaurants, cafés and kitchens. The team behind the book is very proud of our award.", said Ms Inglis.
Present to receive the awards were Chef Wai Look Chow and Mr Laurent Myter, Executive Vice-President, Resorts, YTL Hotels.
The Gourmand World Cookbook Awards was founded in 1995 by Mr Edouard Cointreau, President and Founder. Books can be submitted for competition by anyone: authors, publishers or even readers. The Jury decides in which categories those books would compete. 187 countries participated in the Awards this year.
Back