Shanghai Restaurant presents a night of surprises at The Ritz-Carlton Kuala Lumpur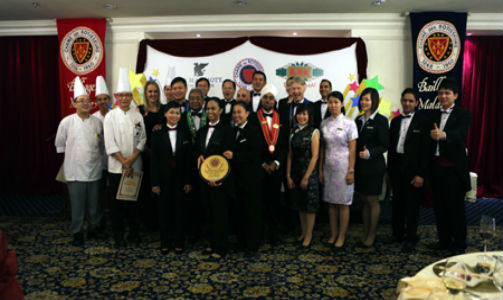 Kuala Lumpur, May 19, 2014
The Regional Bailliage of Putrajaya recently held a diner amical themed 'Shanghai Surprises', presented by Shanghai Restaurant, JW Marriott Kuala Lumpur. The event was slated to be a truly memorable affair and guests arrived decked in their best evening wear and Chaîne Ribbons.
The dinner didn't disappoint as Shanghai Restaurant delivered a superb selection of carefully crafted dishes which drew raving reviews from members of the Malaysian chapter of Chaîne des Rôtisseurs.
Chaîne des Rôtisseurs is an International Association of Gastronomy now established in over 70 countries bringing together enthusiasts who share the same values of quality fine dining, the encouragement of the culinary arts and the pleasures of the table.
Held at The Ritz-Carlton Kuala Lumpur, the event brought together food connoisseurs for a grand night of wining and dining in appreciation of fine Shanghainese cuisine, by JW Marriott's Shanghai Restaurant.
Chef Wong Wing Yeuk of Shanghai Restaurant created an innovative menu with clever combinations of various Chinese and Western ingredients. Each dish was skilfully paired with wine to enhance the dining experience further.
The menu for the evening consisted of drunken chicken in Chinese Rice Wine, sautéed prawn in Longjing tea, double-boiled Shanghainese soup with fish maw, Cod fish with brandy, roasted pork, glutinous rice with chicken and crispy char siu ball with sesame.
The Ritz-Carlton Kuala Lumpur also presented two special dishes - their special mangosteen sorbet and their famous steamed Shanghainese dumpling. The succulent meat dumpling is an iconic symbol of Shanghainese cuisine and is considered a special delicacy!
Master of Ceremony, K.K. Rajah, Bailli of Putrajaya applauded the chefs and kitchen crew of the Shanghai Restaurant saying, "We have had a fantastic evening here and the food was extraordinary. We have not tasted combinations like this before. Shanghai Restaurant is definitely number one on our list!"
At the end of the evening, Shanghai Restaurant was awarded the Fine Dining plaque by the Confrèrie de la Chaîne des Rôtisseurs, Bailliage De Malaisie for their outstanding Shanghainese cuisine. Accepting the award was Wilfred Wong, Director of Chinese Restaurants at YTL Hotels.
Back