Garrard arrives at Starhill Gallery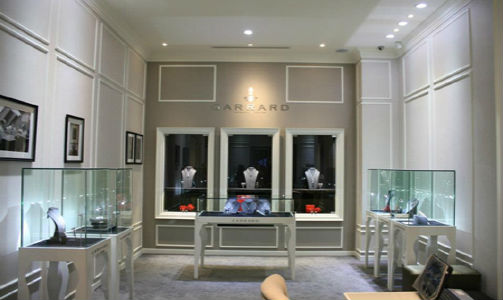 Kuala Lumpur, November 30, 2013
The Oldest jewellery house in the world hits Malaysian shores as it opens a boutique in Starhill Gallery Kuala Lumpur. The beautifully designed boutique on the Indulge Floor exudes class and elegance and houses an impeccable collection of jewellery pieces and high jewellery suites.
Garrard has been commissioned by British royalty for centuries and have travelled the world designing adornments for royal and high society clients. Garrard's history of luxury and grandeur began in 1735 with a British Royal commission for Frederick, Prince of Wales, followed by many more for international royalty and the upper echelons of society worldwide. Garrard has since had the honour of serving each successive King and Queen of Great Britain.
The famed jewellery house has created fine and high jewellery suites, tiaras and engagement rings worn by remarkable ladies from around the world. In 1981, Garrard created the Sapphire and diamond ring that prince Charles gave to Princess Diana, which was also presented by their son, Prince William to his bride Kate Middleton, as their engagement ring.
Garrard has also always had a long-distance relationship with Malaysia. The English house has been the crown jewellers for Malaysian royalties for many years and Garrard is also the official trophy maker for World Match Racing Tour for the Monsoon Cup in Terengganu.
Opening its doors during the annual watch and jewellery showcase, A Journey Through Time VII, held at Starhill Gallery, the arrival of Garrard was celebrated in grand fashion. The launch was officiated by Eric Deardorff, CEO of Garrard, Puan Sri Datuk Seri Hajjah Noorainee, wife of Deputy Prime Minister of Malaysia and Dato' Yeoh Soo Min, Executive Director of YTL Corporation.
Speaking at the launch, Eric Deardorff said, "This is Garrard's first retail site in South East Asia and actually all of Asia. I want to thank Tan Sri Francis Yeoh for his vision of having Garrard in Starhill Gallery. We have a 30-year history already with Malaysian royalty and very special clients.
"This is an ideal partnership at Starhill Gallery for four main reasons. It is a preeminent luxury shopping centre, it has perfect adjacencies with other luxury jewellers, our partner is very well respected and our partner perfectly represents the Garrard heritage, our brand and our jewellery offering."
The launch celebration continued with a spectacular feast held at Shook! restaurant prepared by YTL Executive Chef, Chef Wai.
Garrard also showcased their stunning jewellery collection in a fashion show during the evening. The limelight of the evening, was the Tudor Rose collection and the Entanglement collection by Garrard's Head Designer Sara Prentice. Also premiering at A Journey Through Time was Garrard's Emerald and White Diamond Necklace, a one-of-a-kind piece which was created specially for Malaysia. The breath-taking piece was designed as a set complete with earrings and a bracelet.
To cap off the celebrations, New Zealand's pop-opera trio Tre-Belle performed for the evening, wowing crowd with their powerful and captivating vocals.
Garrard is located on the Indulge Floor at Starhill Gallery, Kuala Lumpur.
Back