Asia's grandest luxury watch & jewellery showcase returns to Starhill Gallery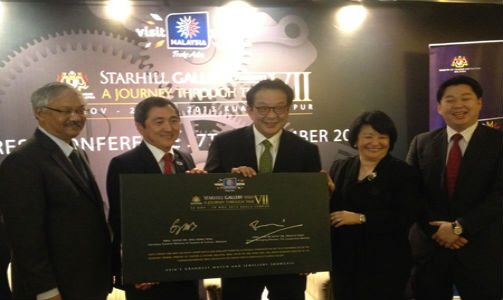 KUALA LUMPUR, 7 NOVEMBER 2013
A Journey Through Time, Asia's grandest luxury watch and jewellery showcase, will return to the Starhill Gallery for the seventh consecutive year, from the 22nd to 29th November. A Journey Through Time VII will not only focus on the beauty and elegance of the watches and jewellery, but highlight the craftsmanship, passion and artistry that goes into the creation of these items.
Internationally renowned names appearing at the event include Rolex, Omega, Jaeger-LeCoultre, Bedat & Co., Richard Mille, Hublot, Van Cleef & Arpels, Chopard, Boucheron and Gubelin. In addition to these stellar brands, A Journey Through Time VII will also introduce to Malaysia the Italian jewellery brand Damiani and one of the oldest jewellers in the world, Garrard, making its debut in Asia, as well as a refurbished boutique for Mouawad.
This year, the event is adding yet another string to its bow with the addition of a jewellery category to its annual awards show. On the final night, the closing gala will be held, including an awards show. This year, the prestigious awards will be: 'Starhill Gallery Favourite Ladies Watch Award'; 'Starhill Gallery Favourite Men's Watch Award; 'Starhill Gallery Watch with Complications in Movement'; 'Starhill Gallery Timeless Jewellery Award'; 'The YTL Spirit of Classical Art Award'; and 'The Tourism Malaysia Most Revered Award'.
A Journey Through Time VII promises to reach new heights of elegance and beauty with first-in-market editions of luxurious watches and jewellery, including, for a limited period of time, Mouawad's USD$55 million L'Incomparable Diamond Necklace, which is a record-breaking necklace designed around the Incomparable Diamond, certified by the Guinness Book of Records as the most valuable neckpiece in the world. In addition to this stunning neckpiece, we will also be treated to spectacular items such as Hublot's MP-05 "LaFerrari", Garrard's Emerald & Diamond Suite, Bedat & Co.'s Ref. 327.555.909, as well as Hautlence's Avant-Garde HLRQ01 and Rebellion Magnum Tourbillon T-14. Damiani's Sophia Loren Collection and many other wonderful watches and jewellery pieces will also be on display throughout the event.
Commenting on the seventh A Journey Through Time, Tan Sri Dato' (Dr) Francis Yeoh, CBE Managing Director, YTL Corporations Berhad said "When I buy a watch, I don't just buy for the look, although that certainly is an important element, but I am deeply interested and moved by the passion of the artisans that have crafted these exquisite pieces. This year, we are looking at watches and jewellery as masterpieces on a par with any of the great works of art. This is our seventh time at Starhill Gallery and I can't wait to see the collection of truly stunning timepieces and jewellery that will be on offer. A Journey Through Time VII will reach new heights to eclipse previous events."
As part of this year's quest to take watch enthusiasts deeper into the inner workings of the horological world, Swiss Auctions, the glamorous platform that specialises in auctioneering the rarest of timepieces, has joined A Journey Through Time to deliver over 200 of the world's rarest timepieces to collectors at its auction on the 28th November. Swiss Auctions will be also providing insight in the form of demonstrations from world-famous watchmakers Aaron Becsei of Bexei Watches and Aniceto Jiménez Pita of Pita Barcelona. A Journey Through Time VII will also run daily guided tours with knowledgeable watch concierges bringing enthusiasts to view collections on the Adorn and Indulge floor, the world's biggest collection of watch and jewellery brands.
The Ministry of Tourism and Culture continues to endorse A Journey Through Time as the grandeur occasion personifies Malaysia as a top worldwide destination for luxury shopping and high-end brands. Commenting on the event, YBhg. Datuk Dr. Ong Hong Peng, Secretary General of the Ministry of Tourism and Culture said, "We are very proud to endorse this prestigious and spectacular event, A Journey Through Time at Starhill Gallery. Thanks largely to their ceaseless efforts to bring internationally famous brands to Malaysia, our country has been voted the fourth best shopping city in the world by CNN for two years consecutively. This makes a wonderful addition to the events and activities that have been part of our Visit Malaysia Year 2014 campaign, which seeks to bring in high-yield tourists in exactly the demographic that A Journey Through Time brings to our country."
He continued, "Starhill Gallery is Malaysia's premium shopping centre which offers shopping and a duty-free haven for the world's biggest names in high-end timepieces and jewellery. The clientele it attracts are then in a perfect position to enjoy a wealth of experiences that Malaysia can offer."
Not only will Starhill Gallery be showcasing exquisite timepieces and elegant jewellery throughout A Journey Through Time but attendees are set to be impressed with a range of planned festivities which includes fashion parades, delectable cuisine, performances which represent Malaysia's creative and artistic culture and international headlining musical artists, Belgium's crooner Yannick Bovy, Australia's Got Talent 2009 winner Mark Vincent and New Zealand's pop-opera trio Tre-Belle.
Adjacent to Starhill Gallery are the JW Marriott Kuala Lumpur and The Ritz Carlton Kuala Lumpur. YTL also offers the heritage hotel, The Majestic Kuala Lumpur, three hotels which provide ideal accommodation for those travelling into the city for the luxury showcase.

A Journey Through Time VII is at the pinnacle of showcasing true luxury.
Back