Gaya Island Resort Marine Centre Launched & Natural Wonders Book unveiled as the resort release its successfully healed patient out to sea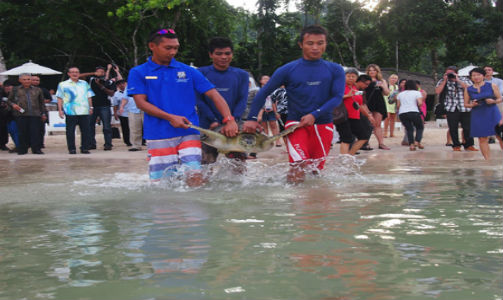 Kuala Lumpur, Malaysia
November 1st, 2013: YTL Hotels has a long-term vision to make a difference to the environment where its expanding collection of unique hotels and resorts are located. When Gaya Island Resort opened its doors in July 2013, it marked the beginning of its marine conservation journey in Borneo.
YTL Hotels celebrated the official launch of its Gaya Island Resort Marine Centre and Natural Wonders coffee table book on October 26, 2013. The event was graced by Guest-of-Honour YB Datuk Seri Panglima Masidi Manjun, Minister of Tourism, Culture and Environment of Sabah. In conjunction with the marine centre launch, Datuk Masidi Manjun released a rehabilitated green sea turtle estimated to be 10-15 years of age, and named Bobby, into the sea.
He also praised YTL's efforts saying,"We are glad that YTL is here partnering with us in conservation in Sabah. Sabah is blessed with natural wonders like nowhere else but faced with many challenges in maintaining these priceless resources for the next generation. we have to be good stewards in preserving and sustaining what God has blessed us with."
Gaya Island Resort Marine Centre
Within the Tunku Abdul Rahman Marine Park located off the coast of Kota Kinabalu in Borneo, the 121-villa resort rests along the coast of Malohom Bay, a natural sanctuary nestled in the hillside of an ancient rainforest, boasting a stunning outline of Mount Kinabalu on the horizon. Even though the resort is located in an area where human activities have already been restricted, it has always aspired to embrace a proactive role in embarking on conservation programmes to better protect marine life and raise awareness for sustainable seafood choices.
The Gaya Island Resort Marine Centre advocates three conservation pillars - Turtle Rescue, Coral Reef Restoration and Conservation Through Education. The marine centre's programmes were conceptualised and are being implemented by Scott Mayback, the resort's Resident Marine Biologist.
Turtle Rescue
Turtle rescue is a key conservation programme in view of the fact that six out of seven sea turtle species are already declared endangered worldwide. The turtle population has been affected by human activities such as fishing, development and pollution and Malaysia has spent over 50 years conserving sea turtles. Most conservation efforts are mainly focused on beaches and hatcheries, hence making the initiatives undertaken by the marine centre very unique and the first one of its kind in Malaysia. The marine centre will rescue, rehabilitate and release sea turtles that they receive from the Sabah Wildlife Department and other conservation agencies. Injured or sick sea turtles will be provided with a safe environment in which to recover and where they will be treated with the assistance of Dr Nicholas Pilcher, Founder and Executive Director of the Marine Research Foundation (www.mrf-asia.org), a non-profit organisation based in Kota Kinabalu, Sabah.
Dr Pilcher, Co-Chair of the IUCN SSC Marine Turtle Specialist Group and globally known as the foremost turtle expert in turtle conservation, played an instrumental role in the creation of the marine centre and the recovery of Bobby. His Marine Research Foundation was developed with the mission to further the understanding of marine ecosystems and functions, and conserve the abundance and diversity of marine flora and fauna through research, conservation and education activities. Its key objectives include promoting the advancement of indigenous understanding of marine ecosystems, the economy and social well-being of communities, and the relief of underprivileged communities which depend on the marine environment. Once the injured or sick turtles have been rehabilitated, they are tagged and released. A turtle rescue hotline is available for the public to call at +60 13 899 9509 whenever assistance is required.
To support the turtle rescue and rehabilitation initiatives, the Turtle Education Programme will be implemented in the near future. The programme will enable guests to be engaged in workshops to learn about sea turtles, and how the resort reaches out and educates the local community about sea turtles and the marine environment. Guests can also volunteer to assist the Resident Marine Biologist to help render relevant care for the turtles.
Coral Reef Restoration
Gaya Island Resort Marine Centre will also champion coral reef restoration. The coral nursery provides an on-land opportunity for guests to become engaged with coral reef conservation. It provides a controlled environment for freshly planted corals to recover. This initiative is carried out in collaboration with Reef Check Malaysia, a non-profit organisation.
Activities include the collection of broken or non-viable coral fragments, their attachment to coral blocks or artificial reef structures, placement in the nursery for observation and their return to the Tunku Abdul Rahman Marine Park to rehabilitate damaged areas. The Coral Adoption Programme features the following elements: adopt a coral and plant one coral block/nubbin on land for a fee, receive hands-on training in the process of coral aqua culture, guests provided with pictures taken while planting corals, a certificate and photo updates on their progress, and an option to plant the corals back into the sea with the Resident Marine Biologist. The wholesome experience instills a sense of ownership and responsibility to the marine environment.
Conservation Through Education
Gaya Island Resort has made a commitment in leading the community and beyond in marine conservation. The resort leads by not selling endangered species like sharks and humphead wrasse, choosing products that have minimal impact on the environment, and providing engaging education opportunities for guests and staff to further their appreciation of conservation.
This includes weekly conservation talks and participating in the Marine Biologist For A Day Programme, and allowing guests to become involved in future external outreach programmes as volunteers or sponsors. Lastly, providing outreach to the local fishing communities is an essential part of the programme. The marine centre will also provide training in using less harmful fishing practices, educate the fishermen on the benefits of conservation and implement a recycling programme to reduce floating debris.
Scott Mayback, Resident Marine Biologist
The resort's Resident Marine Biologist and the first in YTL Hotels, Scott Mayback, is originally from the United States of America. He has spent the last four years in Sabah to experience hands-on all about coral reef restoration and turtle rehabilitation. He has also gotten off the beaten path and surveyed reefs from Kota Kinabalu to Pulau Banggi, an island off the tip of Borneo. Scott had his formal education at the University of Oregon, and had spent a year at the university's own marine lab. During his time at the university, he worked and gained invaluable knowledge in local aquarium outlets and in a university laboratory. As the Resident Marine Biologist, Scott oversees all aquatic operations and activities at Gaya Island Resort. He is also responsible for coral planting, coral reef rehabilitation and marine conservation programmes whilst educating guests on marine life and ways to preserve a healthy ecological environment.
Natural Wonders – Mountain, Rainforest and Reef Natural Wonders is the recently published coffee table book featuring nature's splendour at eight YTL resorts in distinct locations in the region. From a private island off the west coast of Peninsular Malaysia to Japan's northern island, Hokkaido, each distinct location offers a myriad of highly captivating natural wonders that guests can experience up close. The beautiful coffee table book was written by celebrated author Ms Wendy Hutton and creatively photographed and published by Scubazoo. The book took almost a year to complete from its initial conceptualisation to the launch of the book.
One of the most interesting and challenging aspects during the production was actually nature itself as wildlife and weather were at times unpredictable and required utmost patience and creativity. The key highlight of Ms Hutton and the photographers' experience working on the book was their unexpected encounters with rare animals in different locations.
Natural Wonders retails at MYR145/SGD56.03/GPB25 and is available in major bookstores.
Gaya Island Resort is the luxury resort destination where the journey of self-discovery of personalised authentic Borneo experiences awaits all.
Back