YTL Hotels introduces the Gainsborough Bath Spa, its first classic hotel in the UK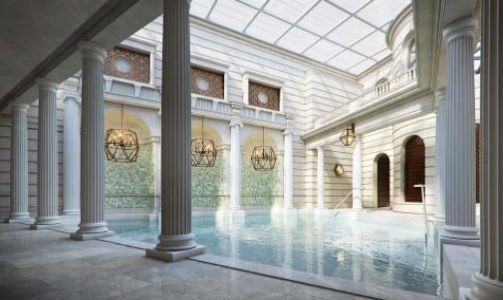 Kuala Lumpur, August 30 2013
YTL Hotels is delighted to present its exciting new project in the historical UNESCO World Heritage City of Bath. The Gainsborough Bath Spa, opening Spring 2014, will be the newest addition to the YTL Hotels portfolio of luxury properties, and the company's first Classic Hotel in the United Kingdom.
Following in the highly successful footsteps of the group's world-renowned properties such as Pangkor Laut Resort and The Majestic Hotel Kuala Lumpur, The Gainsborough Bath Spa will set a new standard for luxury accommodation in the City of Bath and have the exclusive privilege of being the only hotel in the UK to have direct access to natural thermal waters.
Made up of three beautiful historical buildings, each with a Grade II listed Georgian façade; the site of The Gainsborough Bath Spa has enjoyed an interesting history. The property was originally built as the United Hospital in 1824, with designs by renowned architect John Pinch. In 1932, the Hospital closed and the property became home to Bath College until 2005.
The site's redevelopment by YTL Hotels has included the refurbishment of the main wings of the Gainsborough Building, the construction of a new wing on Lower Borough Walls and the redesigning of the neighbouring 17th century Bellotts annexe, linked to the Gainsborough by a newly formed tunnel. The lower level of the property will be home to the Spa Village Bath and thermal pools.  
Located over two floors, the 1,300 square metre Spa Village Bath will have direct access to Bath's celebrated waters through three therapeutic pools. Designed with the Roman history of Bath in mind, the pools are set within an atrium flooded with natural light. YTL Hotels' highly acclaimed Spa Village brand remains true to the philosophy of honouring wellness traditions of the locale, which will be interwoven with its Malaysian roots at Spa Village Bath.
The elegant interiors of The Gainsborough Bath Spa have been carefully designed by Champalimaud Design, one of the most highly regarded hotel design firms in the world, known for their award-winning work on properties such as The Carlyle in New York and The Dorchester in London.
At The Gainsborough Bath Spa, hotel guests and residents of Bath will enjoy the culinary team's interpretation of modern English cuisine subtly fused with Asian influences.
The 99-room hotel is ideally located along Beau Street, minutes away from the city's historical attractions, shopping and restaurant districts, and directly opposite the Thermae Bath Spa. A five-minute walk from the Bath Spa train station, this elegant new hotel is just a 90-minute train journey from London, making it the new luxury destination for the perfect weekend escape. www.thegainsboroughbathspa.co.uk
Back