FrogAsia Presents Leaps of Knowledge: An Evening with Nick Vujicic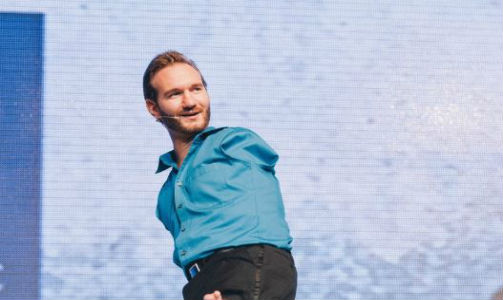 FrogAsia, August 14, 2013
On 30 August 2013, FrogAsia, in collaboration with YTL Foundation and Yes 4G, will launch its "Leaps of Knowledge" series with An Evening with Nick Vujicic.
Leaps of Knowledge is a series of talks, seminars, workshops and conferences that aim to inspire and enlighten Malaysians on how education can be transformed through the use of technology and the Internet. The series will see the world's leading educators, technologists, thinkers and personalities share their thoughts and ideas to foster public discourse on education in Malaysia, and to encourage students and teachers in Malaysia to make the most of the information age today.
This is in line with FrogAsia's vision is to inspire the next generation and empower them with the right tools and opportunities made possible by the Internet and technology. Its award winning Frog Virtual Learning Environment (VLE) is used by schools all over the world and enables teaching and learning to be delivered in a fun and engaging way. The Frog VLE is being rolled out to all 10,000 government schools in Malaysia under the 1BestariNet project.
The Leaps of Knowledge series kicks off with Nick Vujicic, a man who was born without arms and legs. He suffered serious depression as a child leading him to attempt to take his own life when he was 10. And yet he overcame his disability and is now a world acclaimed motivational speaker as well as author, musician and actor. Nick's life story tells us that every child is special and every child has the potential to achieve great things. An Evening with Nick Vujicic aims to inspire every individual to get ahead and achieve his or her dreams, no matter how adverse the circumstances.
An Evening with Nick Vujicic will be held on Friday 30 August 2013 at HGH Convention Centre, Jalan Sentul, and is open to all students, parents and teachers with a 1BestariNet Yes ID. Under the 1BestariNet project, 1BestariNet Yes IDs have been made available to all parents, students and teachers in government schools nationwide. 1,500 free passes are being given away and information on how to obtain passes for the event is available at www.yes.my/bestari. Registration for the passes will close at midnight on 22 August 2013.
The next event in the series will feature education technologist, Professor Sugata Mitra, 2013 TED prize winner best known for his "Hole in the Wall" experiment that is revolutionising teaching in India and around the world.
About FrogAsia
FrogAsia, a YTL company, is the first company in the world to connect an entire nation through a single, cloud-based learning platform. Beyond just implementing technology, FrogAsia provides solutions focused on harnessing the Internet to transform education in a meaningful way. Its virtual learning environment (VLE), Frog, developed by sister company Frogtrade in the UK, is simple, fun, and engaging – which is why schools all around the world have made Frog their platform of choice. Frogtrade was named ICT Company of the Year at the 2013 BETT Awards in the UK.
FrogAsia aims to educate and inspire people to learn and discover beyond the boundaries of the classroom by doing, giving and being involved in activities that lead to academic learning, leadership growth and community development by using technology and the Internet as a force for good. From more information please visit www.frogasia.com.
About 1BestariNet
Through the 1BestariNet project, FrogAsia is bringing the future of education to every student, teacher and parent in Malaysia. Combining high-speed 4G internet access, a world class learning platform and access to 'best-in-class' resources and technology, Malaysia is the first country in the world to bring its entire education community together on a single converged network designed specifically to meet the needs of teaching and learning. For the first time in Malaysia, every child will have access to world-standard learning tools. An excellent education should be the right of every child. Now it can be. For more information, please visit www.1bestarinet.net.
About YTL Foundation
YTL Foundation was established in 1997 with the objective of developing and improving education in Malaysia. This includes offering scholarships and financial support to deserving individuals to enable them to achieve their full potential and supporting programmes in schools and other institutions that encourage innovation and transformation in education.
About Yes
Yes, a brand under YTL Communications, offers the fastest 4G mobile internet with voice.
Winner of 'Broadband InfoVision Awards 2011' under 'Best New Service' category, Frost & Sullivan's 'Most Innovative Service Provider of the Year 2012' and 'Most Promising Telecom Service Provider of the Year 2013,' Yes is a global frontrunner in mobile 4G and is the first mobile operator in Malaysia to bring the worlds of mobile internet and voice together in one plan. Yes offers among the lowest mobile rates in the market and currently covers over 85% of the population in Peninsular Malaysia with on-going network expansions in East Malaysia. With its robust 4G network as a backbone and a fully-converged mobile service, Yes is one of the most advanced wireless networks in the world. For more information, please visit www.yes.my.

Back