YTL Land's luxury-centric homes in Singapore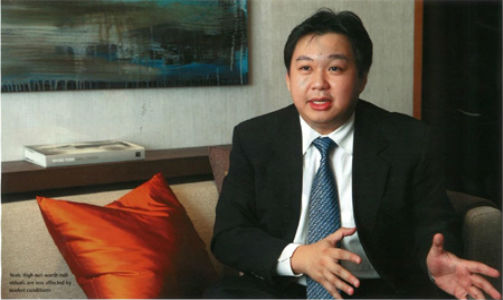 The Edge Singapore, July 15, 2013
BY AMY TAN
OF THE EDGE SINGAPORE
On June 21, when the Pollutant Stand­ards Index (PSI) in Singapore soared to a hazardous level of 401 in the afternoon, even the multimillion-dollar designer homes in Sentosa Cove had their views shrouded in heavy smog. Ensconced in the show villa on Sandy Island in Sentosa Cove that day was the cherubic, fair-faced Joseph Yeoh, who was a picture of health, in sharp contrast to the grey washed-out background.
The 27-year-old son of billionaire Tan Sri Dr Fran­cis Yeoh, group managing director of YTL Corp, was completely unfazed by the haze. While some pundits bet that the PSI would reach 500 that weekend and others mulled over the long-term impact on property values, Yeoh dismissed it altogether. "Oh, it will just blow away," he said.
The third of five children (three sons and two daugh­ters), Yeoh read law at the University of Nottingham in the UK and entered the family's sprawling business last October. He is now vice-president of YTL Land & Development and ytl Hotels & Properties.
"I was [in Singapore] two years ago to do my law vocation and that's when I started familiarising myself with the property division," Yeoh tells City & Country in a recent interview. "I was trained in hotel and F&B operations, and now I look after the Singapore prop­erty business." He had helped enhance the Starhill Gallery and Lot 10 shopping malls in Kuala Lumpur, both of which are in the Starhill Global REIT portfo­lio, by securing global retail brands H&M and Debenhams. "As you can see, everything I did is property-related," he says. YTL Corp owns a major stake in Starhill Global REIT and REIT manager YTL Starhill Global REIT Management is an indirect subsidiary of YTL Corp.
Gearing up for Orchard Boulevard launch
In Singapore, the project that Yeoh is most actively involved in is the upcoming preview of the new lux­ury condo located in the prestigious Orchard Boul­evard strip early next year. Now under construction, the 77-unit condominium will have a mix of two to five-bedroom units designed by Milan-based Italian designer, Antonio Citterio, who also designed the Bulgari Hotels in London, Milan and Bali.
The 25-storey residential project is a redevelopment of the former Westwood Apartments, which YTL pur­chased en bloc for S$435 million in November 2007. The quantum price of the freehold site, which has an area of 62,179 sq ft, worked out to S$2,525 psf per plot ratio (psf ppr), including development charge. In terms of price psf ppr, it was an all-time-high for a site pur­chased en bloc until last December, when Hong Kong-based Swire Properties acquired 12 units at Hampton Court in the exclusive Draycott Park area in a block deal worth S$155 million, or S$2,526 psf ppr.
While Yeoh is coy about the price tag of the new project on Orchard Boulevard, property consultants are less so. Samuel Eyo, director of Savills Prestige Homes, for instance, reckons the new project could debut at S$4,000 psf. "Depending on the design and layout, prices could be on a par with The Marq on Paterson Hill," he estimates.
The 66-unit The Marq on Paterson Hill by SC Global Developments is considered the epitome of luxury in Singapore, setting the benchmark in both price and quality. The development, completed in 2011, contains exclusively four-bedroom apartments of 3,000 sq ft in one tower and 6,000 sq ft in a second tower. The project boasts units with 7m ceiling height, a 15m lap pool, private lift lobby,24-hour concierge service, state-of-the-art gym, and clubhouse that looks like a hotel lounge.
The Marq became the first condo in which a unit crossed the S$5,000 psf threshold and, in November 2011, another unit was sold at a stratospheric S$6,840 psf. Last September, in the most recent transaction at The Marq, a 3,089 sq ft unit on the eighth floor fetched S$15.2 million (S$4,920 psf).
In the vicinity is the 54-unit TwentyOne Angul-lia Park by Chinese conglomerate China Sonangol. SCDA Architects designed both the development and The Marq. Three units at TwentyOne Angullia were sold from S$4,790 to S$5,560 psf, which set new highs this year.
Nearby on Tomlinson Road is the 70-unit Tomlin-son Heights by Hotel Properties Ltd. Since private previews began in September 2010,32 of the 33 units launched have been snapped up as at end-May. Trans­action prices in the freehold condo, which comprises three to five-bedroom apartments, have ranged from S$2,872 to S$3,704 psf.
'Measures a form of filtration1
YTL's Yeoh is optimistic about the luxury segment of the property market, despite the surrounding competition and the government's series of proper­ty cooling measures. Yet another new measure was introduced on June 28, which took the form of loan restrictions on property investors who are already highly leveraged.
While Yeoh concedes that the cooling measures have slowed sales in the top end of the residential market, "they provide a form of a filtration system", he says, adding that consumers will have more of a choice and become more discerning. "It then becomes a competition of the product itself. And we stand a good chance of doing well. We know our target mar­ket and we're very clear about what we want to do — we want to build award-winning homes for high-net-worth individuals. They are less affected by the vagaries of the real estate market."
He cites the show villa on Sandy Island as an ex­ample. The villa was sold almost as soon as it was fully furnished, he says. It fetched S$17.8 million, or S$2,290 psf, just last month. The 18 villas at Sandy Is­land were completed last year, and every unit has a different layout. All the villas come with a car lift to an underground parking space for two cars, spacious living room with 7m ceiling height, five bedrooms with en suite bathrooms, swimming pool and land­scaped garden. The villas were designed with privacy in mind, and are shielded from prying eyes.
The Sandy Island villas bear the hallmarks of re­nowned Italian architect Claudio Silvestrin, famous for his design of the Museum of Contemporary Art in Turin and Giorgio Armani stores around the world. The landscape design is by celebrity horticulturist Jamie Durie. Residents will enjoy natural lighting, views of the garden and the waterway. Sandy Island has bagged several awards, including the Fiabci Prix d'Excellence and the Best Architectural Design (Southeast Asia) at the South East Asia Property Awards.
Launched at the onset of the global financial crisis in October 2008, all but one of the 18 villas on Sandy Island have been sold as at end-June, at prices ranging from S$12.28 million (S$l,939 psf) to S$21.85 million (S$2,364 psf). "Our buyers are the discerning high-net-worth individuals who are in it for the medium to long term," says Yeoh. "They are not investing in property just to flip it in the market. They are invest­ing in a piece of art." He adds that Sandy Island sees an equal mix of local and foreign buyers from China, Indonesia and Malaysia. Most of them see Sandy Island as a trophy home and own other properties around the world.
Meanwhile, Kasara, another YTL development, is an enclave of 13 waterfront villas on Ocean Drive in Sentosa Cove. It was launched in late December 2009, with most of the villas at Kasara snapped up by Janu­ary 2010. Now fully sold, prices ranged from S$14.4 million (S$l,596 psf) to S$25.9 million (S$l,780 psf). The waterfront villas at Kasara were designed by DP Architects, an established local architectural firm.
Focus on luxury, high-yield products
"Ultimately, we are a niche developer because we like to concentrate on smaller-scale, luxury, high-yield products," says Yeoh. "Even Westwood is a high-end residence, with only 77 high-rise apartments."
Francis, 58, is often credited with steering YTL Corp to being the global player it is today. Listed on Bursa Malaysia, YTL is a leading conglomerate in Malaysia, with a market capitalisation of RM17 billion, and in­terests in construction, property, hotels, utilities and technology. The company was founded by Francis' father Yeoh Tiong Lay, as a construction firm bear­ing his initials YTL in 1985. In February, Forbes ranked the 83-year-old patriarch, who has seven children (Francis is the eldest), 27 grandchildren and a great-granddaughter, as the seventh richest man in Malaysia.
YTL made inroads into Singapore seven years ago. It started with the acquisition of the bungalow de­velopment land parcel, The Lakefront Collection (now Kasara) at Sentosa Cove for S$50.2 million, or S$378 psf ppr, in 2006, and Sandy Island for S$89.7 million (S$617 psf ppr) the following year. At end-2007, YTL purchased the former Westwood Apartments on Orchard Boul­evard. In October 2008, it bought a major stake in the former Macquarie Prime REIT, which had been listed on the Singapore Exchange three years earlier, and renamed it Starhill Global REIT. Today, Starhill Global REIT has a portfolio of 13 shopping malls, including Ngee Ann City and Wisma Atria in prime Orchard Road, with total assets under management worth about S$2.7 billion.
Yeoh is bullish on the Singapore residential prop­erty market. "A lot of buyers, especially foreigners, see Singapore as a viable option, owing to the strength of its currency, robust financial hub and low inflation rate," he says. "If you compare with Hong Kong, the options in Singapore are still a lot more attractive be­cause of the space and the price that you get."
While Malaysia has a ready supply of land available, Singapore has land constraints, so, beyond pricing, timing is also important. "The recent bid for Coro­nation Road shows that a lot of other developers are still quite bullish, not just us," he says. "The winning bid was S$366 million, so that speaks volumes about market perception."
The highest bid was placed by CapitaLand which topped 11 others, and translated into S$908 psf ppr. The land area of the 99-year leasehold site is 403,000 sq ft, which could be developed into a 140-unit semi­detached housing project. Realty group OrangeTee's head of research, Christine Li, estimates the breakeven for the semi-detached houses to be $3.5 million each, with the selling price expected to be upwards of S$4 million each.
Expanding hotel portfolio
Apart from high-end residential projects, Yeoh also looks after YTL's hotel portfolio. In 2010,YTL acquired 460ha Niseko Village in the popular Niseko resort area in Hokkaido, Japan for US$66 million. It was a distressed asset. The Niseko Village includes the 506-room Hilton Niseko Village, 200-room Green Leaf Ho­tel, two 18-hole golf courses, as well as a 155ha plot featuring a 23-court tennis complex, the Niseko Vil­lage Ski Resort and ski school, several Japanese hot springs and an equestrian centre.
Inspired by his travels to European and US ski re­sorts, Yeoh intends to develop Niseko Village into the "Aspen of the East" by reconfiguring the existing resort ski-ways, golf courses and hotels into a mixed-use re­sort community featuring ski-in and ski-out residen­tial opportunities. This will be implemented in phases over a period of five years. YTL will also be developing high-end residences at Niseko Village, which will be launched for international sale in 2014.
Elsewhere, YTL completed the acquisition of Sydney Harbour Mariott Hotel, Brisbane Marriott Hotel and Melbourne Marriot Hotel in Australia for a total of A$415 million in November. The prop­erties are held under Malaysian-listed hospitality REIT, Starhill REIT, which owns 10 hospitality-re­lated properties with a total of 2,690 rooms and services residences units in Malaysia and Japan. Upon completion, the acquisition will enlarge the trust's portfolio to about RMS billion from RM1.58 billion now.
Yeoh is constantly on the lookout for opportunities to expand the company's hotel portfolio, although Singapore may be "a bit saturated now". More than 9,400 hotel rooms will be coming up in 2014 and 2015, according to OCBC Research in a March report.
While the patriarch of YTL may have honed his children's business skills, they have carried on that tradition to the third generation, Yeoh credits his grandmother for a good grounding in mathematics, "which is the core of all businesses", he says. "I re­member she used to come to our house every week to teach us maths, and she would bring RFC to mo­tivate us."
For now, all of Yeoh's siblings except his younger sister are in the family business. Elder sister, Ruth, is active in the environmental business, and elder brother, Jacob, oversees the IT business and is the frontman for YTL's Yes brand 4G mobile network in Malaysia.
Younger brother, Joshua, who graduated 1 1/2 years ago, is in the cement business, and the youngest, Rebekah, has just completed her exams. "She's very happy and not thinking about work at the moment, so we're giving her a summer break before we rope her in," says Yeoh.
Regarded as one of the most eligible bachelors in Malaysia, Yeoh leads a jet-set life, shuttling between Kuala Lumpur and Singapore every fortnight, as well as visiting YTL's properties in Australia, China, Japan and the UK. As he left Singapore that very evening af­ter a series of interviews with the Singapore media, the haze left as well, just as he had predicted.
Back