YTL's The Westin Hotel receives Australian Architecture Award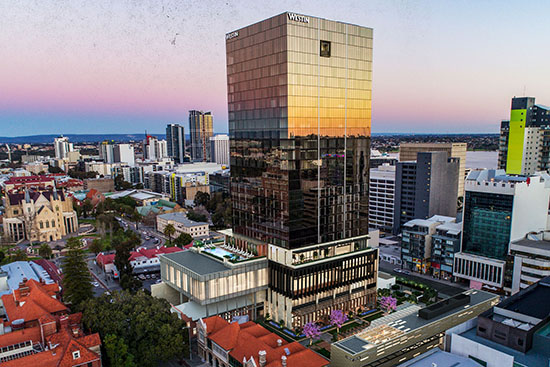 Kuala Lumpur, July 1, 2019
YTL's The Westin Hotel in West Australia was awarded the Ross Chisholm and Gil Nicol award for Commercial Architecture at the Western Australia Architecture Awards. As a cornerstone of the Hibernian Place development, the 368-room, five-star Westin Hotel features a facade using three types of glass, changing the building's colour from nearly black to golden depending on the light, creating a beacon within the city centre.
Hibernian Place owned by the dynamic YTL Group, also received a commendation in the Urban Design category. In addition to the hotel, Hibernian place has a thoughtfully curated mix of hospitality operators. These include Garum restaurant by Guy Grossi, Bodhi J Wellness Spa, Offshoot coffee roastery by Mary Street Bakery, Arthur & Co. by Graham Arthur, Huxtaburger from Melbourne, rooftop bar Hadiqa and late night Japanese Bar Good Two's - by Andy Freeman.
In January this year, YTL Corp Bhd bought The Westin Perth for over A$200 million (RM591 million), one of the biggest hotel sales in the West Australian capital, according to the Australian Financial Review (AFR).
HASSELL was selected as lead design consultant for architecture, landscape architecture and coordination of services for the project. The company was recognised with three award wins and two commendations at the Western Australia Architecture Awards, held at Perth's Optus Stadium recently.
On announcing the award the jury cited: "HASSELL's thoughtful approach to large scale hotel development generously creates public benefit from a private project. With careful use of form, scale and materiality, the aspirational values of the Westin brand are affirmed by the provision of enticing spaces and experiences in this outstanding example of commercial architecture".
The arrival area demonstrates how HASSELL's design process blurred boundaries between inside and out - a 'very Perth' approach given its climate. Mature trees, massive stone walls and a cobble-stoned driveway give the impression of a hotel set in an 'urban oasis'.
The hotel is thoughtfully integrated with Federation-style Hibernian Hall. The 'floating' ballroom above it, adds a valuable event space and creates the right conditions for a new public plaza for Perth's burgeoning east end.
The refined outdoor spaces draw inspiration from surrounding heritage character but still feel contemporary, in line with the new development.
The welcoming central plaza contains avenues of mature trees, manicured lawns, large decks, water features and timber and stone furniture.
With a rooftop garden as well, it's a prime spot for year-round events and installations.
Importantly, these civic spaces were designed to be active all day, with people gathering for lunch or coffee in the afternoon or meeting for drinks or dinner at night.
Back