YTL Group-Tabung Haji JV Selected as a Project Delivery Partner (PDP) for Kuala Lumpur-Singapore High Speed Rail Project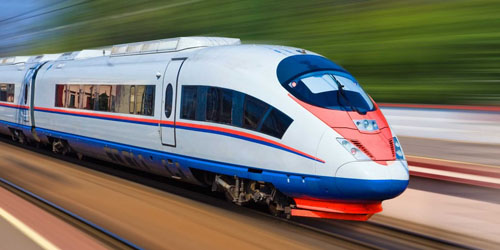 Kuala Lumpur, Thursday 5 April 2018
YTL THP JV Sdn Bhd ("YTL THP JV") has been selected by MyHSR Corporation Sdn Bhd ("MyHSR Corp") as one of its two Project Delivery Partners ("PDP") for the Malaysian civil infrastructure portion of the Kuala Lumpur-Singapore High Speed Rail project ("KL- SG HSR Project"), responsible for developing the detailed design and delivering the infrastructure works for the KL-SG HSR Project. The contracts will be awarded upon the satisfactory conclusion of negotiations between MyHSR Corp and YTL THP JV.
YTL THP JV is a joint venture between Syarikat Pembenaan Yeoh Tiong Lay Sdn Bhd ("SPTYL"), a wholly-owned subsidiary of YTL Corporation Berhad ("YTL Corp"), and TH Properties Sdn Bhd ("THP"), a wholly-owned subsidiary of Lembaga Tabung Haji ("Tabung Haji"). YTL THP JV will be responsible for the southern portion of the alignment of the KL-SG HSR Project.
Tan Sri Dato' (Dr) Francis Yeoh Sock Ping, CBE, FICE, Managing Director of YTL Corp and Director of YTL THP JV, said, "We are deeply passionate about this project, having explored the concept of a high-speed rail service to facilitate seamless travel between Kuala Lumpur and Singapore since the 1990s.
We are excited that the project is now coming to fruition and strongly believe that it will be transformative – connecting communities in Malaysia and Singapore – whilst playing a critical role in our country's future economic growth as a vital component of the country's blueprint to develop world-class rail infrastructure. We wish to thank MyHSR Corp and the Government of Malaysia for their confidence in granting us the opportunity to participate in the KL-SG HSR Project".
Datuk Seri Johan Bin Abdullah, Chief Executive Officer of Tabung Haji, said, "Tabung Haji's participation in this venture would very well fit into our investment strategy that provides benefit to more than 9 million depositors of the fund. Tabung Haji and the YTL Group have a long standing partnership spanning more than 20 years, having together built the Express Rail Link project that connects Kuala Lumpur International Airport and klia2 to KL Sentral. Our partnership has successfully harnessed the capabilities and resources of both companies as we are driven by a common vision of creating long-term progress and economic growth in Malaysia. The ERL, having served more than 87 million passengers since 2002, exemplifies this vision, and our combined experience in rail projects has uniquely positioned us to successfully win and deliver the KL-SG HSR Project".
About the KL-SG HSR Project
The KL-SG HSR Project is a strategic initiative between the Governments of Malaysia and Singapore that aims to facilitate a 90-minute travel time between Kuala Lumpur and Singapore. The project is expected to enhance business linkages and bring the people of both countries closer together. The iconic project includes domestic services within Malaysia that will improve intercity connectivity and promote economic agglomeration under the Socio-economic Development Programme (SEDP) intended to benefit local communities along the corridor.
The Governments of both countries signed a Bilateral Agreement on 13 December 2016, which captured the key points of agreement on the project, including the technical parameters, commercial model, customs, immigration and quarantine clearance, safety and security matters, regulatory framework and project management approach.
Eight stations are currently planned for the Kuala Lumpur–Singapore HSR: Bandar Malaysia, Sepang-Putrajaya, Seremban, Melaka, Muar, Batu Pahat and Iskandar Puteri stations in Malaysia and the Jurong East station in Singapore, with operations of the KL-SG HSR service between Kuala Lumpur and Singapore targeted for commencement by 31 December 2026.
About the YTL Group and Tabung Haji
SPYTL is the flagship construction arm of the YTL Corp Group and is a Class A G7 turnkey contractor and developer with a strong track record for delivering high quality design and construction of large-scale, multi-billion ringgit infrastructure projects, including rail, residential and commercial real estate, and major infrastructure development projects throughout Malaysia and Singapore, on time and on budget.
THP is an integrated property, project development and asset and facilities management group. THP is a wholly-owned subsidiary of Tabung Haji, the premiere Islamic financial institute in Malaysia, managing more than RM70 billion of deposits. THP is an award-winning Class B G7 turnkey contractor and developer, and has completed building and infrastructure projects both local and internationally, with a track record that includes the country's leading development on wakaf land, iconic high-rise buildings, highways, flood mitigation works, army and police facilities and government buildings and quarters.
YTL Corp and Tabung Haji own stakes in Express Rail Link Sdn Bhd, which owns and operates the 57-kilometre KLIA Ekspres and KLIA Transit services between KL Sentral Station and KLIA. SPYTL built the infrastructure for the Express Rail Link, completing the project ahead of time, in 2002, as well as the link between KLIA and klia2, which commenced operations in 2015.
Back