YTL's FrogAsia launches free education content on virtual platform at annual conference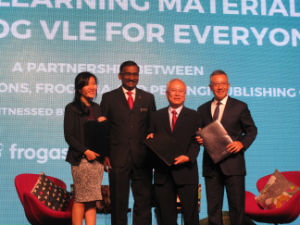 Kuala Lumpur, November 30, 2016
YTL's FrogAsia presented the latest conference in its Leaps of Knowledge event series at YTL's The Majestic Hotel Kuala Lumpur today, sponsored by YTL Foundation. Over 600 educators, parents, students and members of the public were present to find out more about 21st century learning on the Frog Virtual Learning Environment (Frog VLE) platform, which will have new education content next year thanks to a new partnership with Pelangi Publishing Group Bhd (Pelangi). The opening ceremony of the conference was graced by YB Dato' Kamalanathan Panchanathan, the Deputy Minister of Education I.
"With technology, the classroom can come alive like never before, and we can now engage students in a more interactive and meaningful way. Today, at Leaps of Knowledge, themed 'Creating Connections', we come together as educators, parents and partners in education to play our part in raising our 21st century learners in all schools across the country," said Lou Yeoh, Executive Director of FrogAsia.
"In light of this, we are proud to announce our partnership with YTL Communications and Pelangi today to equip every student and teacher with free content on the Frog VLE," she continued.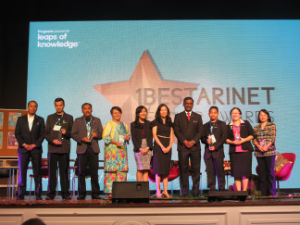 At the conference, FrogAsia revealed its content partnership with YTL Communications and Pelangi, an established brand in the Malaysian education market renowned for its high quality, trusted teaching and learning material for the past 37 years.
This partnership will see them collaborating to deliver free revision quizzes and tests to 5 million students and 500,000 teachers in all 10,000 government schools nationwide in 2017 via the Frog VLE, to support the Ministry of Education in its effort to increase technology adoption in schools, under the 1BestariNet project.
The wealth of material by Pelangi will be delivered in tandem with FrogPlay, a gamified revision application on the Frog VLE, which will encourage students to be more motivated to learn and explore.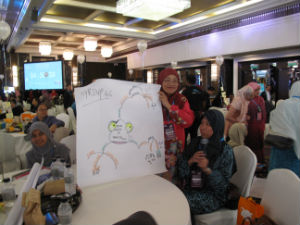 Meanwhile, Dato' Kamalanathan also commended FrogAsia's commitment towards expanding 21st century education on the Frog VLE. "The Ministry of Education is committed to leveraging ICT to improve the quality of teaching and learning, in line with the Malaysian Education Blueprint 2013-2025. Content partnerships such as the one between FrogAsia, YTL Communications and Pelangi will contribute towards enriching the ecosystem and enhancing the 1BestariNet proposition," he explained.

The conference featured keynote speeches and activities by education experts. Thomas Arnett, Senior Research Fellow in Education at the Christensen Institute spoke on blended learning, drawing from his research that focuses on the changing roles of teachers in blended learning environments and other innovative educational models.
Professor James Arthur, Deputy Pro-Vice-Chancellor for Staffing and Professor of Education and Civic Engagement at the University of Birmingham, who is also the Director of the Jubilee Centre for Character and Virtues - a pioneering research centre focusing on character, virtues and values in the interest of human flourishing, spoke on the importance of character and values in a 21st century world.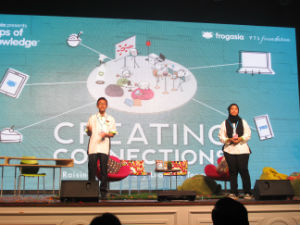 In the massive interactive workshop sessions, participants received a hands-on experience that echoed the energy and movement occurring on the ground with volunteer teachers (Frog Teacher Advocates) across the country via Frog Hubs. At Frog Hubs, these teachers come together to share their experiences and support each other in using technology in teaching and learning.
At the conference, activities and challenges for new and experienced Frog VLE users allowed participants to come together and expand their knowledge, network, and exchange ideas and best practices in using the Frog VLE to raise 21st century learners together.
The conference also celebrated excellence in teachers and students by presenting the 1BestariNet Teacher Awards and the Vinnie Chan Award.
In education, 21st century teaching and learning is defined by 4 'C's: Communication, Collaboration, Critical Thinking and Creativity. In their work with teachers and students, FrogAsia has championed the concept of Character as the 5th 'C' that underpins the other values. In the 1BestariNet Teacher Awards, teachers were honoured for their excellence in all five categories and one school also won an award for being the most outstanding overall.
The winners came from all across Malaysia. The 1BestariNet Teacher Awards were presented to En Rosman Abadi Abdul Razak of SK Tok Dir, Kota Terengganu (Character); Pn Ho Siew Hoon of SMK Seafield, Subang Jaya (Critical Thinking); Pn Tan Shin Yee of SJKC Choong Wen, Kuala Lumpur (Collaboration); En Saifulnizan Che Ismail of SK Raja Bahar, Kota Bharu (Creativity) and En Mohd Azmi Muda of SK Meru 2, Klang (Communication) while SMK Kota Samarahan, Sarawak received the Most Outstanding School award.
The Vinnie Chan Award honours individuals or groups that have made a difference in their community by championing the United Nations' Global Goals for Sustainable Development. Students from the winning school, SMK Tengku Mahmud 2, Terengganu had the opportunity to take centre stage at the conference to speak about their aspirations as 21st century learners.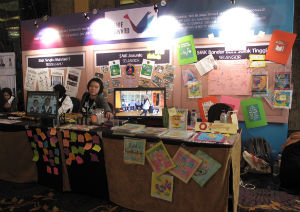 Students from SMK Tengku Mahmud 2, SMK Bandar Baru Salak Tinggi and SMK Assunta were also given the chance to champion their various community projects at the conference. Some highlights from the students' booths were a game on waste segregation, a display of arts and crafts by special needs students and a board of wishes for a better life on land from participants.
A series of talks, seminars, workshops and conferences that bring world-class thought leaders and communities together, Leaps of Knowledge is FrogAsia's flagship series of events. Understanding that technology is a tool that plays in a role in collaboration and communication, FrogAsia aims to inform, equip and inspire the community in their efforts to raise 21st century learners together.
"I applaud these teachers who contribute so much time and energy as Frog Teacher Advocates for leading the way in 21st century education. The Leaps of Knowledge conference gives us the opportunity to learn from one another, so I hope everyone is creating connections to brainstorm new ideas and discover your roles and contribution in bringing up the future leaders of Malaysia," said Dato' Kamalanathan.
Back