HYT launches first stand-alone boutique in the world at YTL's Starhill Gallery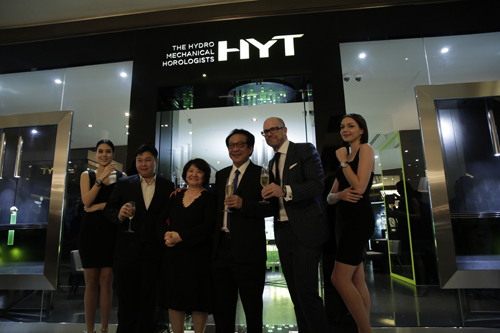 Kuala Lumpur, February 5, 2016
HYT, a revolutionary brand in the world of horology, launched their first stand-alone boutique in the world at YTL's Starhill Gallery in Kuala Lumpur.
Known as the premium watch retail space in Asia, Starhill Gallery contains an entire floor dedicated to unique timepiece brands.
Speaking at the launch, HYT CEO Vincent Perriard said, "We had this idea of combining liquids and mechanics and it was a crazy idea as liquid is not supposed to be seen in a watch or in a mechanical movement. For 500 years we have been trying to avoid the appearance of liquid in a watch, but in 2012, we designed the first watch which combines liquids and mechanics. It's a completely crazy idea!"
Beginning in 2012 with just 3 people, HYT has grown to 45 people today, continuously tackling new innovative projects. With more than 50 points of sale worldwide, HYT's presence in Malaysia will cater to the growing demands coming from collectors in South East Asia.
Officiating the launch, Tan Sri (Dr) Francis Yeoh, Managing Director of YTL Corporation said, "Not only are we witnessing the opening of a new boutique in Starhill Gallery, but this is HYT's first eponymous boutique in the world!
"Extreme alchemists, HYT's Hydro-Mechanical Watchmakers have turned utopia into reality – mixing mechanics and liquid within a wristwatch. This independent Swiss luxury brand has drawn upon the strictest codes in fine watchmaking – and felt entirely free to shatter them!
"Never since the water clocks of the pharaohs, have the laws of gravity been overcome to transpose this energy in a portable watch. HYT has done it!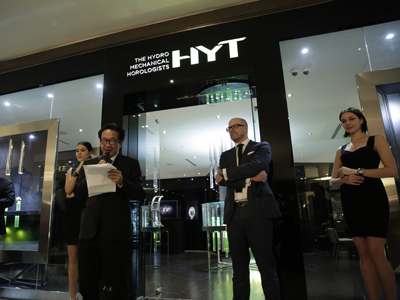 "Starhill Gallery, known for being the epitome of luxury and sophistication, is continuously on the lookout for dynamic and niche brands to offer its loyal customers; brands that offer something different, something qualitative, something unique. HYT is that and we welcome them to the family and look forward to further innovations and amazing developments from the Hydro Mechanical Horologists in the years to come!"
HYT was first featured at Starhill Gallery's prestigious watch and jewellery event, A Journey Through Time, where they opened a pop-up store at Starhill Gallery. The collection created a lot of interest and Kuala Lumpur was abuzz with talk of the liquid driven watches. It was here at the Starhill Gallery Watch of the Year Awards 2014 that HYT's H1 Dracula DLC was named winner of the Favourite Men's Watch Award.
"I'm very humbled to be here, as this is a very strategic place to be here in Starhill Gallery and Kuala Lumpur," said Perriard.
During the evening, Perriard showcased the latest HYT creation the H4 Metropolis – the world's first watch with dynamo, converting mechanical power into light to read the time even in the dark. The HYT boutique will feature a complete collection of watches for retail.
The HYT boutique is located on the Adorn floor at Starhill Gallery.
Back