Starhill's 'Journey' Stands the Test of Time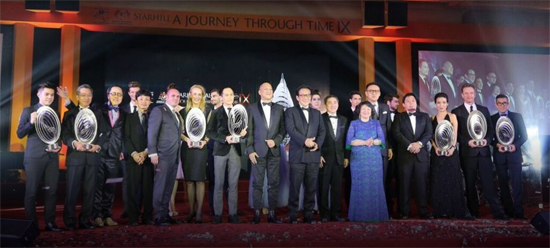 Jakarta Globe, December 4, 2015
Kuala Lumpur. The 2015 edition of A Journey Through Time watch and jewelry exhibition reached its finale last Friday, wrapping up eight days of curated glitz, glam and horology with a lavish gala dinner that also acknowledged the exceptional works of seven participating brands.
Malaysia's YTL Group once again spared no expense in bringing together an impressive list of international luxury brands to showcase their latest innovations at Starhill Gallery, the conglomerate's high-end retail mall in Bukit Bintang, Kuala Lumpur.
Speaking at the event, Tan Sri (Dr) Francis Yeoh said, "We would like to thank the Ministry for its continuous strong support of A Journey Through Time. I have always thought Malaysia had the potential to be a shopping paradise and in 2013 and 2014 CNN voted Kuala Lumpur as a 4th top shopping city in the world!
"The YTL Group and Starhill Gallery are proud to support the Ministry of Tourism and Culture to achieve Malaysia's agenda to have tourism remain as one of the prime contributors to the development of the nation. We hope that our successful collaboration over nine years will continue to grow from strength to strength."
More than 125 internationally renowned game makers and rising stars of the luxury watch and jewelry world took part in the annual exhibit, which for nine years has provided a "launch pad and testing ground for brands," according to Paula Conway, Starhill Gallery director of sales and marketing.
Commercial heavyweight Omega made a splash with some serious star power in its corner in the form of Mr. Bond, James Bond. Just in time for the movie's worldwide launch, industry giant introduced its latest 007-inspired timepiece, the "Spectre" limited edition Seamaster 300 series as part of the collection's first foray into Asia.
On the independent side of the horology spectrum, Swiss-based Speake-Marin made an equally lasting impression with the latest offering from its "J Class" line: the Magister Vertical Double Tourbillon. Only 10 pieces were exquisitely crafted for the model – which boasts two 60-second tourbillons supported by a 46mm, 18-karat gold case – to make each a true collector's item at $250,000 a pop.
For those who prefer their accessories with fewer dials and far more bling, luxury jeweler Gűbelin unveiled during the exhibit its latest collection of baubles bearing the "big three" of gems: the ruby, sapphire and emerald. This "Deeply Inspired" line drew inspiration from inclusions – fissures and bubbles found naturally in gemstones – to create such dazzling pieces as the "Seahorse" sapphire ring and the "Wings of a Dragonfly" ruby necklace.
"For eight days [visitors] get to explore and try new watches and jewelry" from exclusive brands not commonly found in the region, Conway said.
But as one of Asia's "longest running showcase of its kind," Starhill Gallery aimed to raise the bar with each passing year by turning it into an "all encompassing" event, she added.
"Yes, it's about watches and jewelry, but we also make it a fun experience."
True to its word, the business conglomerate tapped into the creative talents of music and fashion, inviting British pop star Gareth Gates to perform at Journey's opening ceremony on Nov. 20 and celebrity favorite Julien Macdonald to present his bold brand of haute couture.
The Welsh designer contributed his high-fashion edge with a runway show featuring his latest collection as well as the Julien Macdonald Retrospect Exhibition, which carried 21 bespoke designs. Open all throughout the premium event, it offers visitors a rare glimpse into the world of celebrity fashion with creations worn by and specifically designed for A-list stars such as Beyonce, Katy Perry, Taylor Swift and Kim Kardashian.
For the budding watch connoisseur, meanwhile, public workshops presented by renowned horologists, collectors and experts provided a comprehensive look into the different facets of the field.
"We want people to walk away from [Journey] with a greater knowledge of watches and jewelry," Conway explained.
Speakers included the likes of Christine Hutter, principal of independent German watchmaker Moritz Grossmann; Thierry Gasquez, author and president of France-based watch community Passion Horlogère; prominent watch collectors Bernard Cheong and Masanori Kondo; as well as journalist and watch consultant Su Jia Xian.
The latter four were later joined by Yoichiro Ban, founder of Japanese watch distributor Vitae Lucis, as judges for the awards portion of the event, announcing this year's winners in seven categories at the closing gala dinner.
The ceremony featured the vocal prowess of British mezzo-soprano Carly Paoli and Italian tenor Alessandro Safina, who performed for a virtual "who's who" of the country's elite. Among them was Malaysian Minister of Tourism and Culture Mohamed Nazri Bin Abdul Aziz, whose office has been a staunch supporter of Journey since its inception.
"We have seen [the exhibit] grow both in scale and reception each year," the minister said in his opening speech.
"Now in its ninth year, we remain strong in support for the grand endeavor that Starhill Gallery has put in to organize such a prestigious event that is both revered and anticipated by all watch and jewelry enthusiasts in Asia.
"We are excited with what Starhill Gallery has in mind for next year when the event will be in its 10th year," he added.
—-----
Winners of A Journey Through Time's Watch and Jewelry of the Year Awards 2015:
Favorite Men's Watch: Zeitwinkel's 273 Saphir Fume
Favorite Ladies' Watch: Bedat & Co's Ref 328
Best Watch With Complication in Movement: Moritz Grossmann's Benu Tourbillon
Timeless Jewelry Award: Gűbelin's Kashmir Sapphire ring
YTL Spirit of Classical Art Award: Breguet's Secret de la Reine
Judges' Choice Award: Speake-Marin's Magister Vertical Double Tourbillon
Ministry of Tourism and Culture Most Revered Award: Hermès's Slim d'Hermès Perpetual Calendar
Back