In Equal Measure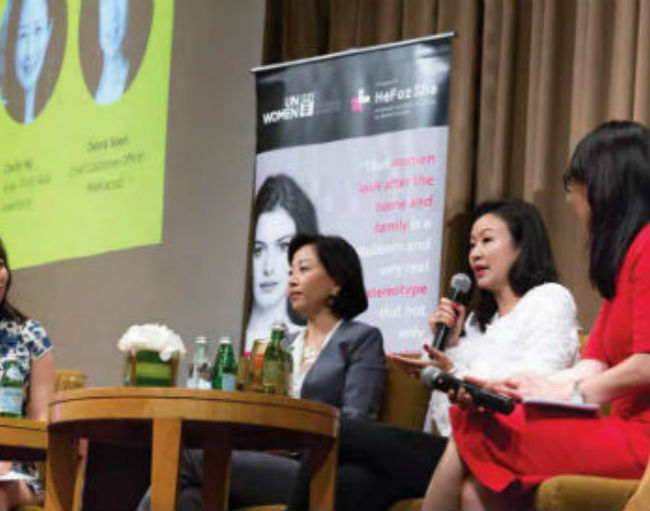 Singapore Tatler, September 2018
by Hashirin Nurin Hashimi
A game changer is an event, idea or procedure that effects a significant shift in the current way of doing or thinking about something. Going by this dictionary definition, the Singapore Committee for UN Women, a non-profit organisation working towards women's empowerment and gender equality, is a game changer in its own right for it has hit several important and significant advocacy milestones since its founding in 1997.
For one, thanks to the efforts of the organisation and its partners in raising awareness on child prostitution in the region, the Singapore government amended Section 376 of the Penal Code in 2008 to criminalise commercial sex with a minor under 18 not just in Singapore, but also overseas. Then, as a reflection of the Day Off Campaign it launched in 2008 with two non-government organisations dedicated to assisting low-wage migrant workers, a legislation mandating a weekly rest day for foreign domestic workers took effect in 2013. The Singapore Committee for UN Women also contributed to a National Plan of Action against Trafficking in Persons (TIP), which guided Singapore's TIP strategy from 2012 to 2015, when the country put in place its first standalone anti-trafficking legislation.
The last two milestones were achieved under the watch of past president (and current executive board member) Trina Liang-Lin and her team, and she considers them one of the highlights of her term. "Even though the Singapore Committee for UN Women is an advocacy group, our focus is targeted on issues affecting women and girls across borders. In Singapore, our efforts are focused on the rights of domestic workers and sex and labour trafficking victims."
Through its programmes, the organisation has impacted 900,000 lives in Singapore, with another 45,400 in the region. So it is only apt that "Games Changers" is the theme of its 20th anniversary, where it will celebrate the game-changing moments, milestones and people shaping the organisation, Singapore and the region at its annual Snow (Say No to the Oppression of Women) gala dinner on September 21, at Capella Singapore.
POWER TO WOMEN
Newly appointed president Georgette Tan explains, "Traditionally, our work has been focused on building awareness in Singapore on gender inequality, but it has since moved beyond public education and expanded towards addressing topical issues related to the economic empowerment of women. We look at ways to create a voice for women by entrusting communities to take preventive action against violence, effecting action in bridging the economic gap, and engaging organisations and individuals to support the gender equality movement through everyday actions."
According to Tan, women in Singapore have made great strides. In 2017, the Diversity Action Committee set an ambitious target to have women make up 20 per cent of boards in listed companies by 2020, and 30 per cent in 2030. In 2018, manpower minister Josephine Teo, citing findings from the Ministry of Manpower's Labour Force in Singapore 2017 survey, pegged Singapore's gender pay gap at almost 12 per cent – an improvement from 20 per cent a decade ago. Tan also highlighted that women are becoming increasingly financially independent with a labour force participation of about 60 per cent in 2017, and are increasingly in positions to make decisions for themselves and their families.
The Singapore Committee for UN Women strives to address these needs through its programmes, including the Girls2Pioneers initiative that encourages young girls to take up Stem (Science, Technology, Engineering and Math) in school, and later in their careers; the Help Anna programme that provides educational workshops to get women to seek help against violence; and the HeForShe campaign that encourages men to take an active role in pushing for women's empowerment.
The organisation also raises funds for regional beneficiaries such as the Roka Commune in Cambodia and Safe Cities Manila in the Philippines to enable them to implement their own women-centred programmes. All these are in line with UN Women's vision of Planet 50:50 by 2030 - a world in which societies are free of gender-based discrimination, where women and men have equal opportunities.
So how can women become game changers, especially in the digital age? New executive board member Ruth Yeoh says, "The digital age brings with it the power and ability to inform and influence movements. Millennials are equipped with technology to spread the good word and good work of the organisations they support. For example, they are disrupting the traditional fundraising model – crowdfunding is becoming increasingly popular and effective, and we see a rise in 'people power'".
Tan's advice: "Find good role models. At the same time, strive to become a role model yourself. Become that influencer and game changer in your own spheres of influence: in your families, communities, classrooms and companies."
Back