Seaside Bliss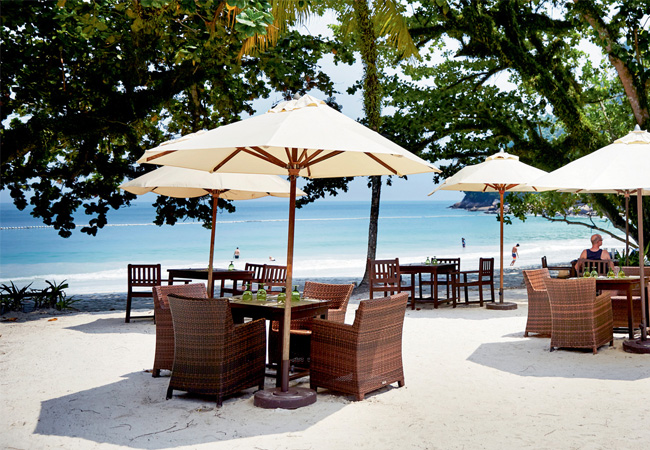 YTL Life, June 11, 2020
Emerald Bay, nestled at one end of the private island getaway that is Pangkor Laut Resort, offers a haven of powder-fine sand, glistening waters and a two-million-year-old rainforest.
By Tien Chew
Serenity comes in the form of Emerald Bay, a slice of beach heaven situated on the western shore of the 300-acre private island that is Pangkor Laut Resort. With its breathtaking view of the Straits of Malacca, you are afforded all the pleasure in the world to enjoy a truly peaceful holiday.
Only paces away from the beach lies Chapman's Bar, named for the heroic British colonel-cum-naturalist Spencer Chapman, known for behind-enemy-lines exploits on the island during World War Two. To honour his memory, Pangkor Laut Resort organises an annual race called The Chapman's Challenge, encompassing a 3.8-kilometre road run, a 2.4-kilometre sprint through the rainforest and a one-kilometre swim around Emerald Bay's shimmering waters. For a more relaxing immersion into Mother Nature, guests may join the resident naturalist who will guide them through the bay's adjacent rainforest in search of long-tailed macaques and oriental pied hornbills.
Open from 11 in the morning until eight in the evening, Chapman's Bar serves a mix of casual Asian and Western specialities. There's the option to dine al fresco at tables in the shade, though the most popular choice for many are the tables on the inviting beachfront. Order Kaliamas' banana leaf rice curry for a taste of Malaysia, a hearty meal featuring a selection of curries, rice, vegetables, and pickles named after the resort's veteran chef who has served in its kitchens for two decades, right up till today. Other crowd pleasers include a zesty seafood pad thai, an ENglish-style beef burger, and fish and chips made using freshly caught local sea bass. To beat the heat, Chapman's Mango Mania – fresh mango, coconut ice cream, toasted coconut and passion fruit sauce – provides a frosty, flavourful relief.
To experience Emerald Bay's natural splendour more intimately, private dining experiences are available on request. Couples looking for a romantic escapade will appreciate the five-course seafood sunset dinner on the beach, with a nearby bonfire and tiki torches setting the scene.
For more information, please visit www.pangkorlaut.com
Back