Sub-contractor on track with Covid-19 relief efforts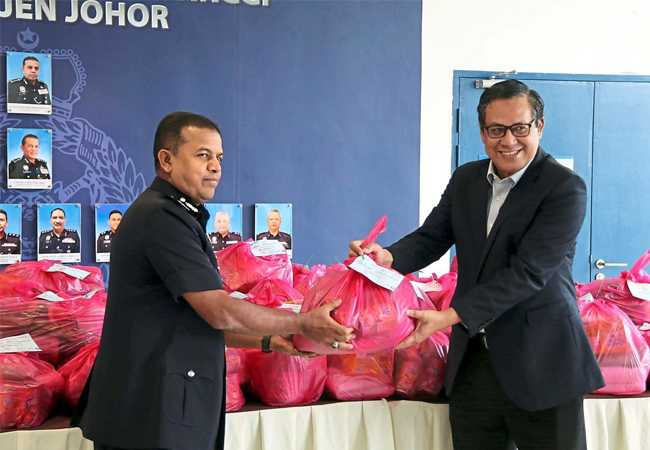 The Star, June 8, 2020
By MENG YEW CHOONG
JOHOR BARU: Frontliners working on the alignment of the Gemas-Johor Baru double-tracking project in Johor and villagers living nearby were not left out in relief efforts to mitigate the impact of Covid-19 on daily lives.For example, a subsidiary of YTL Construction, SIPP-YTL JV has stepped in to alleviate the plight of the less fortunate living along the alignment of the track.
Stretching 192km from Gemas to Johor Baru, this final portion of peninsular Malaysia's electrified double track is being built by CRCC-CREC-CCCC Consortium Sdn Bhd, supported by SIPP-YTL JV as the local Malaysian sub-contractor.
"Due to the close relationships developed in Johor with the many local communities, SIPP-YTL JV is acutely aware of the challenges and difficulties faced by the people during the pandemic, especially those in the B40 group," said YTL Construction (rail division) CEO Datuk Seri Azmi Aziz.
"Being active and working on-the-ground in Johor since 2017, we have established an extremely warm relationship with many local parties, who have been so supportive and helpful to us, so much so that they are like our own family. So, when they are having a hard time, we want to help in any way we can," he said in a statement.
Azmi said the movement control order (MCO) should not be a barrier for anyone to offer assistance to those in distress.
"When the MCO took effect on March 18, the YTL Group via the YTL Foundation donated RM1mil to Health Ministry to be channelled to the government's Covid-19 Fund.
"In addition, three ventilators were donated to the Yayasan Sultan Ibrahim Johor for use by hospitals in Johor," he said.
He also highlighted that all parties involved in the Transport Ministry's double-tracking project, including 11 of SIPP-YTL JV's sub-contractors and consultants chipped in to raise funds for B40 group who were affected by Covid-19.
"They also assisted in distributing funds, groceries and thousands of face masks to those in need, partnering with the Johor assemblymen and MPs in their respective constituencies," he added.
Since the MCO started, the corporation provided meals to about 10,000 people among the underprivileged and the frontliners for breaking of fast.
In addition, essential items and groceries were also given to 200 members of the Johor police community comprising widows and retirees, with refreshments and iftar meals also provided to police officers on duty at roadblocks and near the Gemas-JB double-tracking project site.
Azmi said SIPP-YTL JV organised additional initiatives such as the distribution of groceries to 200 needy families from KTMB for Hari Raya Aidilfitri.
The Gemas-JB double-tracking project, owned by Transport Ministry, will complement the current ETS that runs from Padang Besar to Gemas when the southern stretch is expected to be completed by the end of next year.
Back