YTL Foundation's Learn From Home Initiative Clinches People's Choice Award at the AVPN Constellations Awards 2022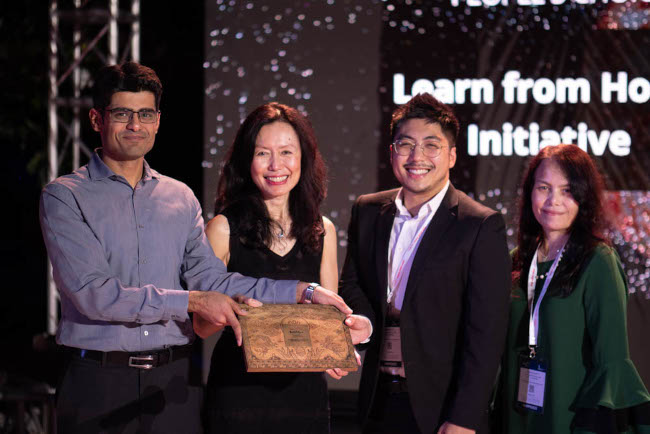 YTL Community, July 25, 2022
YTL Foundation's Learn From Home programme was recently awarded the People's Choice Award at the Constellations Awards 2022, by Asian Venture Philanthropy Network (AVPN), Asia's leading social investment network. The nationwide programme was recognized on this global platform as an action-oriented project that addressed the complex shifting challenges of B40 communities during the COVID-19 pandemic.
Awarded only to the best social change investment projects in Asia, this recognition highlights the programme's positive impact on low-income communities by enabling them to have access to education during the extensive periods of school closures. Winners in other categories included projects by the Bill and Melinda Gate Foundation and the United Nations Development Programme.
Dato' Kathleen Chew, Programme Director of YTL Foundation said, "When school closures were announced at the height of the pandemic, we realised that many schools were unprepared to transition to home-based learning and vulnerable students from low-income families would inevitably fall behind in their education. The Learn From Home initiative was conceptualised to close this gap by ensuring that these students would be able to access high-quality educational materials and cope with the shifting demands of home-based learning. The initiative not only empowered students to mitigate against learning loss, it also allowed parents to actively participate in supporting their children's learning during the pandemic while equipping low-income families with the technologies required to adapt to the requirements of home-based learning."
Speaking about the recognition, "The award is a testament to YTL Foundation's long-standing belief to empower communities to have better access and opportunities towards education. To be recognized by AVPN for our work is really a great honour. This is only a part of our broader mission that no one should be left behind in the pursuit of knowledge and we are proud to play a part in ensuring that every child has access to learning, especially for those we know who need it most," said Dato' Kathleen.
Learn From Home and its impact today
Launched in March 2020 in collaboration with YTL Communication and FrogAsia, the Learn From Home programme was a response to the pandemic with a particular focus on low-income families. The programme equipped B40 families with mobile data and smartphones for free so that their children could continue learning from home while schools were closed. Through the initiative, over 800,000 smartphones and SIM cards have been distributed to low-income families with school-going children.
Working with content partners FrogAsia, YTL Communications, Teach For Malaysia, MyReaders, Pelangi, Kindity and CIMB Foundation, YTL Foundation also developed free online lessons mapped to the Malaysian school curriculum for students in Standard 1 to Form 5. Currently, 1,400 online lessons and 45,000 quiz questions for Bahasa Malaysia, English, Mathematics, Science, Geography, Physics, Biology and Chemistry are available on YTL Foundation's website and on FrogAsia's Launchpad Mobile App (formerly known as "FrogPlay"). New lessons in other subjects will be added over the next six months with the aim of covering all core subjects by the end of 2022.
KelasKita: An evolution of the Learn From Home initiative
Having built up this rich bank of educational content, YTL Foundation will soon be launching KelasKita, a programme which will allow volunteers to provide tuition (online or on site) to children in low income communities most affected by the pandemic using the Learn From Home lessons.
Developed in partnership with Teach for Malaysia and FrogAsia, this programme seeks to help children make up for learning gaps and learning loss experienced as a result of the extensive school closures over the past 2 years. The KelasKita programme features a step-by-step implementer and volunteer guide, for volunteers to conduct their own online classes using the lessons and FrogAsia's virtual learning platform.
"The pandemic has set back millions of students, so continuous investment in education recovery efforts needs to be a top national priority. As a partner in YTL Foundation's Learn From Home initiative, Teach For Malaysia is proud that we have been able to ensure that students can freely access high-quality lessons, covering the entire Malaysian core curriculum. We are honoured that the impact of this initiative has been recognized by the Constellation Award, and we look forward to volunteer organisations stepping forward under the KelasKita programme to use these lessons to help students in their education recovery journeys." said Chan Soon Seng, Chief Executive Officer (CEO) of Teach for Malaysia.
In conjunction with YTL Foundation's 25th Anniversary, the global award represents another milestone that cements the Foundation's ongoing commitment towards education to empower individuals and enrich communities to be catalysts of change. Recently, YTL Foundation partnered with PEMIMPIN GSL to introduce the first-ever Malaysia Teacher Prize by bringing the renowned Varkey Foundation's Global Teacher Prize onto the Malaysian shores to celebrate the achievements of local Malaysian teachers on a national level.
Back