KLIA Ekspres tickets now available on Malindo Air's website!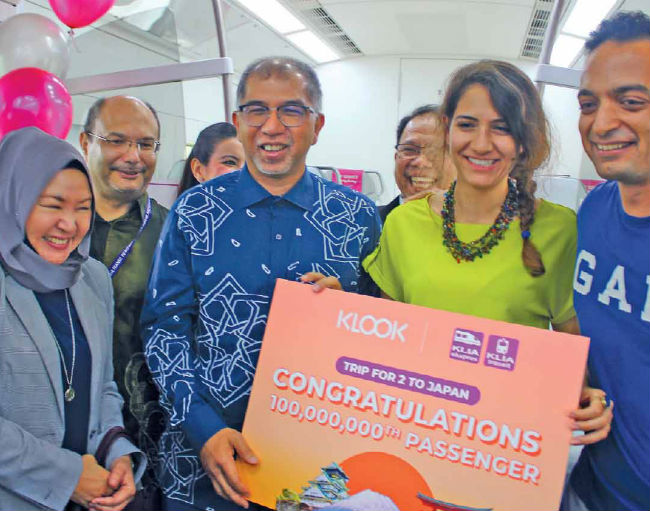 Kuala Lumpur, 8 March 2019
Malindo Air guests are now able to buy KLIA Ekspres tickets together with their flight tickets on Malindo Air's website. This e-ticketing facility further strengthens the partnership between Malindo Air and Express Rail Link Sdn Bhd (ERL) following the launch of the airline's check-in service at KL Sentral in December 2016.
Noormah Mohd Noor, Chief Executive Officer of ERL said, "We are excited about this latest collaboration with Malindo Air. It is in line with our digital partnership drive with partners who share a common goal in providing convenient and seamless service to our mutual customers. For passengers who fly with Malindo Air, they can rest assured that their luggage will arrive safely at their final destination as each piece of luggage is barcoded and tracked."
Malindo Air commenced operations in March 2013 and has a network of flights throughout Malaysia, Indonesia, Thailand, Bangladesh, India, China, Singapore, Nepal, Sri Lanka, Australia, Japan, Cambodia, Vietnam, Myanmar, Taiwan, Pakistan and Hong Kong. With an extensive network of 55 routes in the region, Malindo Air has over 800 flights travelling weekly.
Chandran Rama Muthy, Chief Executive Officer of Malindo Air said. "We are pleased to bring our collaboration with ERL to another level with this initiative. Moreover, our passengers get to enjoy exclusive fares and seamless connection to and from KLIA, which we believe will enhance their travel experience by flying with Malindo Air."
To purchase KLIA Ekspres tickets, simply log on to www.malindoair.com. Once your Malindo Air flight tickets are confirmed, click on the KLIA Ekspres banner in the Booking
Confirmation page to purchase KLIA Ekspres tickets at exclusive fares.
Back