ERL wins Project Of The Year Award at the Global AirRail Awards 2018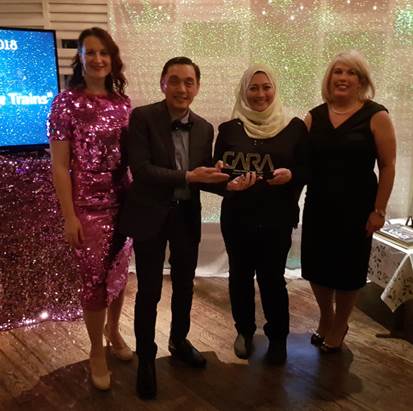 Kuala Lumpur, 30 November 2018
Express Rail Link Sdn Bhd (ERL), the operator of the KLIA Ekspres and KLIA Transit services clinched the Project of the Year award at the prestigious Global AirRail Awards 2018 in London, United Kingdom on 29 th November 2018.
Present to accept the award were Sheila Shamsudin, Deputy Vice President of Marketing Management from ERL and Darren Santa Maria, Manager of Performance Monitoring and Quality & Environment from ERL Maintenance Support Sdn Bhd (E-MAS), a subsidiary of ERL.
"Winning this award is definitely a testament of our commitment to provide the best for our passengers. At ERL, we constantly look for ways to improve our services for everyone and we couldn't have done it without the support of our partners and passengers," said Noormah Mohd
Noor, Chief Executive Officer of ERL.
This is not the first time ERL has won at the Global AirRail Awards. Previously, ERL won AirRail Link of the Year in 2016, 2015, 2014 and 2012.
Speaking on the new KLIA Ekspres and KLIA Transit trains, Noormah continued, "We are thrilled and proud that our new fleet of trains have won Project of the Year 2018. These enhanced trains have better features, better comfort and greater efficiency, and will definitely encourage more people to use rail transportation, thus supporting the Government's effort to promote public transportation."
The Global AirRail Awards is organised by Global AirRail Alliance (GARA), an organisation that promotes rail access to airports, discusses policy guidelines and recommendations for greater air and rail integration. Judges for the awards are professionals in the air and rail industries.
Back