YTL key leaders describe their leadership style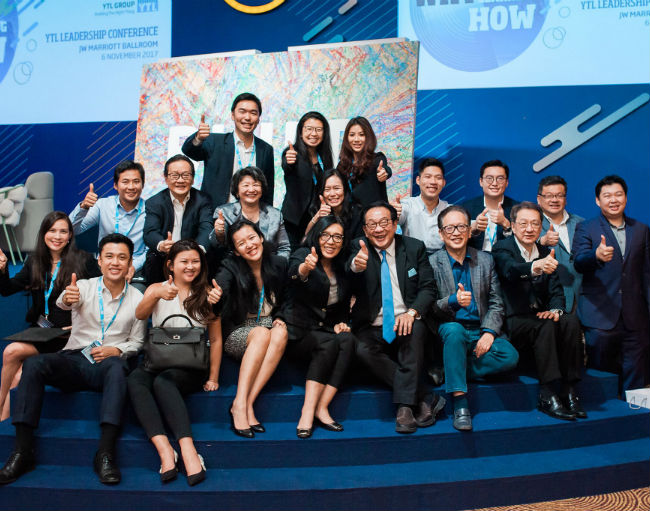 YTL Community, November 1, 2018
The YTL Group runs a leadership conference every year, where our top leaders and the next generation of leaders gather to glean and hear from distinguish speakers about leadership and current advancements in related industries. The conference is also where our Executive Chairman casts the vision for the year ahead and equips the leaders to go forth.
To explore how our leaders who are currently at the helm think, we identified a number of amazing leaders representing different industries – finance, technology, transportation, hospitality, construction & utilities – and asked them to describe their leadership style.

YTL Community: How would you describe your leadership style?
Tan Sri Francis Yeoh, Executive Chairman of YTL Group
Leadership is about serving with passion and humility and with all your hearts. Our leaders must desire to craft invaluable experiences and to bring joy and satisfaction to those who interact with us at every level and in every division of our businesses.
Therefore our leaders must master three languages.
The language of God: that leads to humility, integrity and morality.
The language of Man: to articulate with all your mind and all your strength the processes needed to achieve the desired result.
The language of Machines: to employ all the cutting edge, state of the art tools that enable these processes to be implemented with efficacy.
And in this order of importance, from God to Man to Tools.
Ho Say Keng, Company Secretary of YTL Corporation
Leadership is like a rudder of a ship which steers it to its destination. A leader is one who is able to inspire, motivate, communicate and have respect and compassion for others. One must be able to lead by example and have an honest understanding of what he/her knows and is capable of. A leader is one who must be effective and worthy of being followed. He/She must be able to produce the best leaders by acquiring and keeping good people and develop them into the best leaders they can be. Lastly, a good leader must be able to humble oneself to know and resolve the issues faced by the last man on the chain.
Noormah Mohd Noor, CEO of Express Rail Link (ERL)
Leaders are not born. They're made through hard work, perseverance and struggles.
True leaders don't give up, they keep on learning and growing. They listen, coach, experiment, seek as well as give feedback.
As a leader, we must have a clear purpose. We should consult to make better decisions and get additional perspective.
We must have courage to take risks. Don't delay a decision as the opportunity may be gone forever.
Above all, humility is key to success. It keeps us grounded.
Joshua Yeoh, Director of YTL Cement
I start with the objective and then do my best to illustrate why it matters.
Chan Swee Huat, CEO YTL Power Seraya
Leadership models and inspires excellence in an attitude of humility.
This means building a culture of excellence, and creating platforms upon a solid foundation of trust that will allow all to grow and thrive.
This requires an idea meritocracy, recognizing the strengths and capabilities of individuals to bring the best out of the collective.
This is under-girded by good and open communication, and the humility to understand that a good leader does not know everything but is willing to listen to everyone.
Kathleen Chew, Group Legal Counsel, YTL Corporation
Leadership is a process and not a position. To lead well requires investment in the people you are leading as well as in yourself. People follow those they trust and respect and this can only happen if you are prepared to invest your time in your team, listening to them and finding out their strengths and weaknesses. As a leader you need to seek constantly to improve yourself for your team can only be as good as yourself. Don't be the factor that limits the growth of your team.
Andy Pymer, Managing Director, Wessex Water, UK
To be a leader, you need to be followed. Leadership, then, is about people.
First, it's about the people that you lead and how you serve them and meet their needs. I am a great believer in servant leadership.
Second, it's about the people who are part of your team. Great leaders see greatness in others. They recognise gaps in their own leadership abilities and build a great team around them who help them lead.
And third, it's about you as a person, being authentic and true to who you are. We all have unique God-given gifts and we need to use those as we serve in leadership. As the saying goes: be yourself, everyone else is taken!
Eric Tea, General Manager, The Ritz-Carlton Kuala Lumpur
Leadership is fundamentally about interpersonal quality in nurturing talents, both current and future talents.
A leader must be able to translate the values and culture of the company by embracing it. The ingredients of empathy, understanding, motivation and caring all come together as a recipe along with a desire for self-improvement and a high expectation of excellence to create strong leadership that builds effective as well as productive teams. Hospitality starts within the organization and that is how we create passion in talents.
And I believe in the formula of (TALENTS + FIT) x INVESTMENT = GROWTH

Ali Tabassi, COO of YTL Communications
I have been practicing "Servant Leadership" style as my leadership style throughout my professional life. A servant leader focuses primarily on the growth and well being of people and the communities to which they belong, through awareness, active communication, empathy & compassion, collaboration, stewardship, high ethics & character, sound foresight, logical thinking, and exercising moral authority.

While traditional leadership generally involves the accumulation and exercise of power by one at the "top of the pyramid," servant leader shares power, puts the needs of others first and helps people develop and perform as highly as possible. Unlike leadership approaches with a top-down hierarchical style, servant leadership instead emphasizes collaboration, trust, empathy, and the ethical use of power. The objective is to enhance the growth of individuals in the organization and increase teamwork and personal involvement. A lifelong journey that includes discovery of one's self, a desire to serve others, and a commitment to lead. Servant leaders continually strive to be trustworthy, self-aware, humble, caring, visionary, empowering, relational, competent, good stewards, and community builders.

When leaders shift their mindset and serve first, they benefit as well as their employees in that their team members acquire personal growth, while the organization grows as well due to the employees growing commitment and engagement. The highest priority of a servant leader is to encourage, support and enable subordinates to unfold their full potential and abilities. The focus of leadership responsibilities is the promotion of performance and satisfaction of employees and ultimately satisfaction of the customers.
Mohammed Saddiq, Managing Director of GENeco
Being in a position of leadership is a privilege and requires one to be inspirational, visionary and transformative through motivating staff in our increasingly complex and connected world. We treat our employees and our local communities with the utmost respect and operate in a collegiate manner at all times to get the best out of our teams to deliver long term value to the YTL Gro
Back