Yes Kasi Up Puts Cash In The Hands Of The Rakyat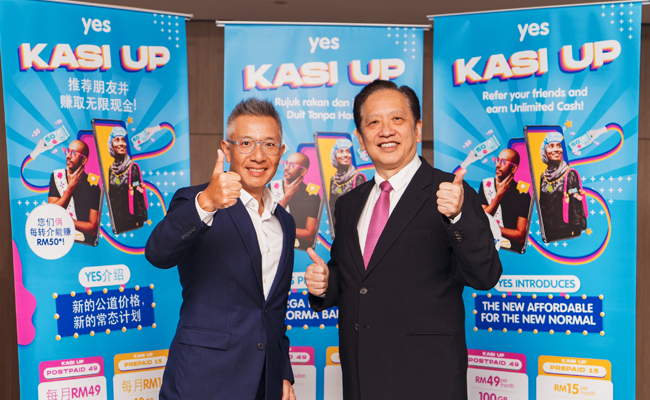 Kuala Lumpur, December 15, 2020
YTL Communications today rolled out its new YES Kasi Up initiative, designed to give the rakyat much-needed cash in these challenging times. The initiative features the telco market's most affordable data plans and a unique referral model that rewards subscribers and the people they refer YES to with cash.
The initiative's unique name is derived from the quintessential Malaysian term "kasi-up", meaning to give someone a hand, or a boost.
The new YES Kasi Up Prepaid 15 plan, with a 30-day validity, is priced at RM15/month for 10GB; a trifecta that delivers the telco market's lowest-priced plan with the highest amount of data and the longest validity. By comparison, similar plans on the market today cost at least RM30/month.
Announcing the launch of YES Kasi Up, YTL Communications Managing Director Dato' Yeoh Seok Hong said, "Data is a basic utility today; it is as necessary as electricity and water. Data and tech is where today's wealth is being created. As gatekeepers to these commodities, we must be inclusive. Instead of giving out additional data whilst maintaining high prices, we believe that the real difference comes from bringing down the price of data. Only then can we make data accessible and affordable for everyone."
Dato' Yeoh also announced the rollout of YES Kasi Up Postpaid 49, with the first 6 months free on a 2-year contract, at RM49 for 100GB per month.
Added Dato' Yeoh, "Today's biggest issue for the rakyat is cash flow. And especially during these trying times, we are offering the first 6 months free on our postpaid plan which frees up their cash to spend on essentials. For consumers with more modest or flexible data needs, our RM15/month prepaid plan helps meet their data needs for the entire month. It will be a game-changer, ensuring no one gets left behind. That's the Kasi Up difference."
Today's launch did not just feature ways for the rakyat to save money; it also featured the launch of a unique way for people to earn money.
YES subscribers who successfully refer YES to their friends can earn up to RM50 cash per referral under YES Kasi Up Refer & Earn. In a unique twist, their friends earn the equivalent amount.
"YES Kasi Up is not just about saving money, it's also about making money and sharing the fruits of their effort. It's a simple referral model that can be understood by everyone. No special skills, no training, no capital required - just refer YES to friends and family, and earn money," said Dato' Yeoh.
Briefing the audience on YES Kasi Up, YTL Communications Chief Executive Officer Wing K Lee said it was born from the success of YTL Foundation's Learn-From-Home [YTL-LFH] Initiative, which was launched in March 2020 when the COVID-19 pandemic caused schools to close.
YTL Foundation developed YTL-LFH, a collaboration with YES and FrogAsia, when a survey it carried out showed that almost 50% of parents did not have sufficient data at home to enable e-learning, and low-income families could not afford to purchase devices for their children when the lockdown was announced. A survey carried out by the Ministry of Education a month later showed that almost 40% of students lacked access to a device for e-learning.
'Stay safe, stay learning' was the ethos of the immensely successful YTL Learn-From-Home Initiative. To date, over 400,000 SIMs and 100,000 mobile phones have been distributed to students nationwide - keeping the equivalent number of Malaysian students learning.
"In the same way, YES Kasi Up ensures no one gets left behind in today's data-driven economy. We will continue to invest in our nationwide network to increase our coverage and serve the connectivity needs of the nation. We believe that by giving everyone in the country access to 100% 4G connectivity, the most affordable data plans, and a much-needed cash boost, we can give them the helping hand they need. If the rakyat can get back on their feet, Malaysia can too."
To stay up to date on upcoming YES Kasi Up initiatives and for information on how to subscribe to YES and start earning, visit www.yes.my or download the MyYes Mobile App.
ABOUT YTL FOUNDATION'S LEARN-FROM-HOME INITIATIVE
The initiative helps students to continue learning without putting the burden of data costs on their families, while also allowing them to access free digital lessons in English, Mathematics and Science curated by FrogAsia, and revision quizzes on every core subject taught in national schools from Standard One to Form Five on the FrogPlay mobile app. Students from families who fall under the B40 Bantuan Prihatin scheme can also apply for a free phone with a 12-month data plan from YES. The programme has also been extended to undergraduates at approximately 40 universities and institutions of higher learning nationwide. "To apply visit www.ytlfoundation.org/learnfromhome.
ABOUT YTL COMMUNICATIONS

YTL Communications Sdn Bhd (793634-V), is a global frontrunner in 4G Internet and operates the robust "YES" 4G network in Malaysia with nationwide population coverage across the country.

YES is the first and only PURE 100% 4G Mobile Operator in Malaysia and also the first to offer voice-over-LTE (VoLTE) service for high definition, crystal clear calls, winning innovation awards for its services annually, two years before any other mobile operator in Malaysia.

In 2019, YES successfully made Malaysia the second country in the world and the first in Asia to deploy Terragraph. As of July 2019, YES has deployed the world's largest Terragraph network in Georgetown, Penang. YES is the first to introduce twin innovations in not just gigabit wireless mesh network – offering free public Wi-Fi that is the fastest public Wi-Fi in the world via Terragraph, but is also the first to introduce GiGa Wire, which modernises existing copper building infrastructure to deliver fibre-like speed.

YES continues to drive the best in mobility offerings with the launch of Malaysia's first Unlimited HD Prepaid service. The introduction of the unprecedented YES Kasi Up initiative is the world's first telco cashback programme, made accessible via two innovative products: YES Kasi Up Postpaid 49 with six months free on a 2-year contract with 100GB monthly, and YES Kasi Up Prepaid 15, at only RM15 for 30 days validity for 10GB, marking the latest milestone in YES' continuous drive for meaningful innovation in the telco space, with many more to come.
For more information about YES mobile and broadband plans, kindly visit www.yes.my.
Back